---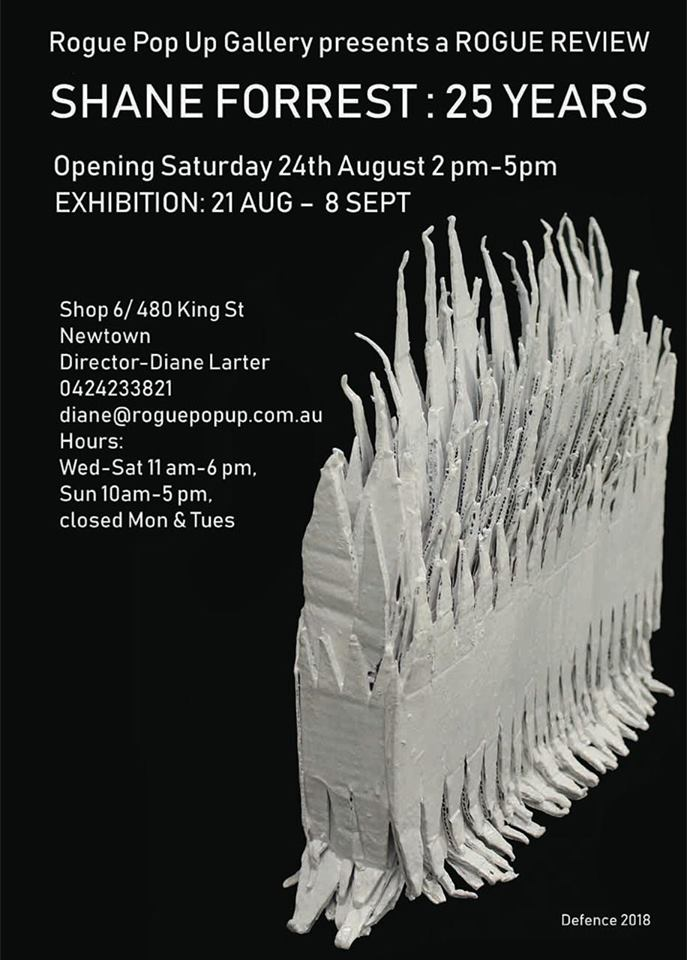 Artist's proceeds from sales of this exhibition will be donated to Nature
SHANE FORREST 25 Years
A glimpse into 25 years of studio practice is encapsulated in Shane Forrest's new show at Rogue Pop Up Gallery in Newtown. In this review show, past supports present and present echoes past and works become uncoupled from the actual time of production, existing in a relationship of the artists making. This is most evident if Forrest's themes are identified and then compared. Forrest has been working with 'the street' since the early 1980's. The ephemeral, the discarded, the unremarkable and the evidence of entropy in our daily lives are reoccurring themes in his work. He makes 2D and 3D works informed by his local environment, both the inhabitants, as well as the landscape. He is attracted to representing, in small sculptural maquettes, the sometimes unusual and surprising shapes made by people with their accessories as they move through the environment. An interest in the Sydney obsession with real estate is a theme for both painting and small sculptural explosions.
Forrest produces his work with mainly reclaimed materials. Old palettes, worn out brushes, reclaimed paper and cardboard, failed or discarded canvases thrown out into the street. His practices are historically connected to the Nouveaux Realists (1960 -1963) and Raymond Hains' particular "affichist" conceptual concern for engaging with the unspectacular.
From a series called "Consumer Robusta", the material choice to work on large slabs of reclaimed street posters speak of an abiding interest and concern for urban voices as heard on flyers, posters, brochures and other ephemeral notices. These poster slabs provide messages that Forrest mines like an archaeologist, uncovering forgotten snippets in the cacophony of voices. A de-gloving of the handy work of the popular and the mundane as he carves new images into the poster surfaces using a scalpel.
In the series 'Porous Suburb', Forrest uses the voluminous, ubiquitous, letterbox clogging advertising generated to promote the Sydney obsession with real estate, as stimulus. This property transfer industry has created an intense image-making machine with its own codified, visual and verbal systems, turning bricks and mortar into inadequacy and desire. The result is that a young, vibrant, creative population, essential in their presence, are largely disassociated from ownership of hyped-up dream homes. The paintings are a metaphor for the now unattainable dream of home ownership by the very residents who make a suburb a desirable.
To make each work he first completes three to four meticulously painted scenes on paper. The imagery is taken from the real estate promotions that stuff his letterbox. These scenes are then ripped and reassembled into collages that become a view of all three layers at once. The resulting layered compositions simultaneously hide and reveal, allowing a view through closed doors. Private residences peeled back, the eye and imagination travelling through ruptured facades. The property, so tantalizingly depicted in the original photographs, is now doubly unattainable. Disrupted representation of dwellings, no longer 'perfect', offered for sale, their layers torn, hint at all not being well as Forrest subjects these utopian visions to entropic forces.
In recent sculptural works, Forrest asks questions about failures. Failure of surface, failure to protect, failure to be contained. Some masses are moth eaten, some are collapsing, seams burst, edges fray. A veneer of control soon succumbs; protective layers are ruptured. They are proposals that playfully engage with folly, time and entropy. No one is a shiny winner; no one loses either. Nervously balanced between apexes, the longer lasting mid ground is explored, after shiny and new and before derelict and useless, hovering nervously in realms of deterioration. A mid-range of battered, tatty, worn and revealed.
Frozen on the threshold of explosion, are a series of sculptural paper works Forrest has titled 'Gifts'. These 'explosions' are the latest direction for Forrest. They are a collision of plenty and entropy. Are the 'Gifts' erupting in delight or something more sinister? Torn in frustration or a voyeur's peek into interior layers? As Forrest states about his small unassuming sculpture titled Caution, "Is this work about an intimate interest in entropic forces and the struggle to maintain order, or do I just like thinks that go bang?"
Brief Bio:
Completed Masters of Art at the College of Fine Art, UNSW in 1995.
Consistently exhibiting since 1981.
Teaching Japanese and Visual Arts at Dulwich Hill High School of Visual Arts and Design.
Most recently represent by A-Space on Cleveland until closed in 2012.
Solo shows in Australia and Japan.
Represented in private and institutional collections.
https://www.art-almanac.com.au/shane-forrest-25-years/https://www.art-almanac.com.au/shane-forrest-25-years/https://www.art-almanac.com.au/shane-forrest-25-years/