---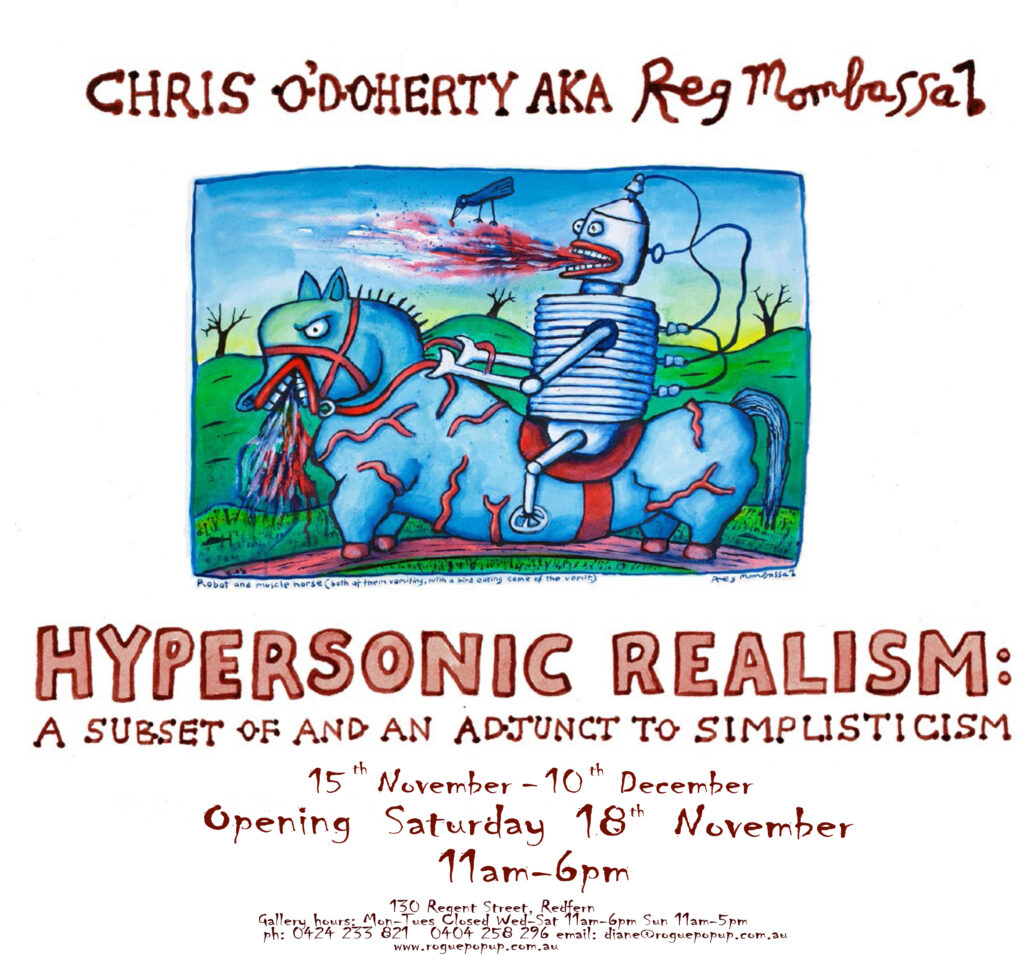 Artist Statement (Rant)
This new art movement called Hypersonic Realism relates to the accelerating rate of social and technological
change that has baffled and unsettled humans in recent years.
The reference to Simplisticism concerns the global art movement political party and religion that I launched
several years ago. The only commandment is Be Kind, a quality that seems to be declining.
In recent times there has been an increase in quasi fascist conservative right-wing populism around the world.
The leaders and supporters of this unfortunate tendency cling to the psychotic fantasies of nationalism, patriotism
and irrational fundamental religious belief. They also embrace misogynism, homophobia, the authoritarian warrior
male paradigm and various ludicrous ethnic superiorities.
The human race has been afflicted with these miserable and destructive philosophies throughout our recorded history
and unless we can transform our consciousness and move away from this type of thinking we are doomed to extinction.
We may be threatened by climate change, rogue asteroids and killer robots but our own attraction to the violent
conflict that results from the fear and resentment of the 'other' is probably a more persistent threat to our continuance.
Hypersonic Realism also relates to the extremely high-speed landscape drawings that I do in moving cars.
Hypersonic missiles travel faster than the speed of sound, and this explains the fact that when I am drawing
at a hypersonic rate the scratching of the charcoal on paper is only heard when the drawing is completed.
Chris O'Doherty A.K.A. Reg Mombassa
2023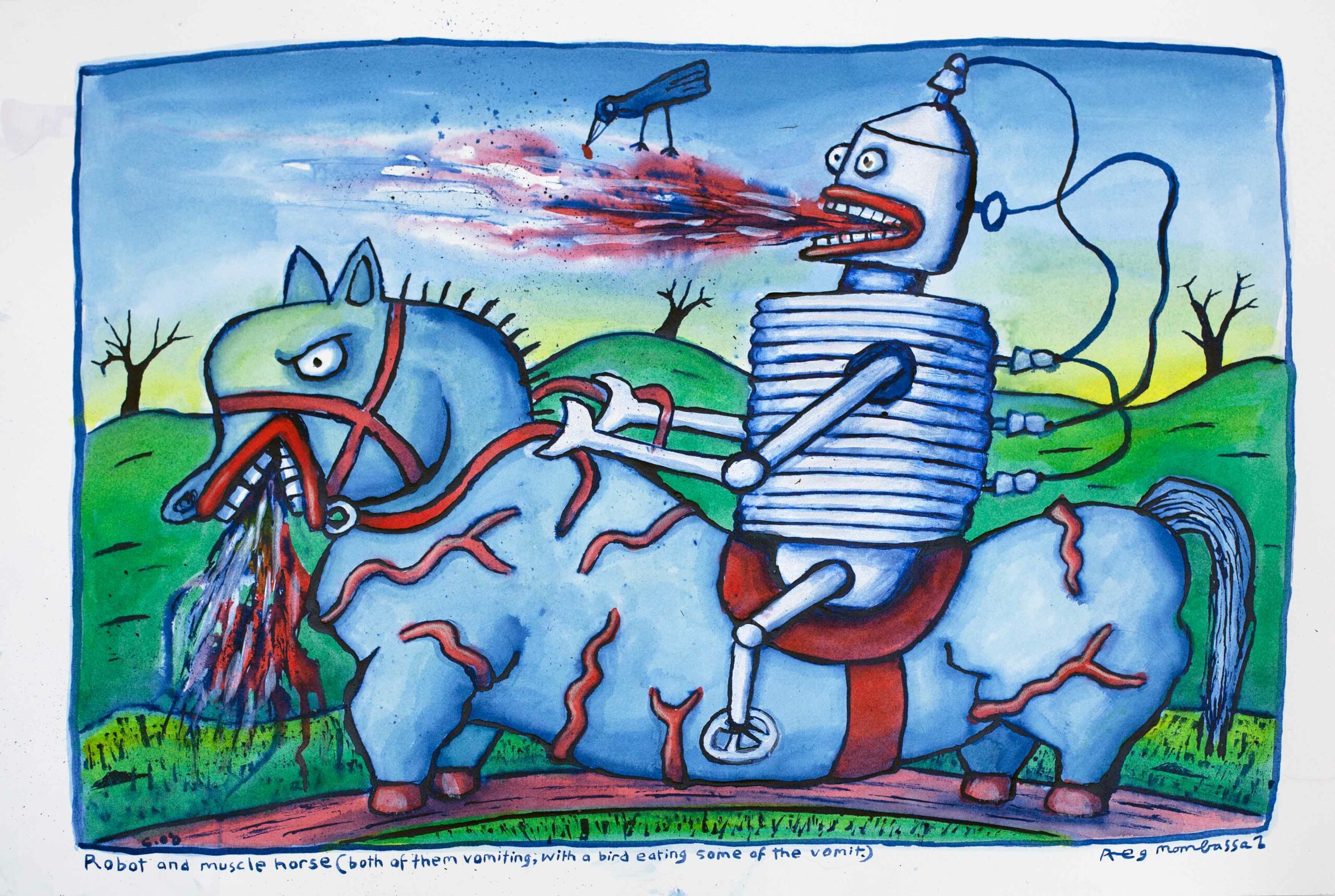 Robot And Muscle Horse (Both Of Them Vomiting, With A Bird Eating Some Of The Vomit)     SOLD
pen and ink wash on paper     39.5 x 55cm
2021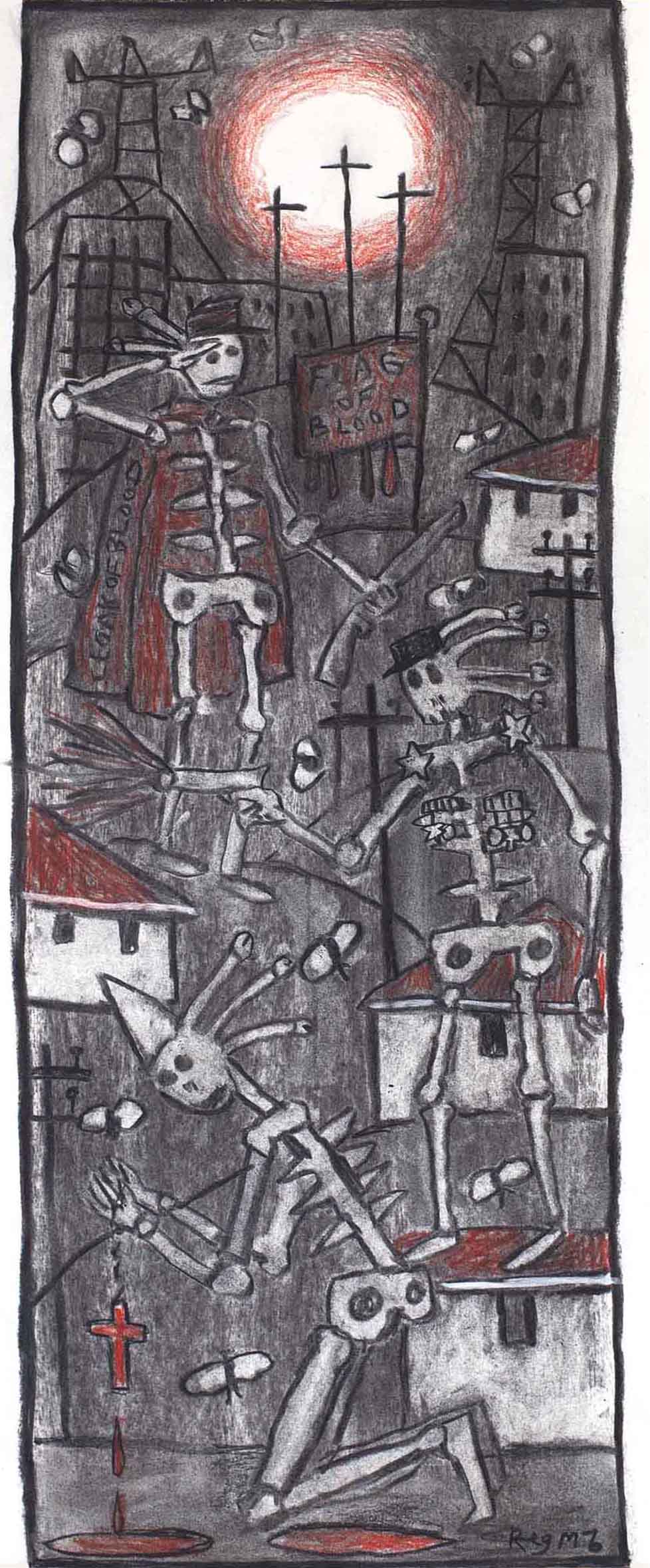 Preparatory Drawing For Large Skeleton Painting         SOLD
charcoal and coloured pencil on paper     59 x 22cm
2020
Nasturtium          SOLD
oil on paper     15 x 19cm
2023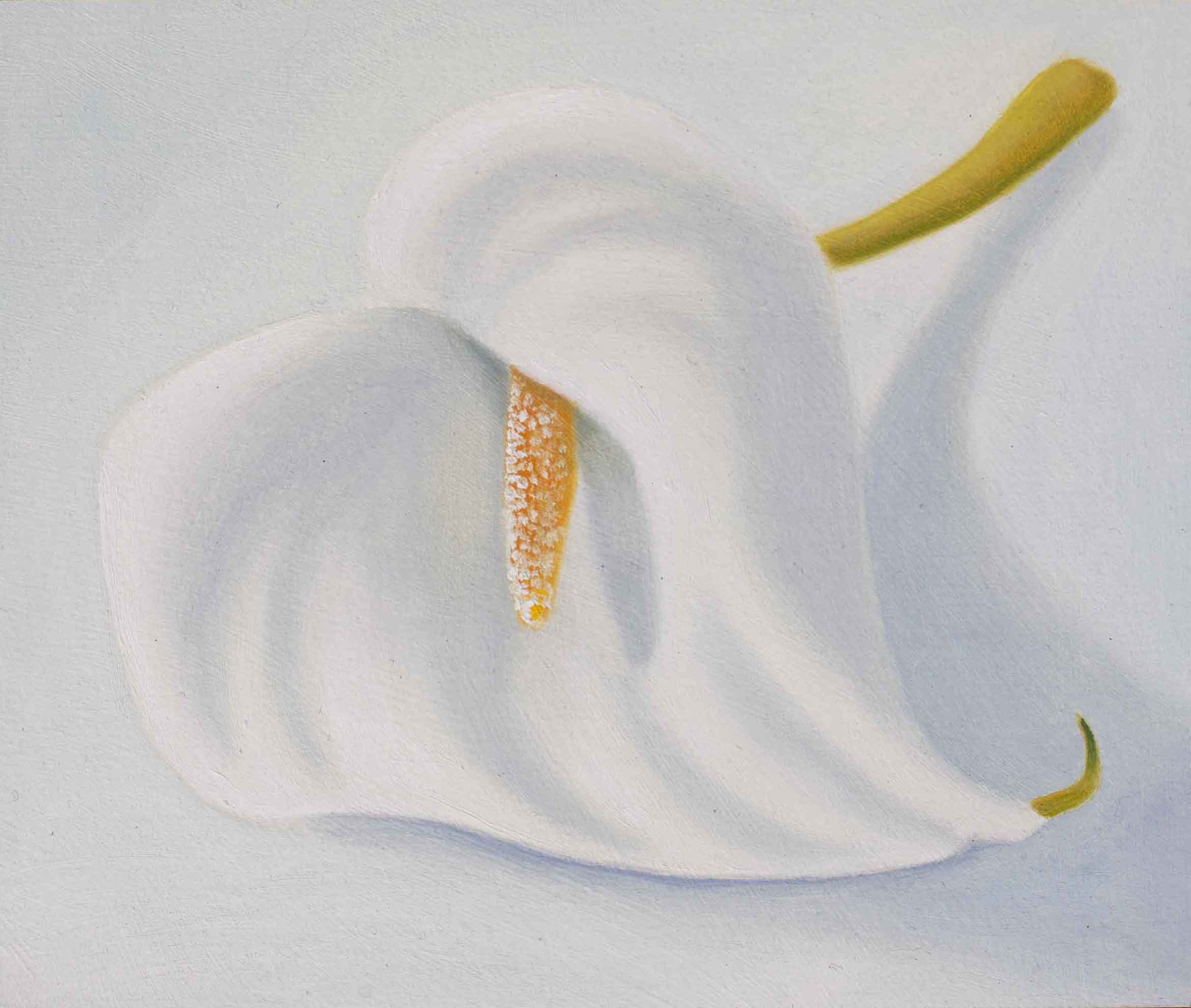 Arum Lily          $1, 500
oil on paper     17 x 20.5cm
2023
Plum          RESERVED
oil on paper     12 x 12.5cm
2018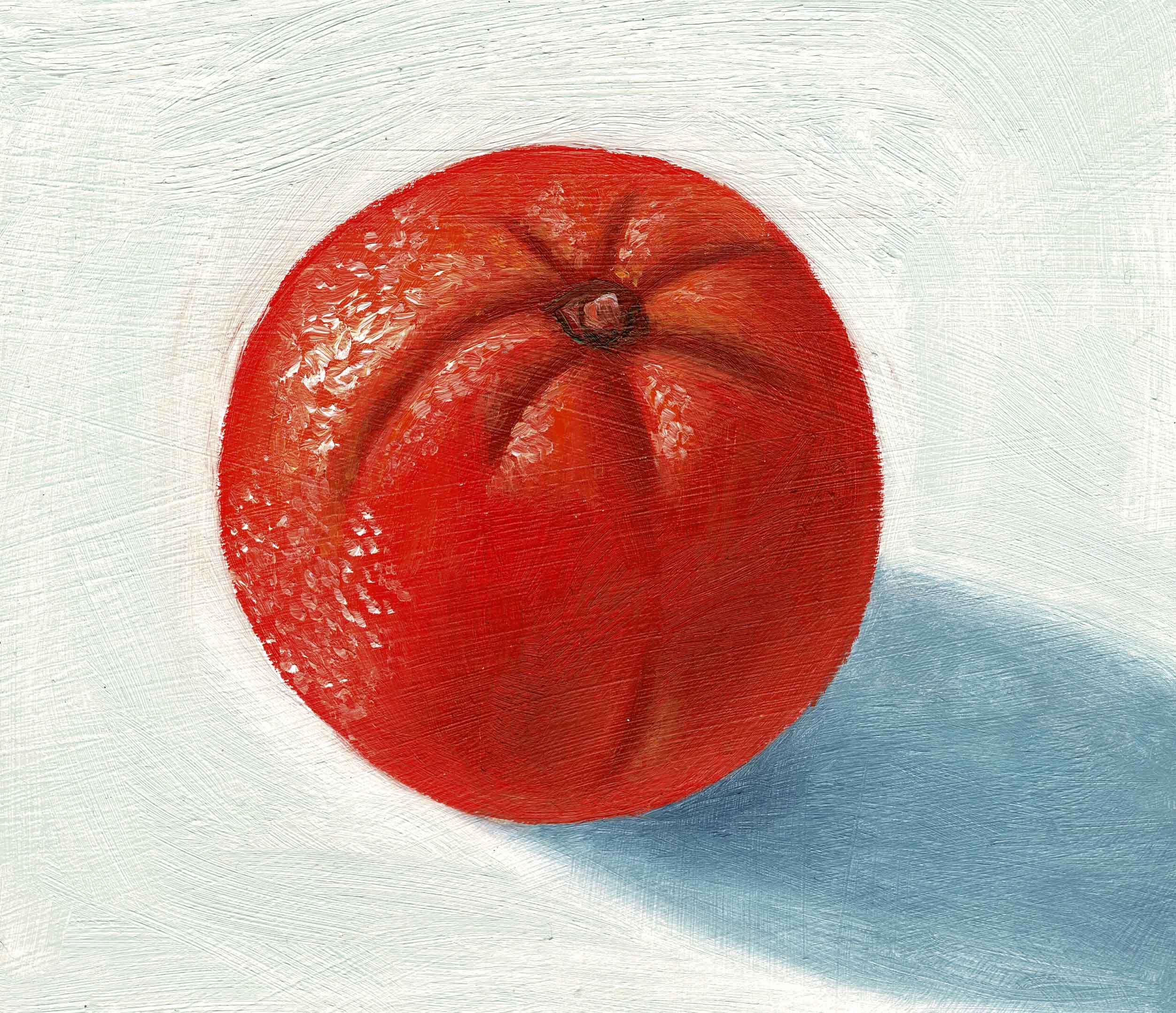 Orange          $1, 500
oil on paper     14 x 16.5cm
2018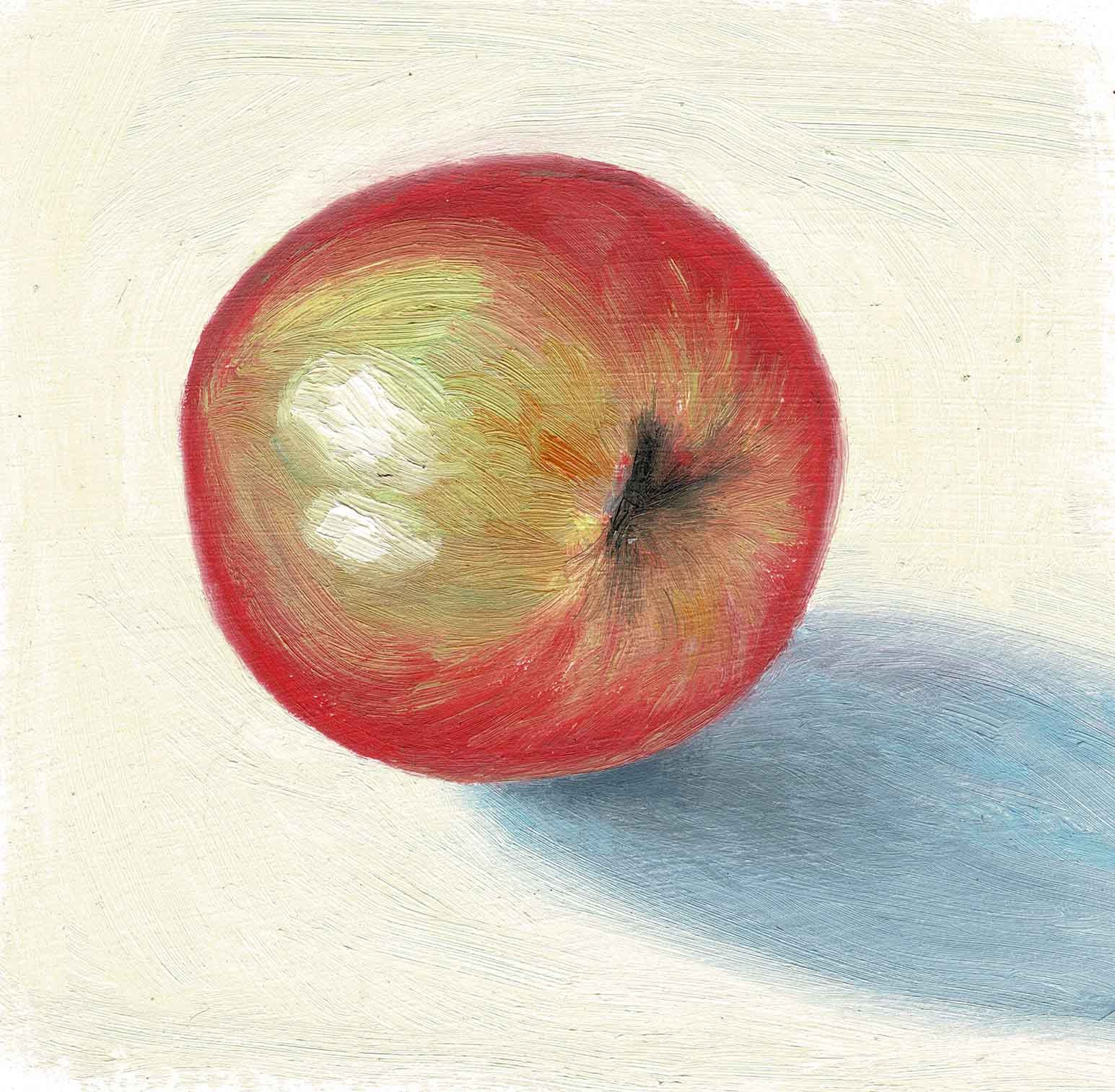 Apple          SOLD
oil on paper     12 x 13cm
2018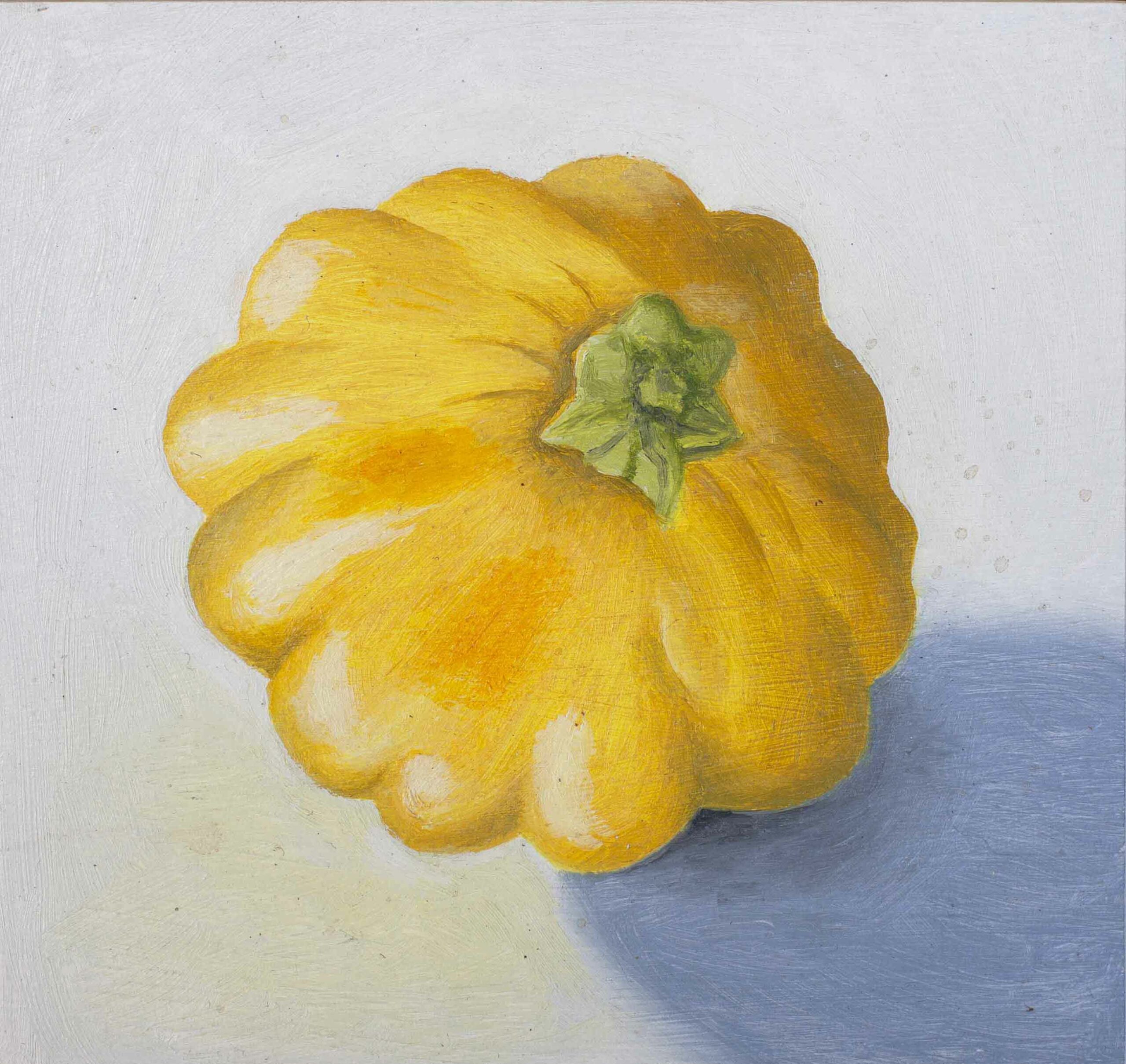 Yellow Squash          $1, 500
oil on paper     14.5 x 16cm
2018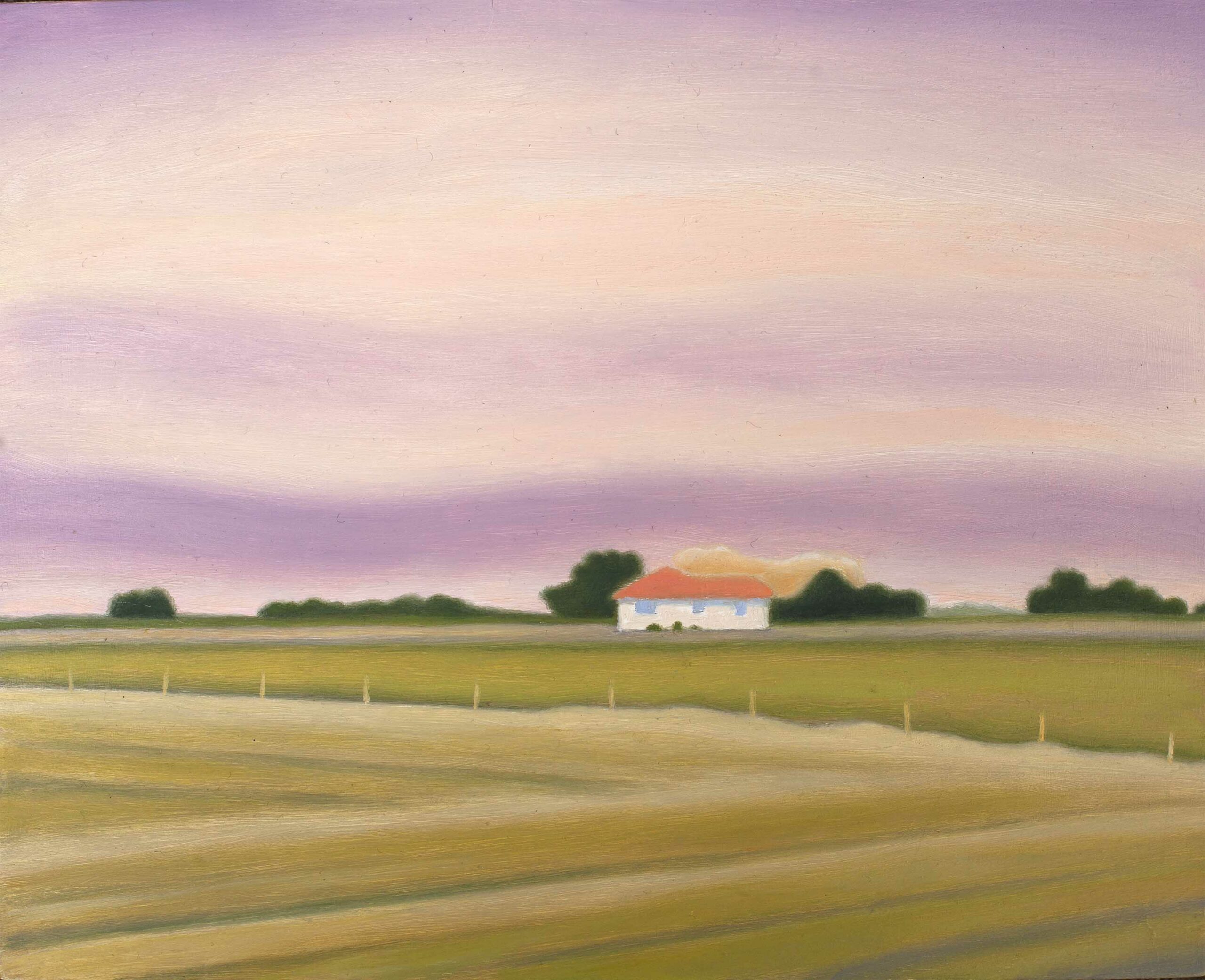 House And Fields          SOLD
oil on board     20 x 25cm
2023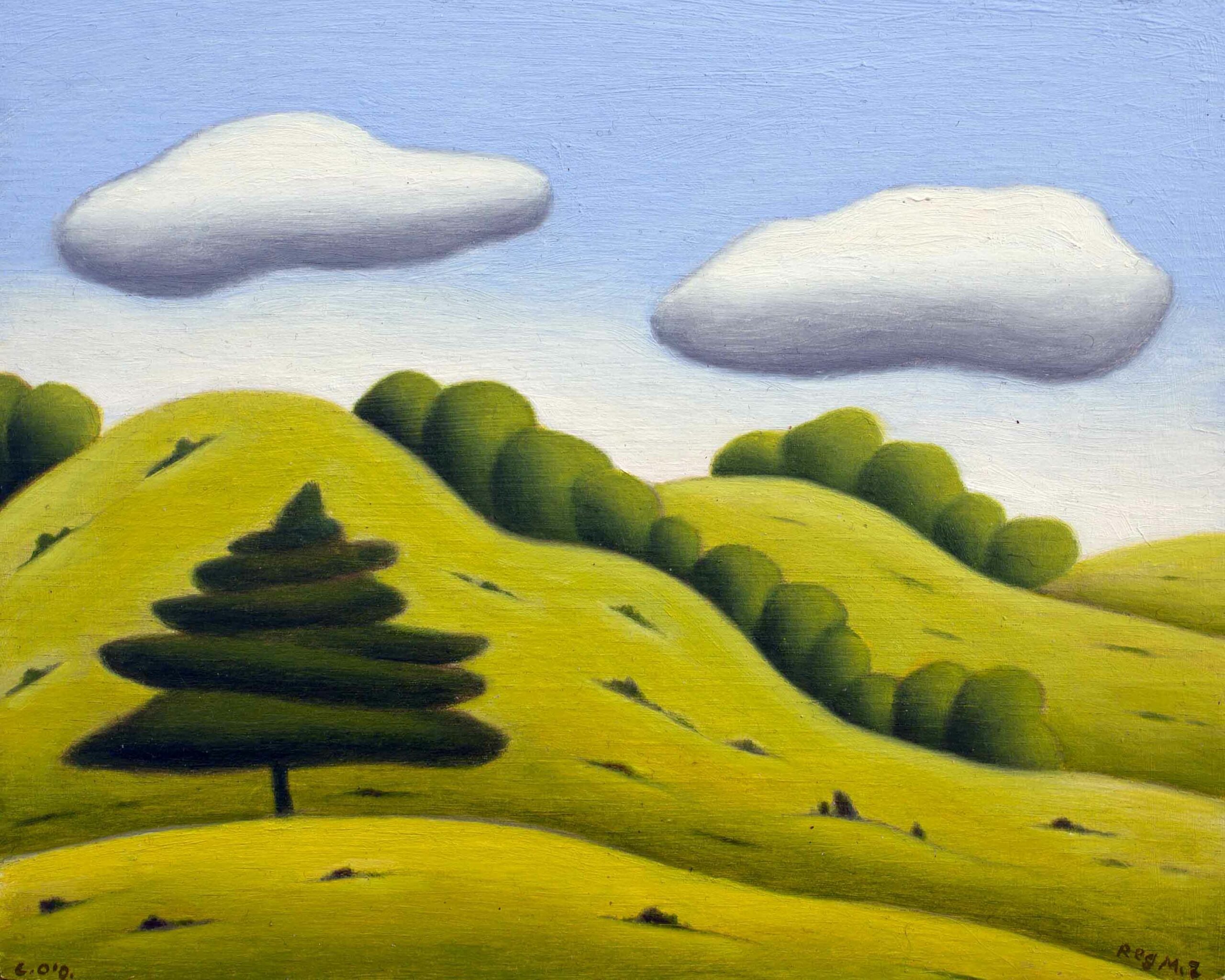 Descending Treelines Near Mudgee          SOLD
oil on board     20 x 25cm
2023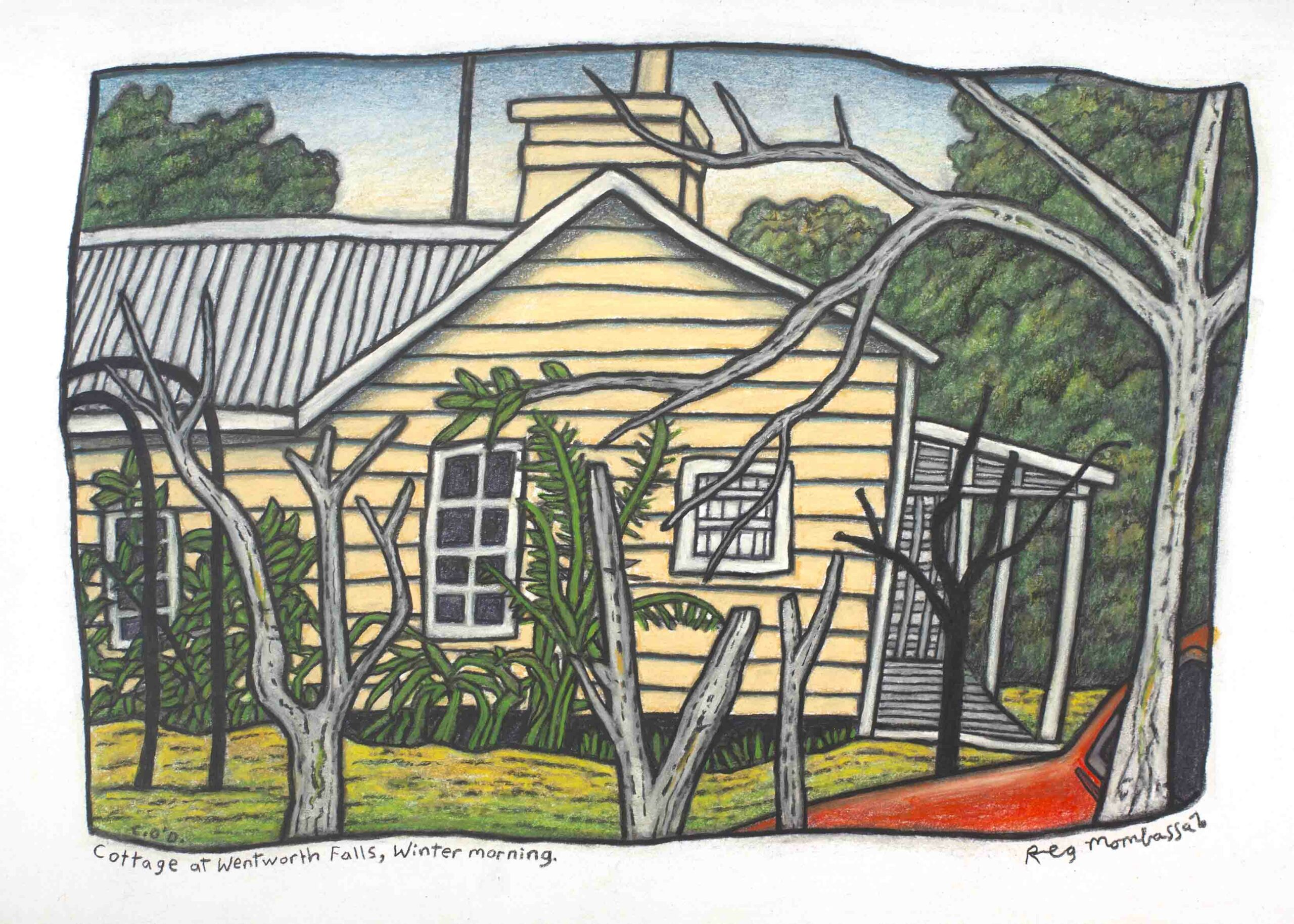 Cottage At Wentworth Falls, Winter Morning          SOLD

charcoal, coloured pencil on paper     22.5 x 34cm
2022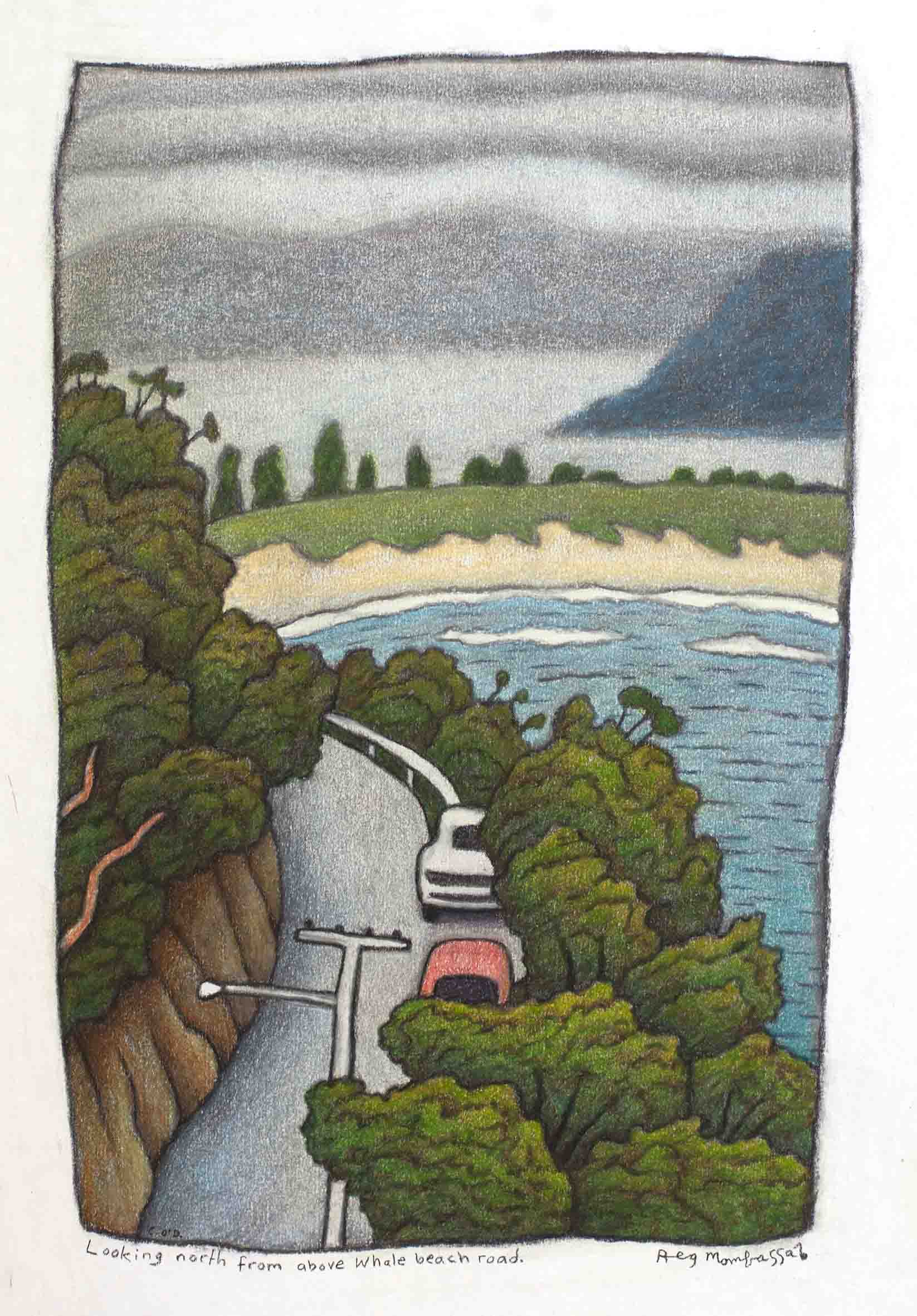 Looking North From Above Whale Beach Road          SOLD
charcoal and coloured pencil on paper     35 x 23cm
2023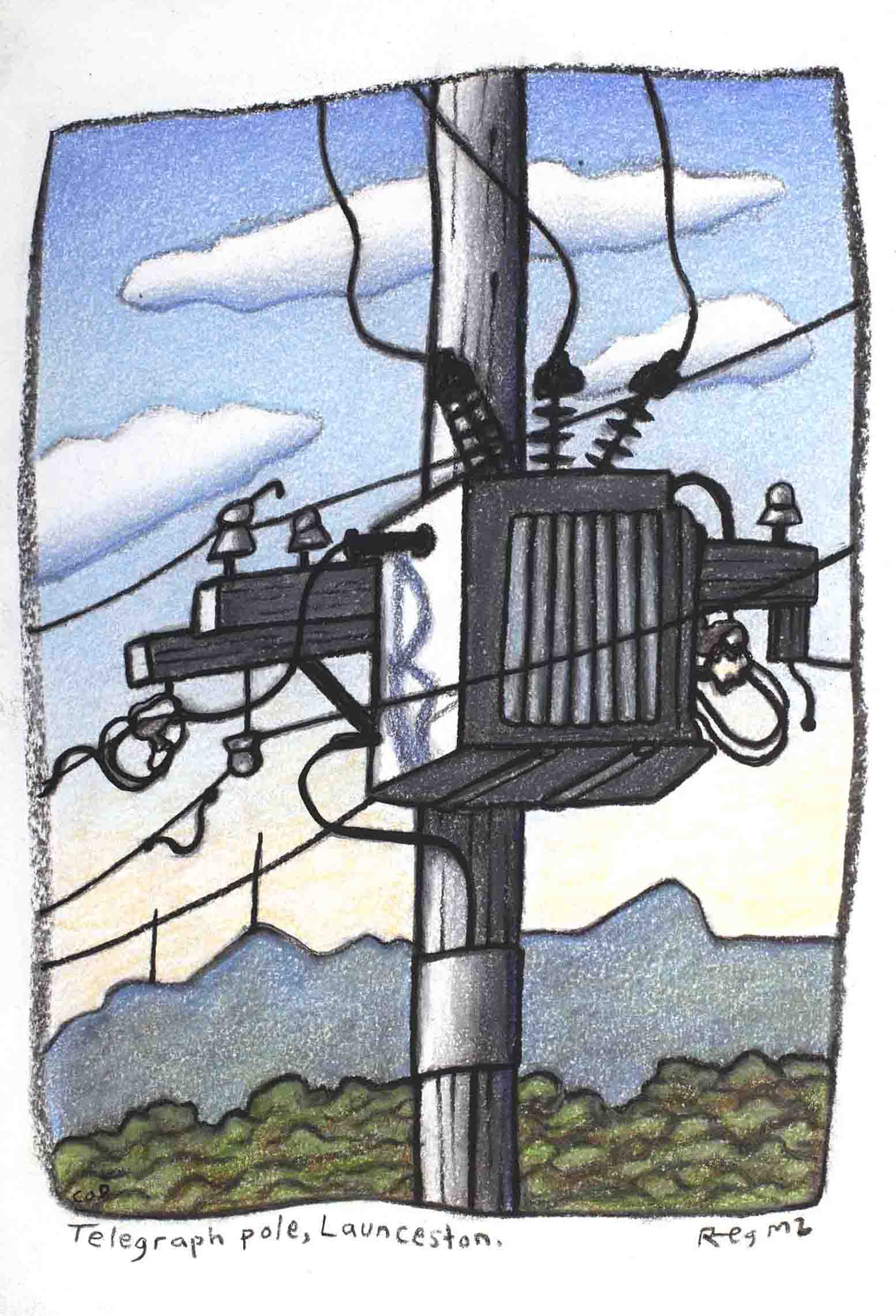 Telegraph Pole, Launceston          SOLD
charcoal and coloured pencil on paper     23 x 17cm
2023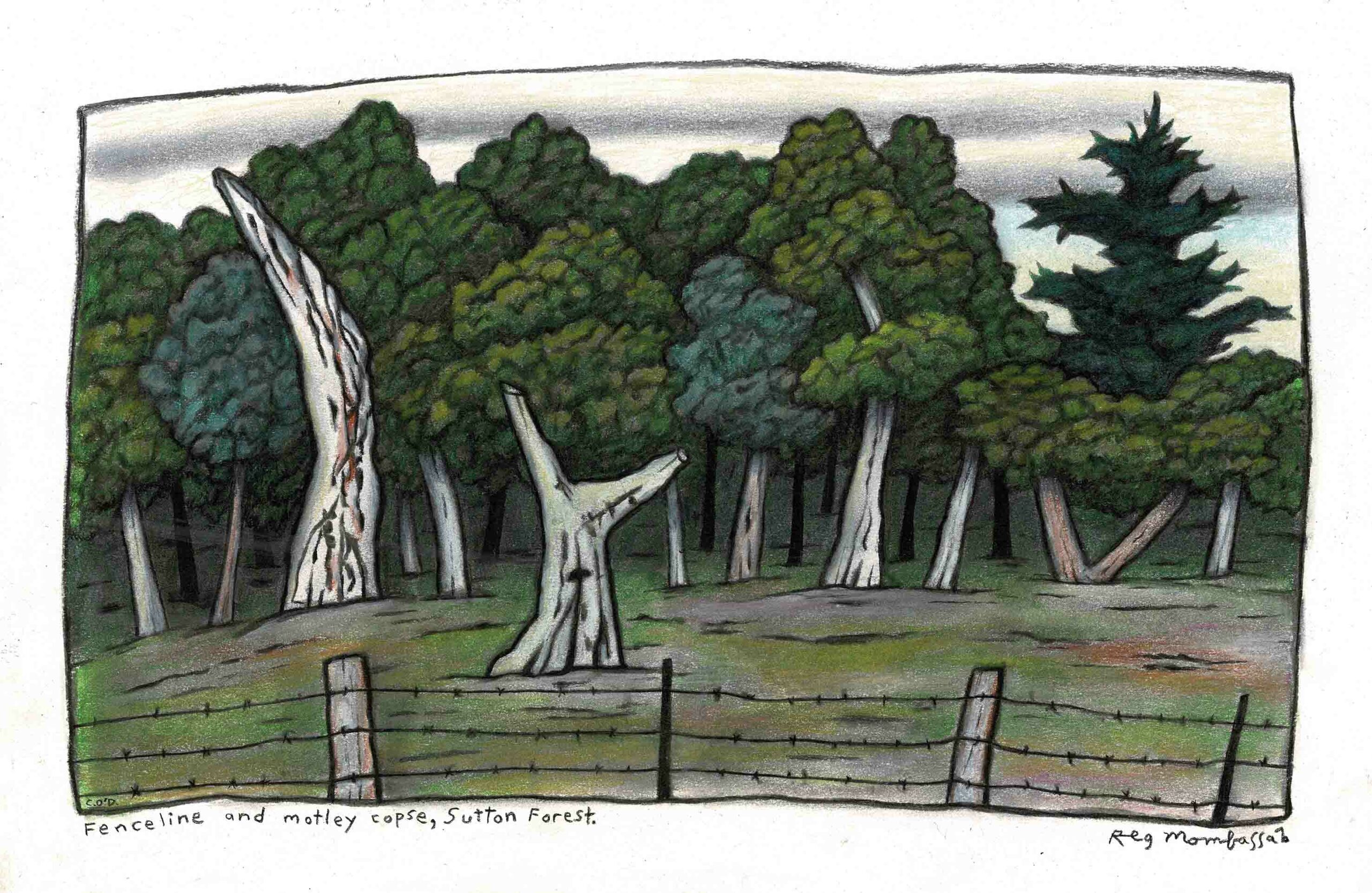 Fenceline And Motley Copse, Sutton Forest          $3, 500
charcoal and coloured pencil on paper     22 x 36cm
2021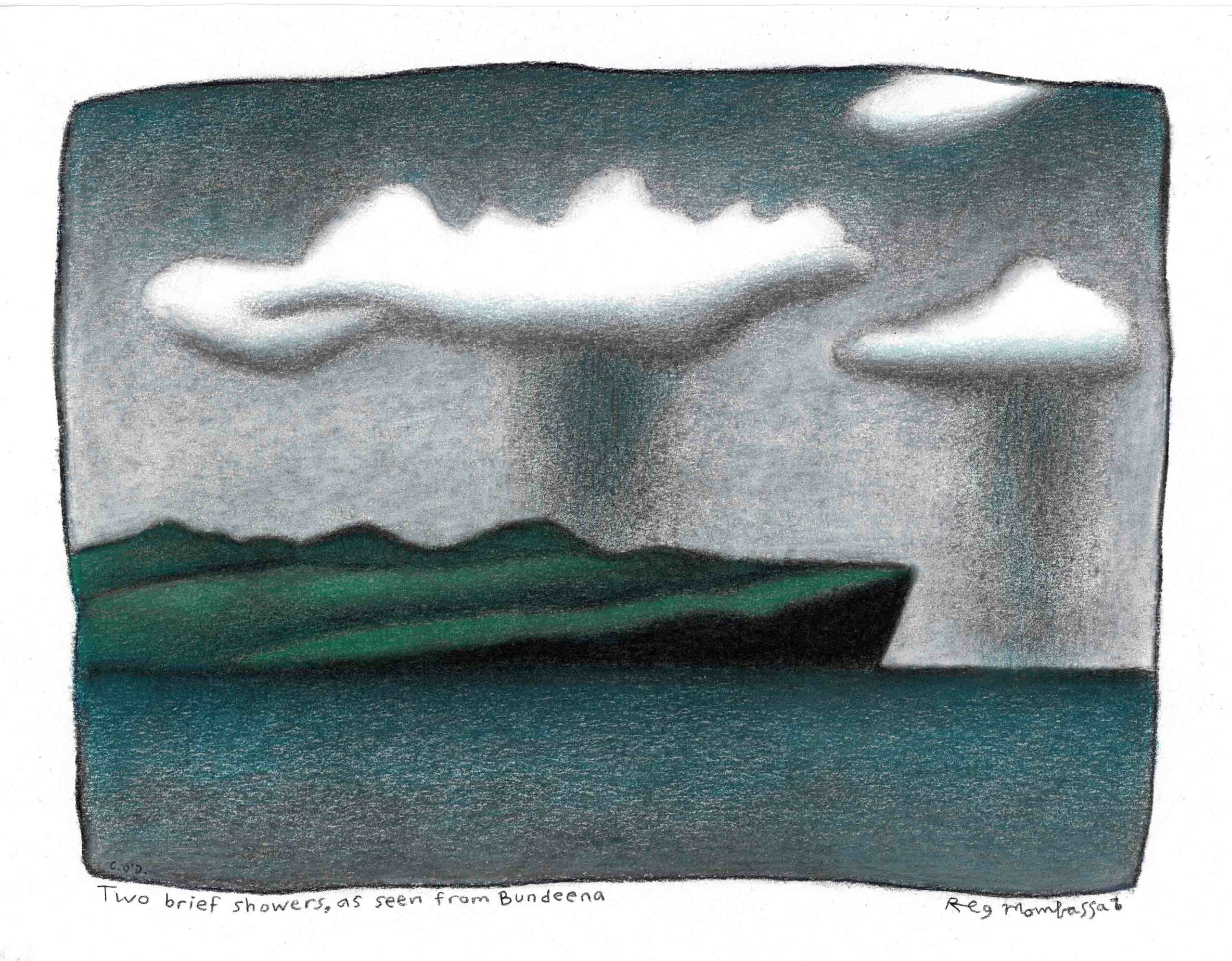 Two Brief Showers, As Seen From Bundeena          SOLD
charcoal and coloured pencil on paper     22.5 x 31cm
2023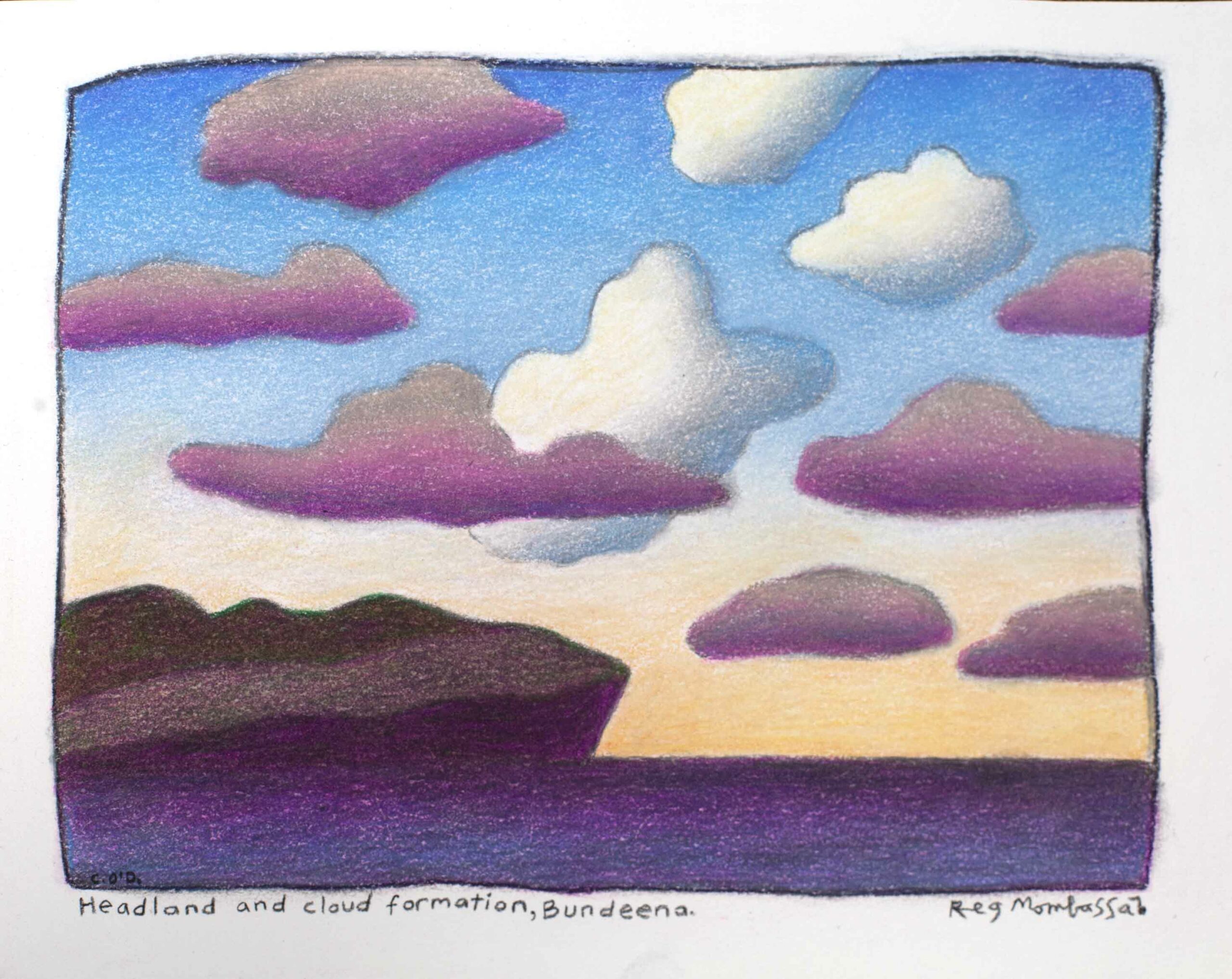 Headland And Cloud Formation, Bundeena          $3, 000
charcoal and coloured pencil on paper     17 x 22cm
2023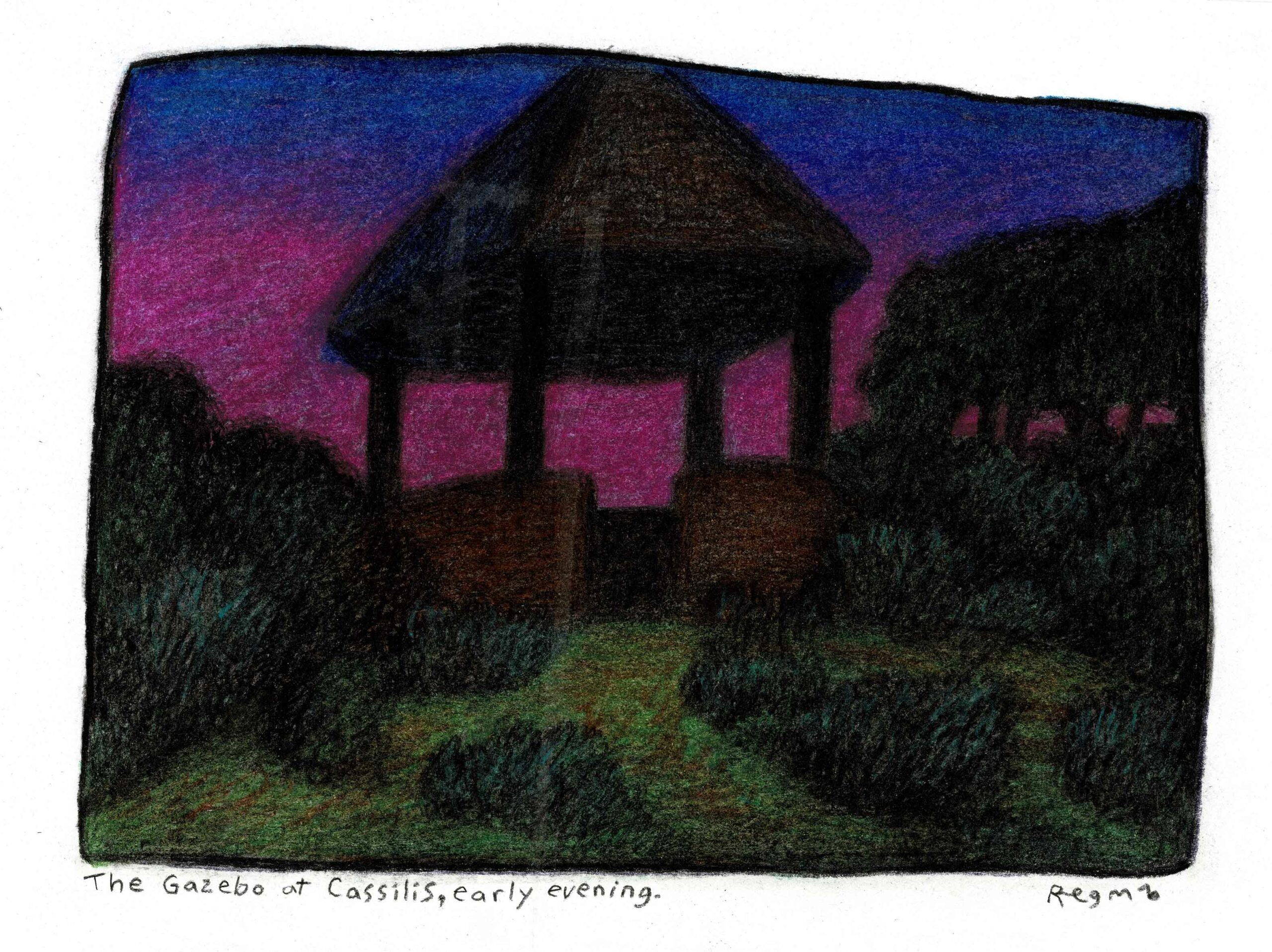 The Gazebo At Cassilis, Early Evening          $3, 000
charcoal and coloured pencil on paper     16.5 x 23cm
2021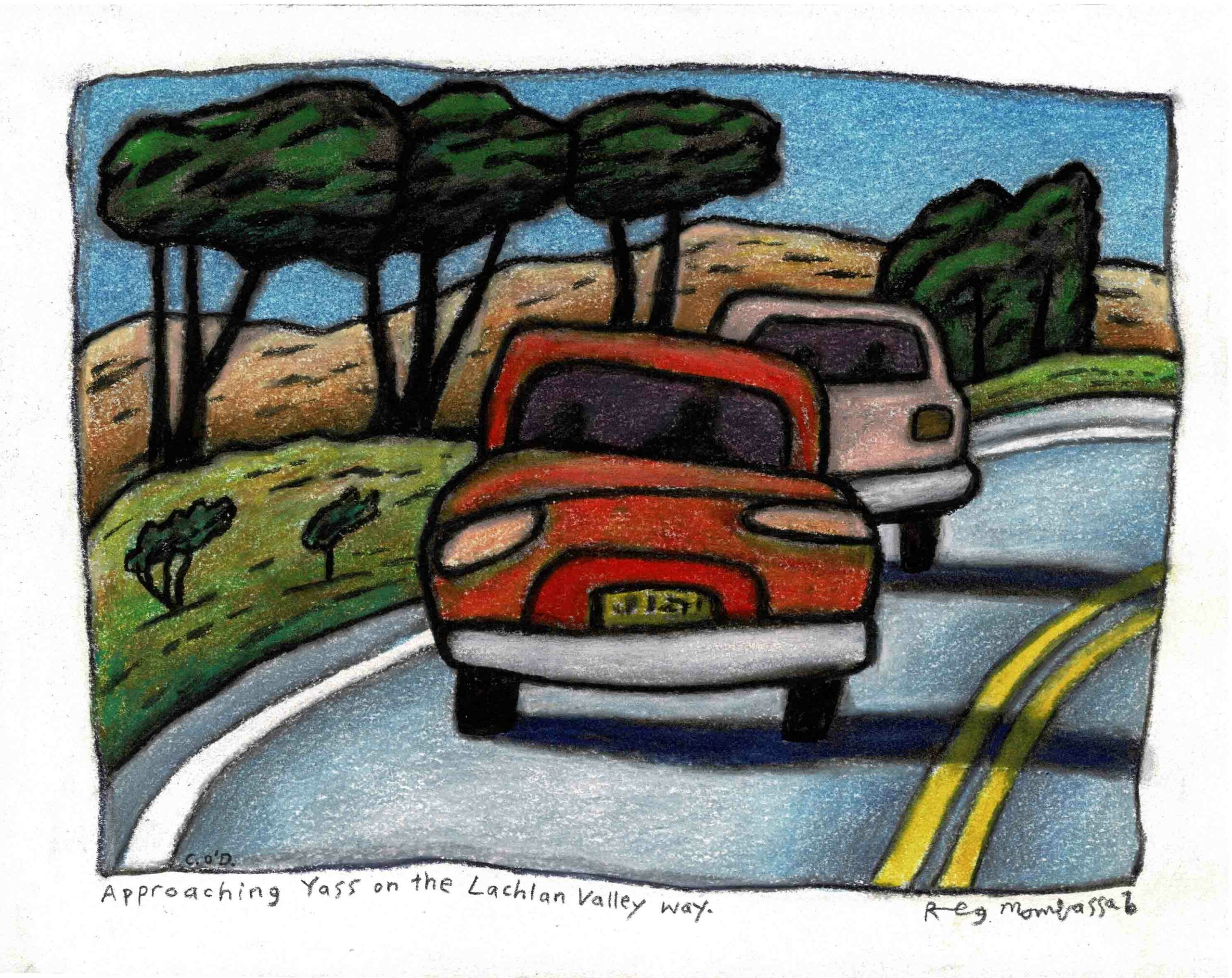 Approaching Yass On The Lachlan Valley Way          SOLD
charcoal and coloured pencil on paper     17.5 x 23cm
2023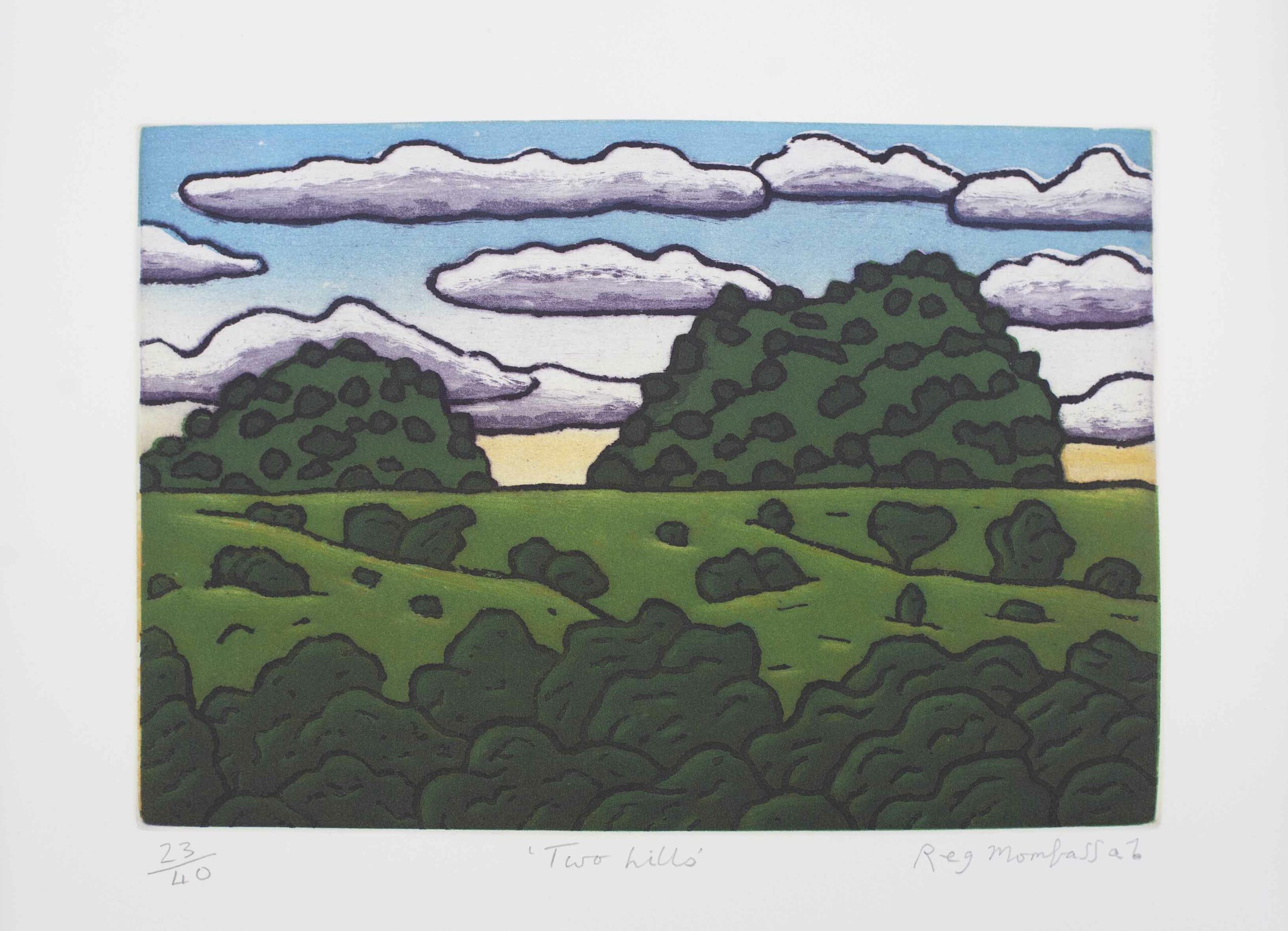 Two Hills          $880 (framed)   $700 (unframed)
etching with aquatint     22 x 31.5cm
2023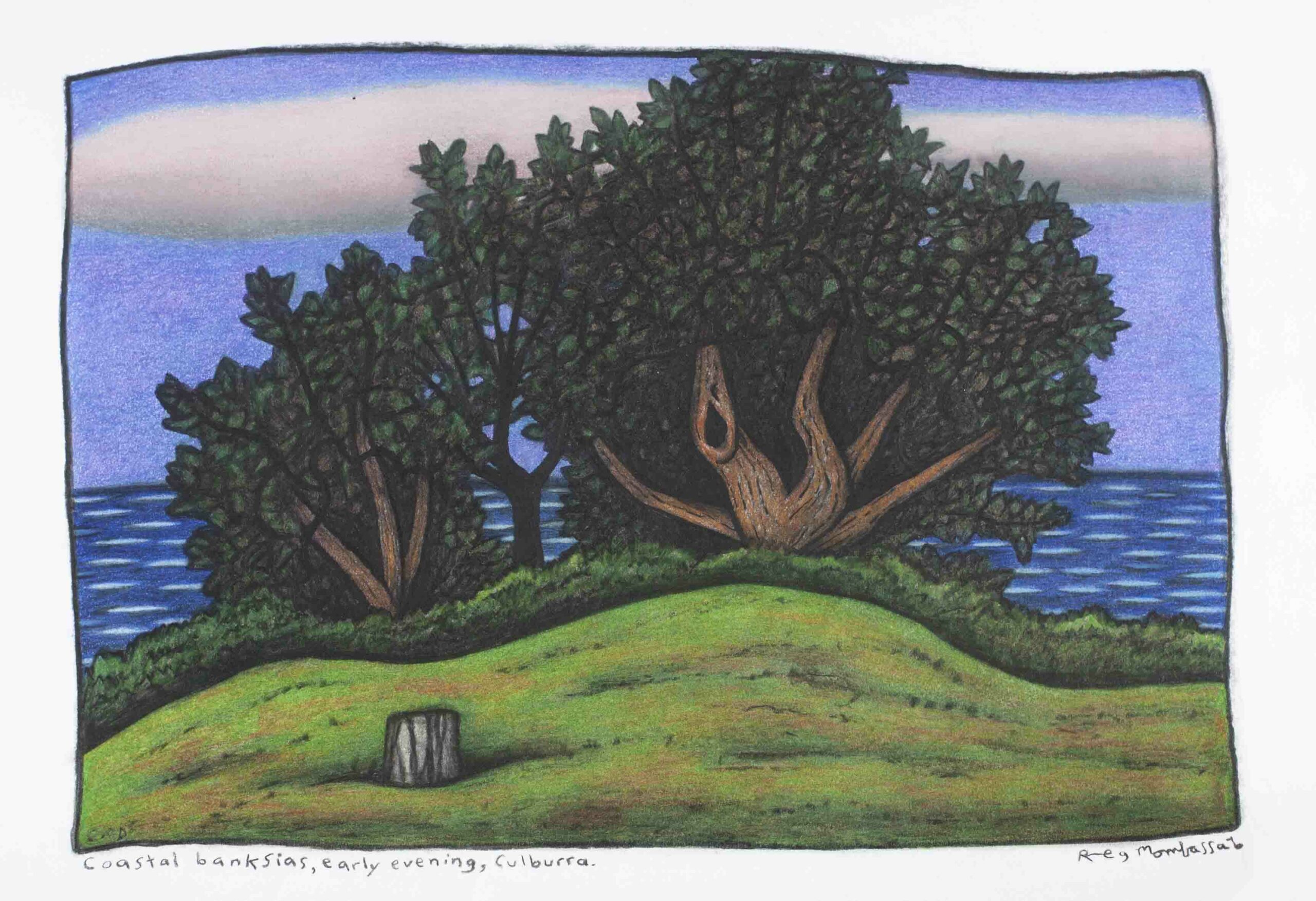 Coastal Banksias, Early Evening, Culburra          SOLD
charcoal and coloured pencil on paper     33 x 48cm
2021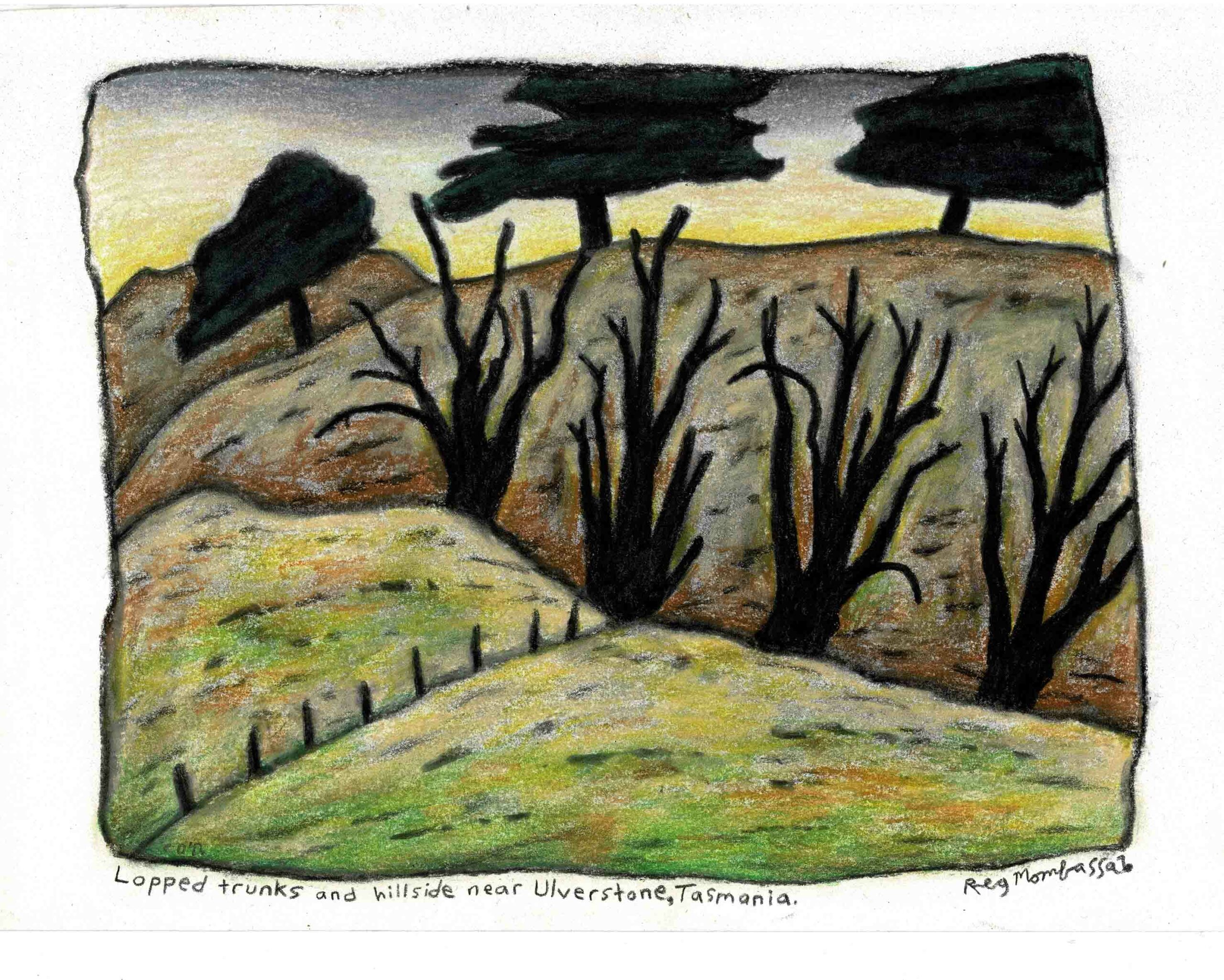 Lopped Trunks And Hillside Near Ulverstone, Tasmania          $3, 000
charcoal and coloured pencil on paper     18 x 23cm
2023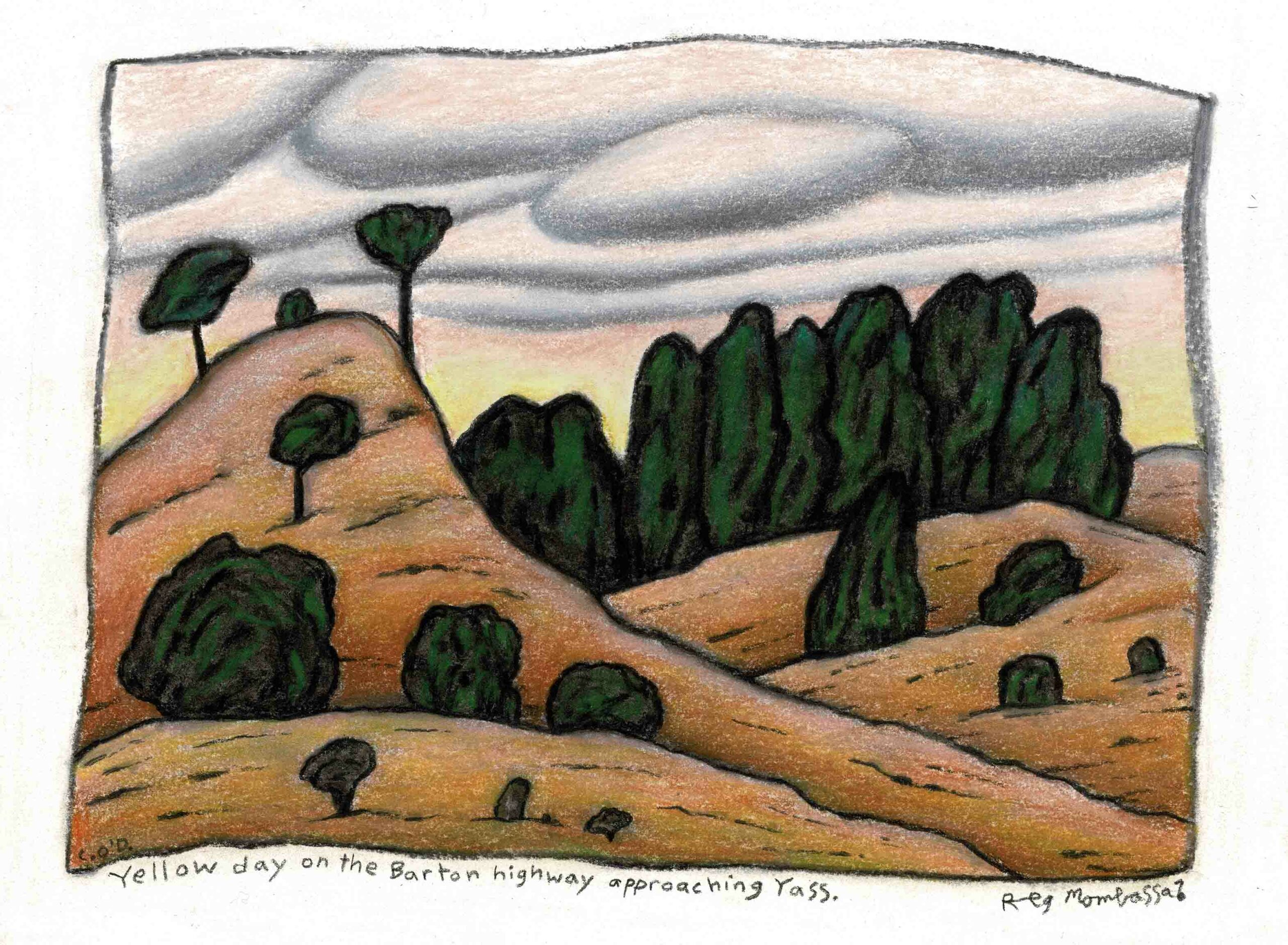 Yellow Day On The Barton Highway Approaching Yass          SOLD
charcoal and coloured pencil on paper     17 x 23cm
2023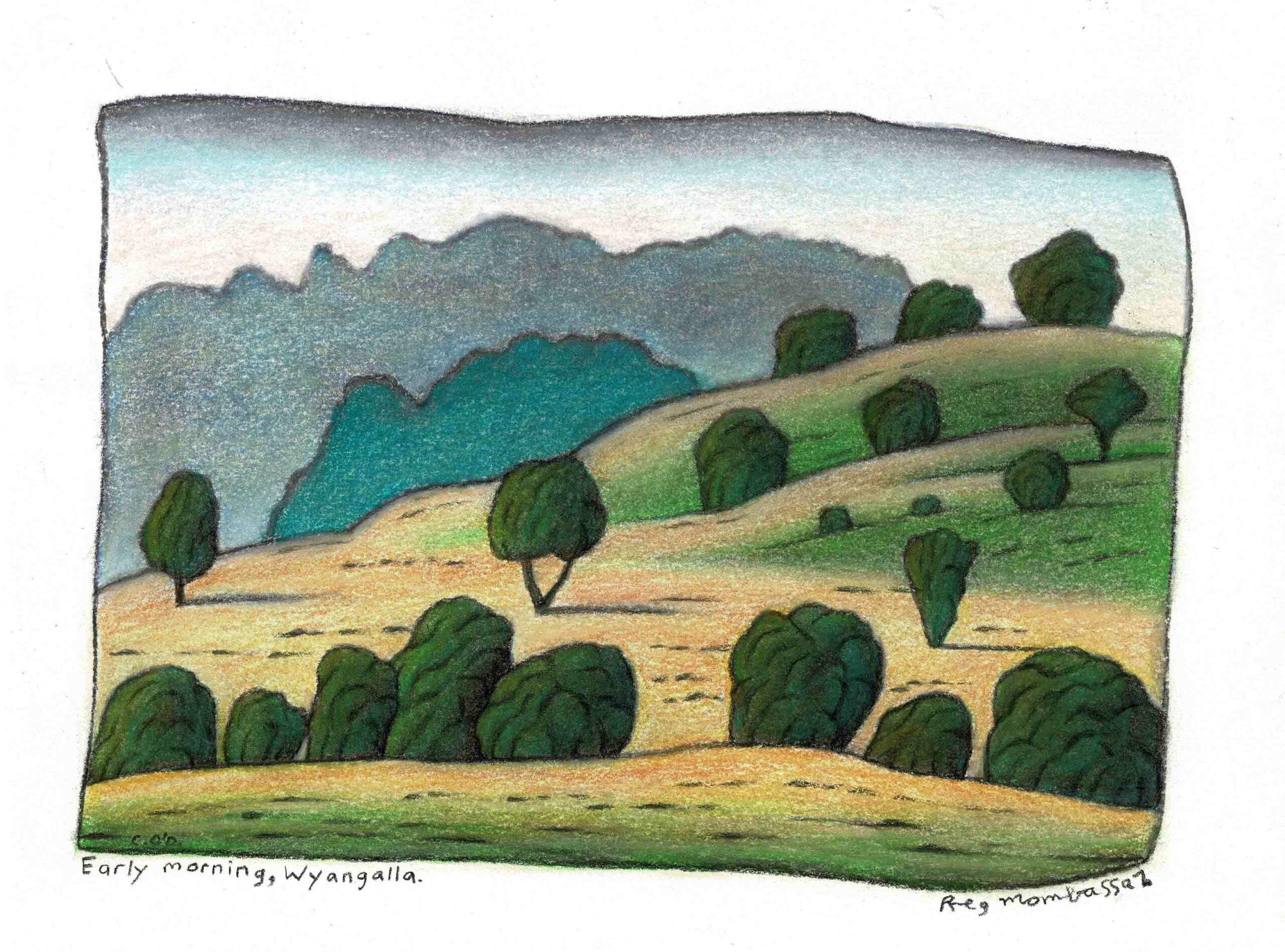 Early Morning, Wyangalla          SOLD
charcoal and coloured pencil on paper     15.5 x 22.5cm
2023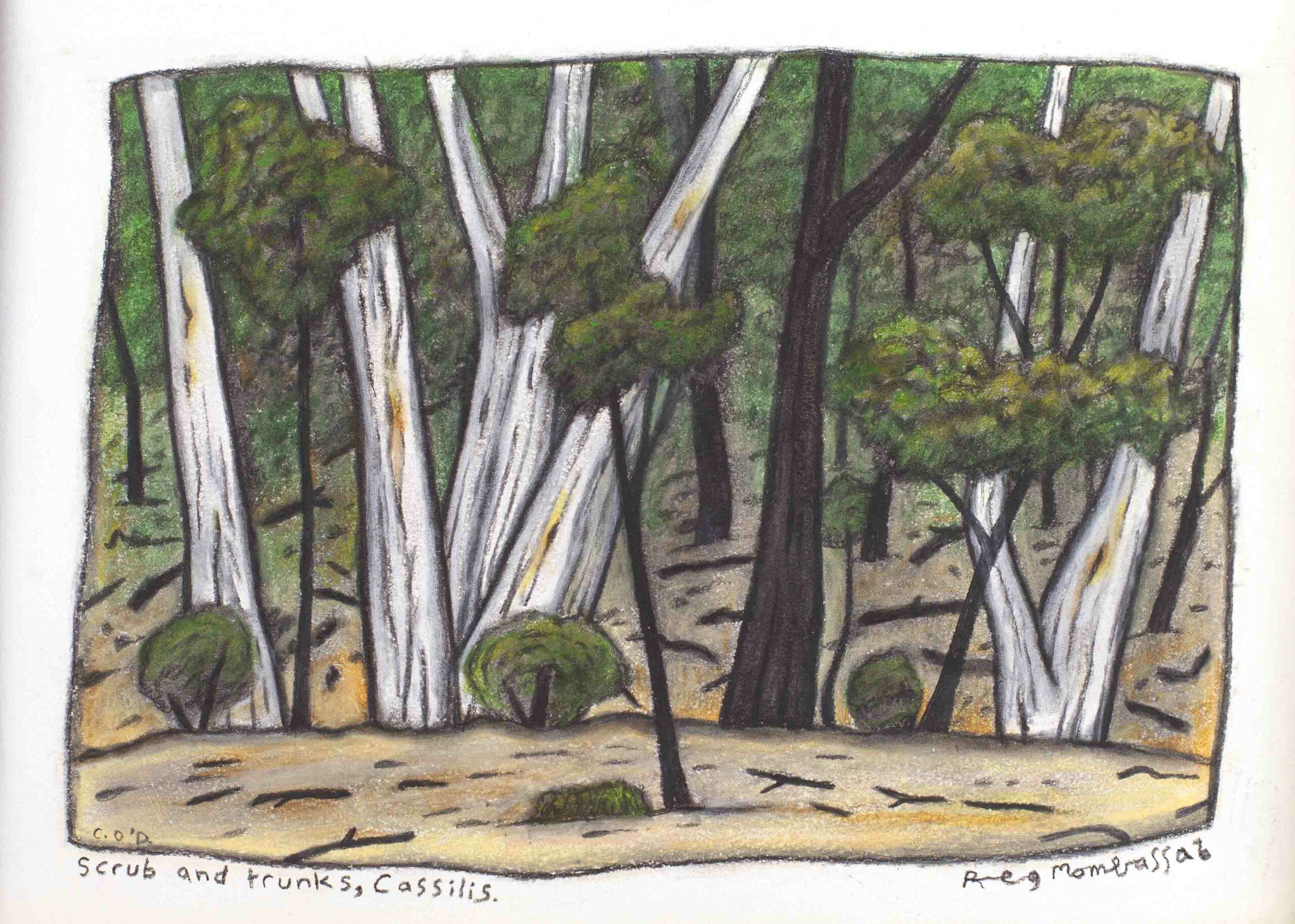 Scrub And Trunks, Cassilis          $3, 000
charcoal and coloured pencil on paper     16.5 x 23cm
2023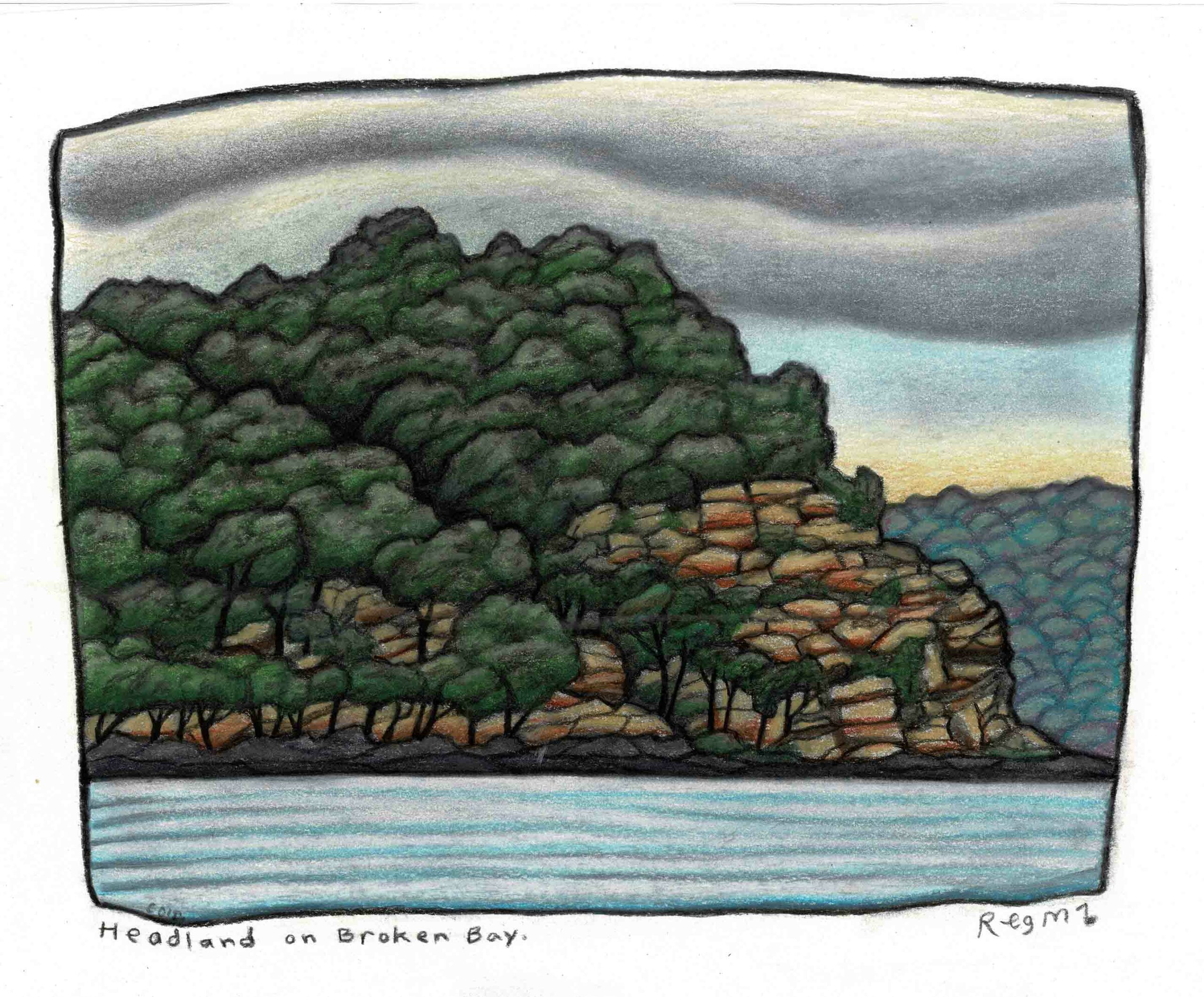 Headland On Broken Bay          SOLD
charcoal and coloured pencil on paper     24 x 31cm
2023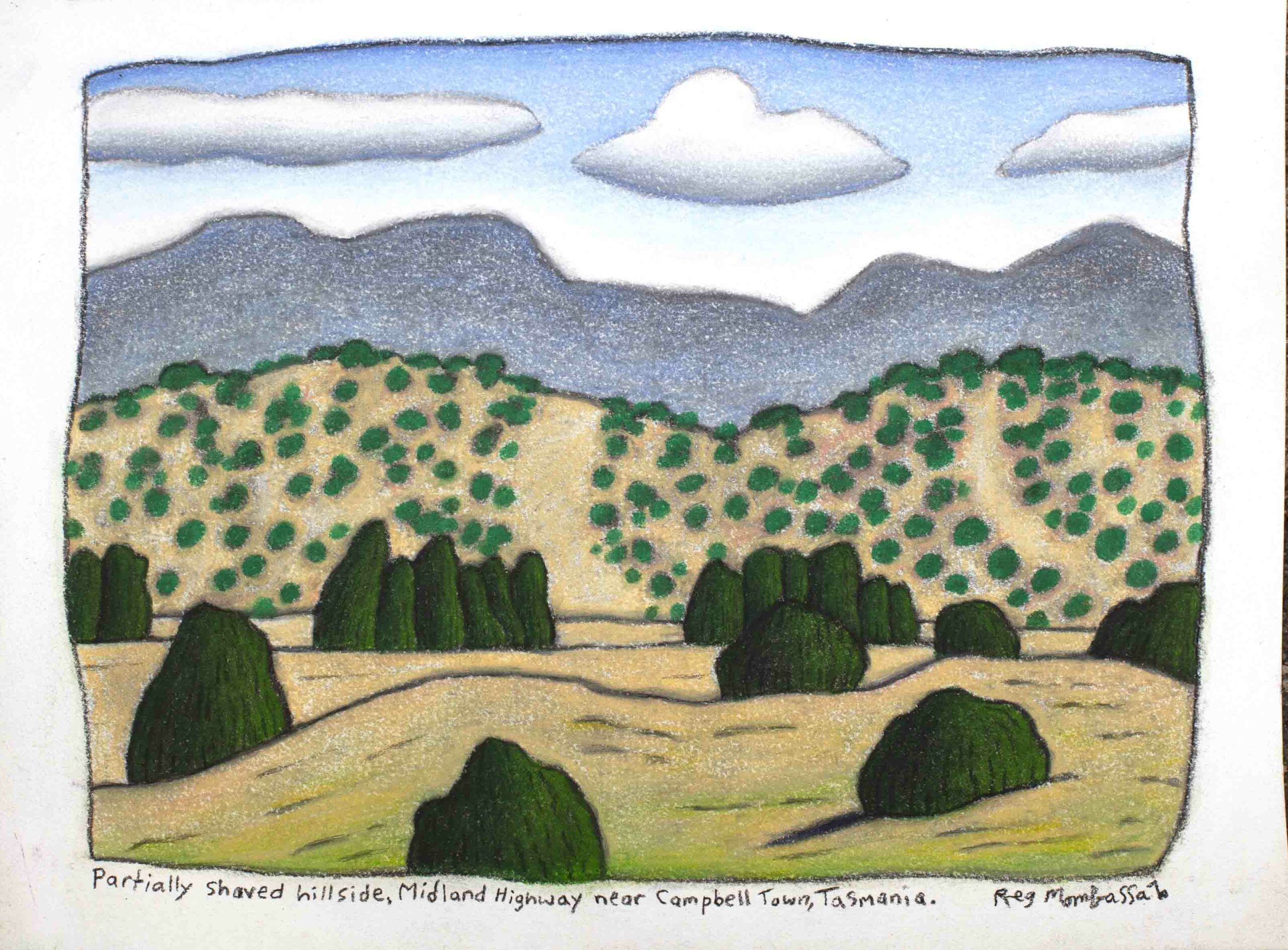 Partially Shaved Hillside, Midland Highway Near Campbell Town, Tasmania          $2, 800
charcoal and coloured pencil on paper     18 x 24.5cm
2023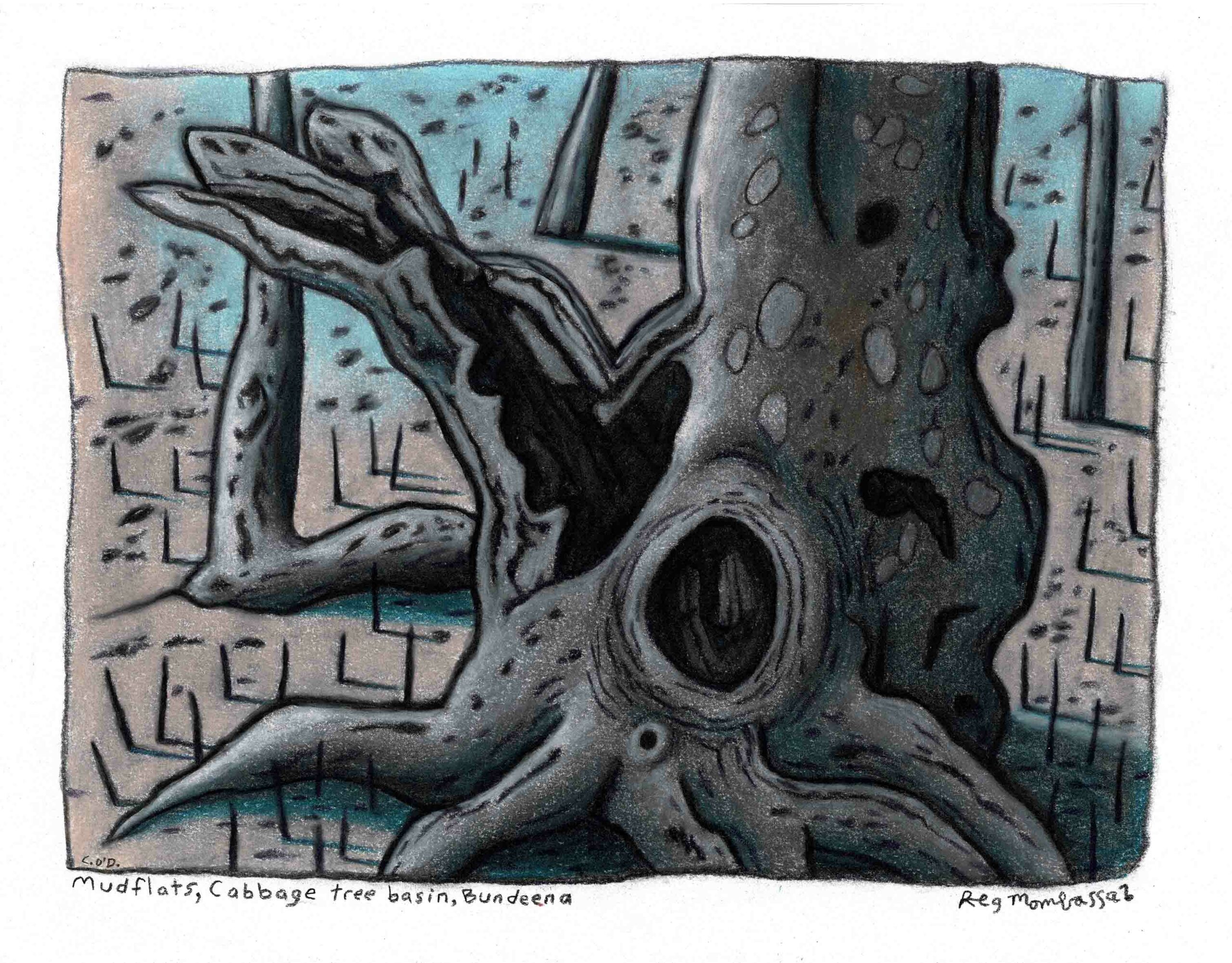 Mudflats, Cabbage Tree Basin, Bundeena          $3, 500
charcoal and coloured pencil on paper     23 x 30cm
2023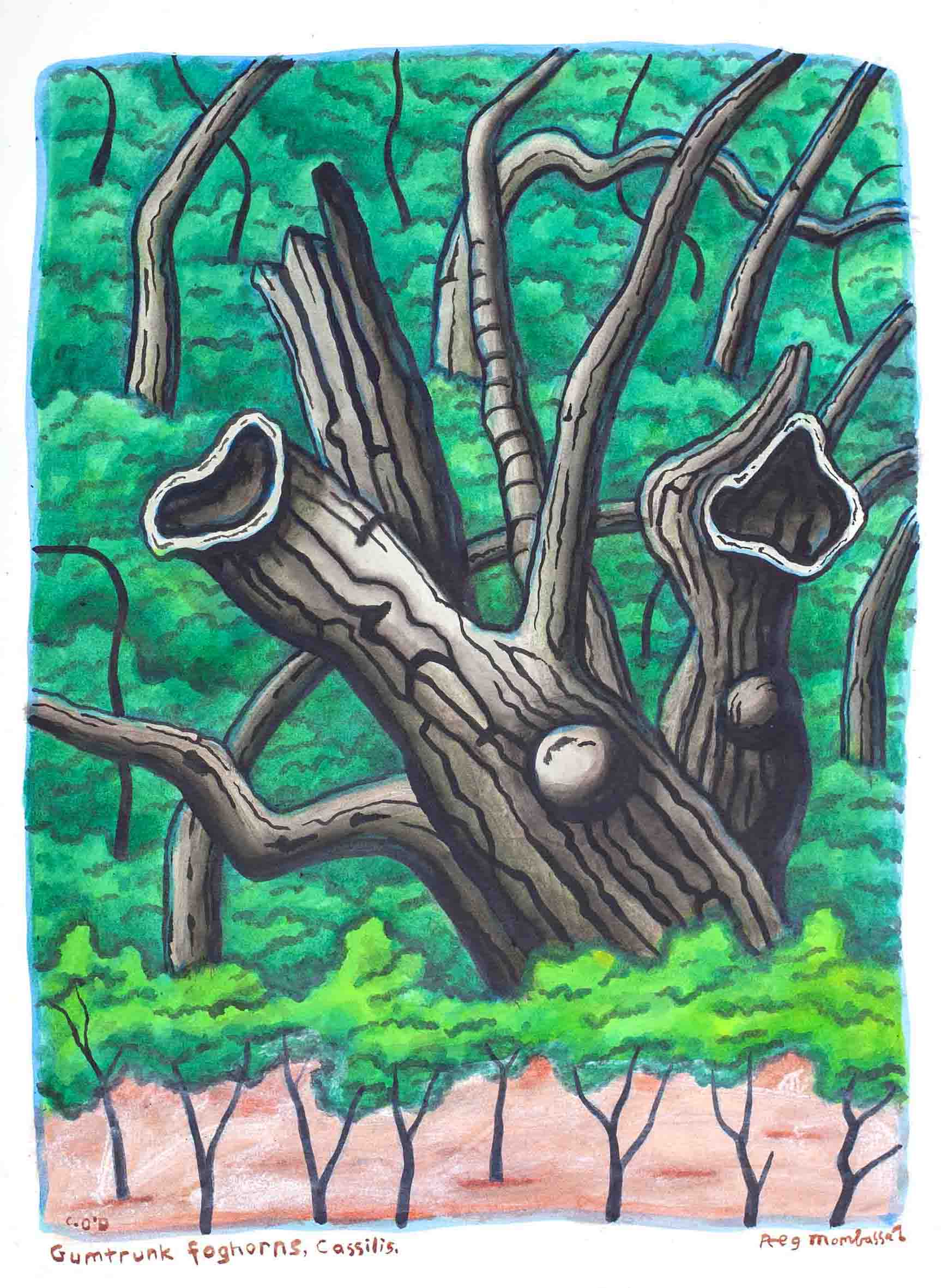 Gumtrunk Foghorns, Cassilis          $4, 500
pen and ink wash on paper     54.5 x 41cm
2022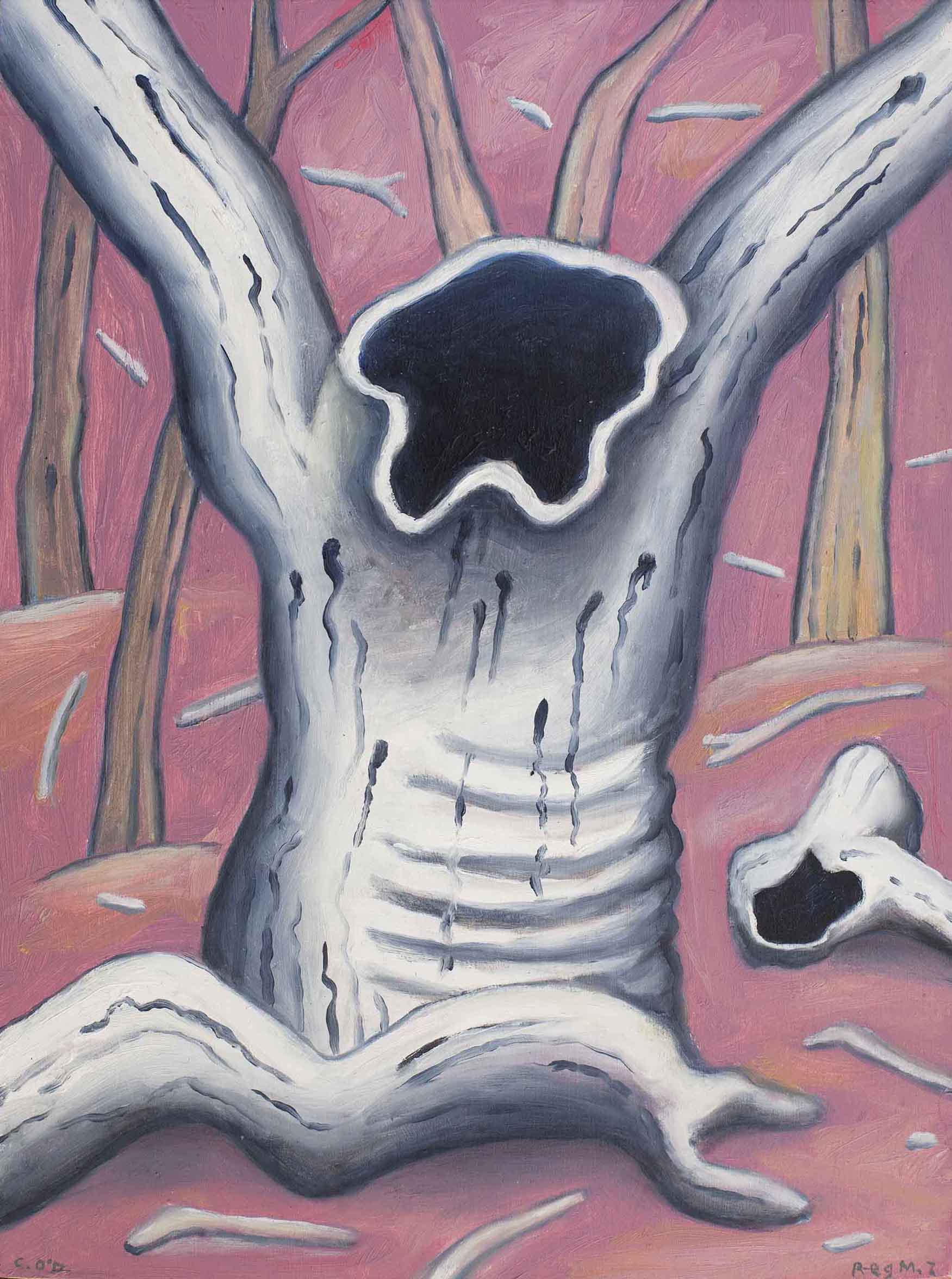 Dessicated Trunks, Cassilis          $4, 400
oil on board     30.5 x 23cm
2023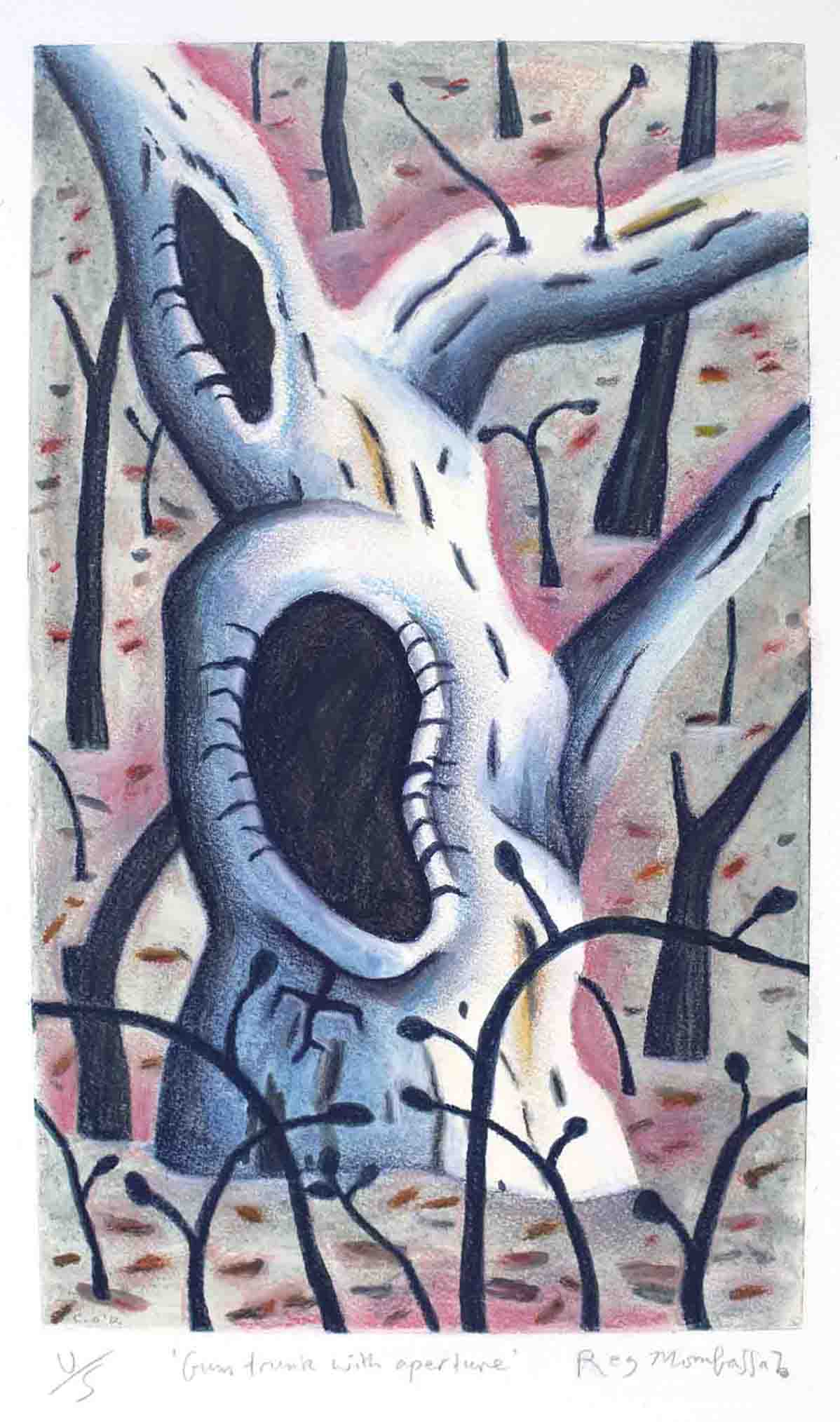 Gumtrunk With Aperture          $3, 800
unique state monoprint with coloured pencil     37 x 22cm
2022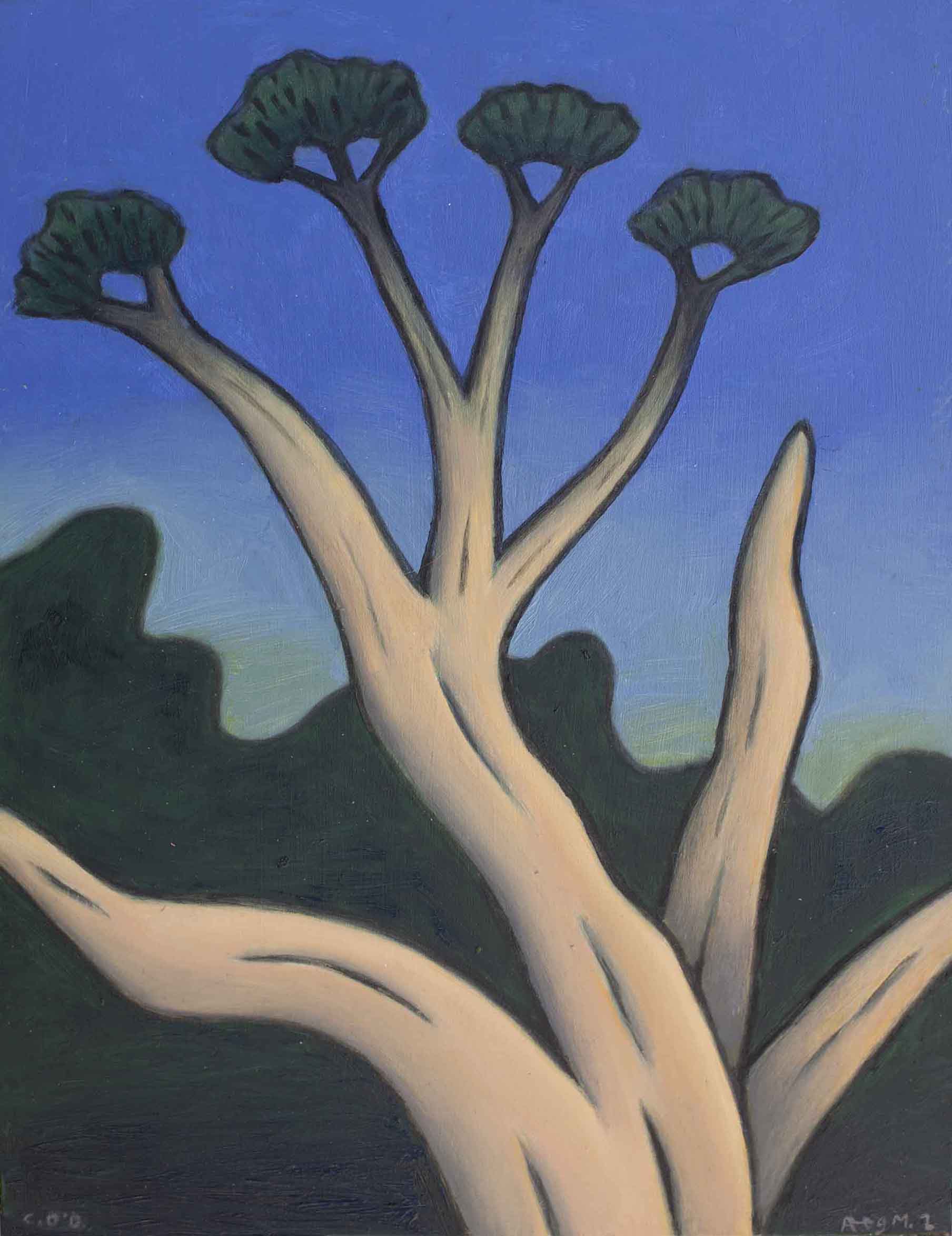 Floodlit Gum Trunk          $4, 400
oil on board     30.5 x 23cm
2023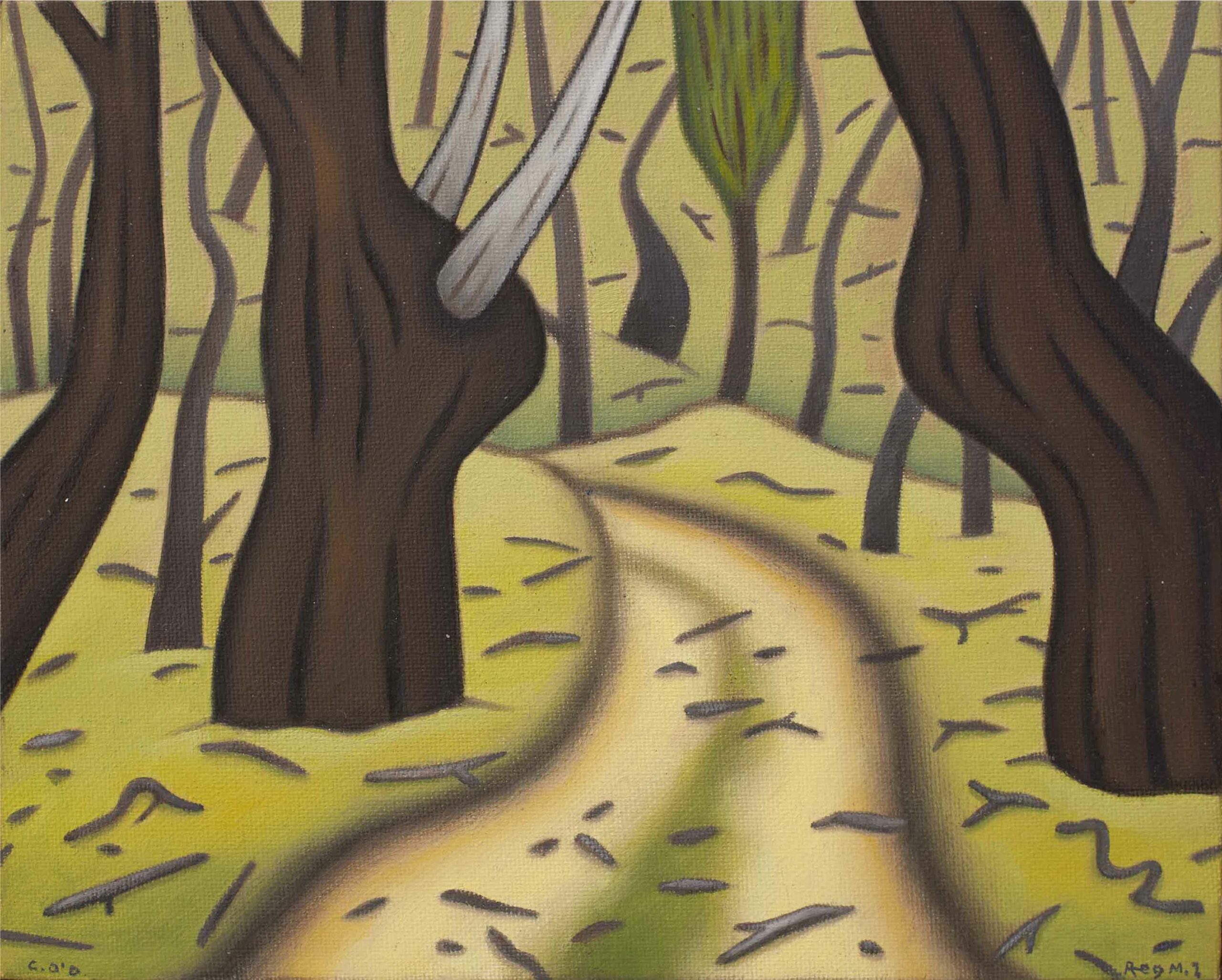 Track, Gums And Debris, Cassilis          $3, 800
oil on canvas board     20 x 25.5cm
2023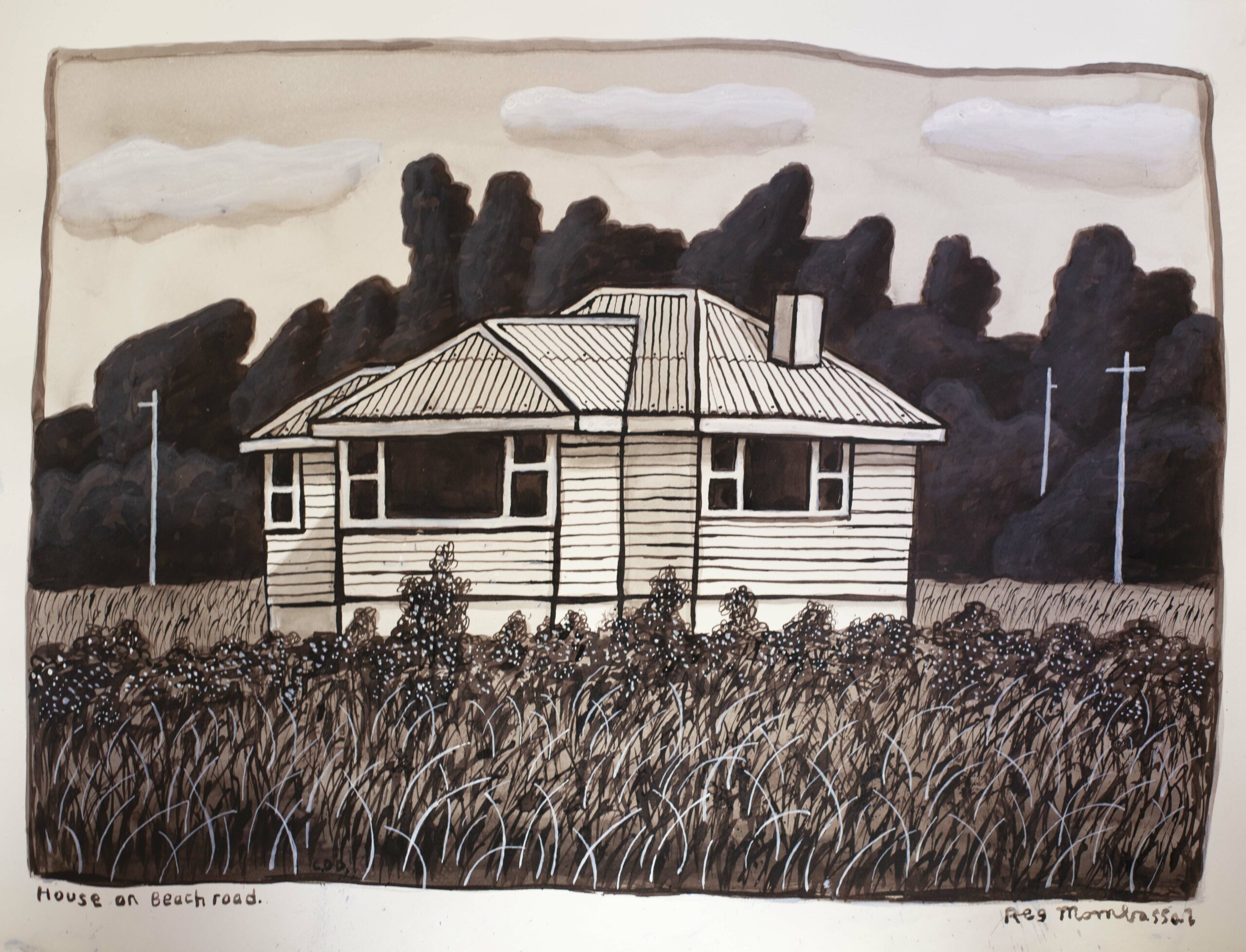 House On Beach Road          $5, 000
pen and ink wash on paper     39.5 x 56cm
2022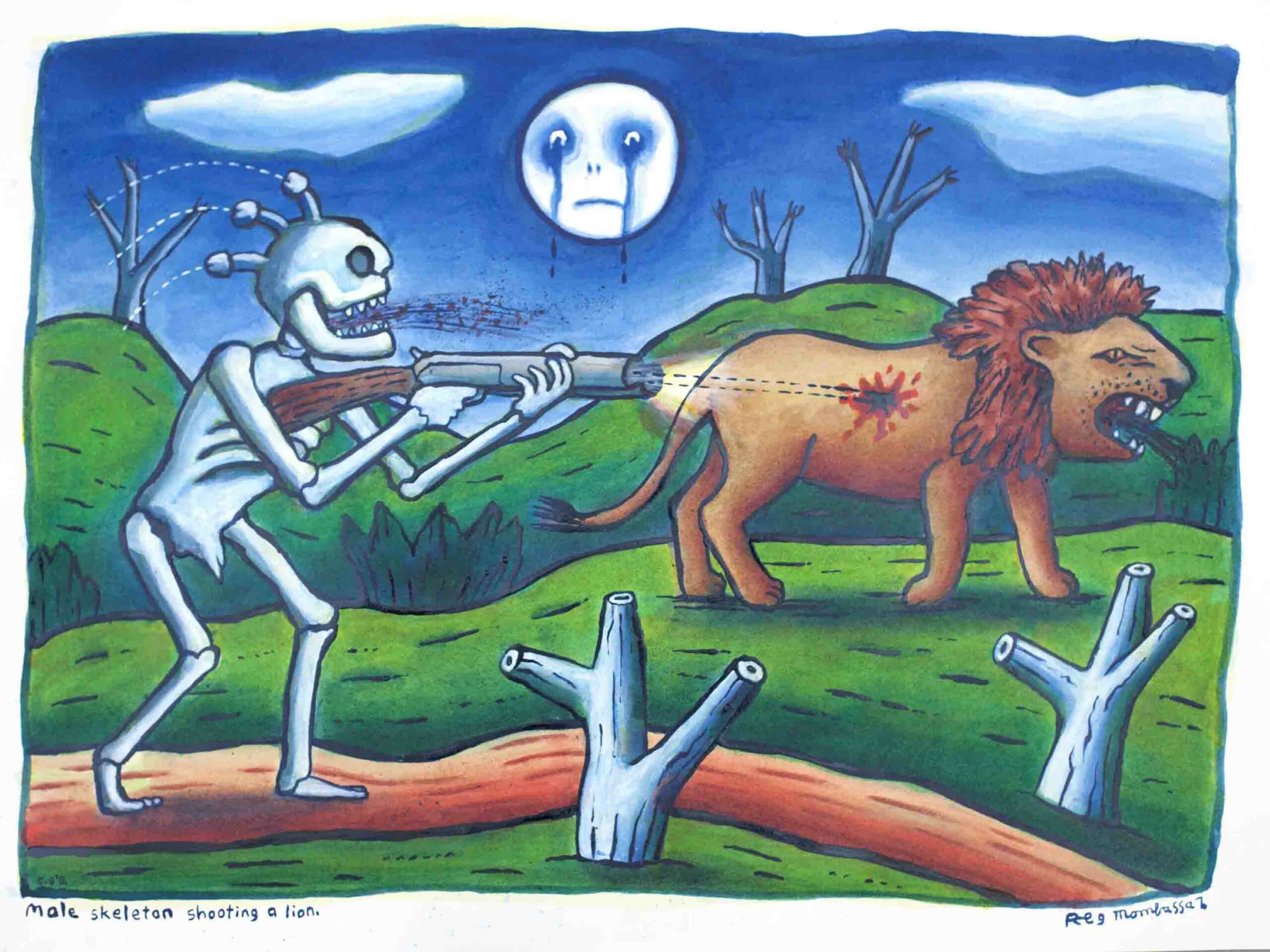 Male Skeleton Shooting A Lion          SOLD
pen and ink wash on paper     40 x 56.5cm
2022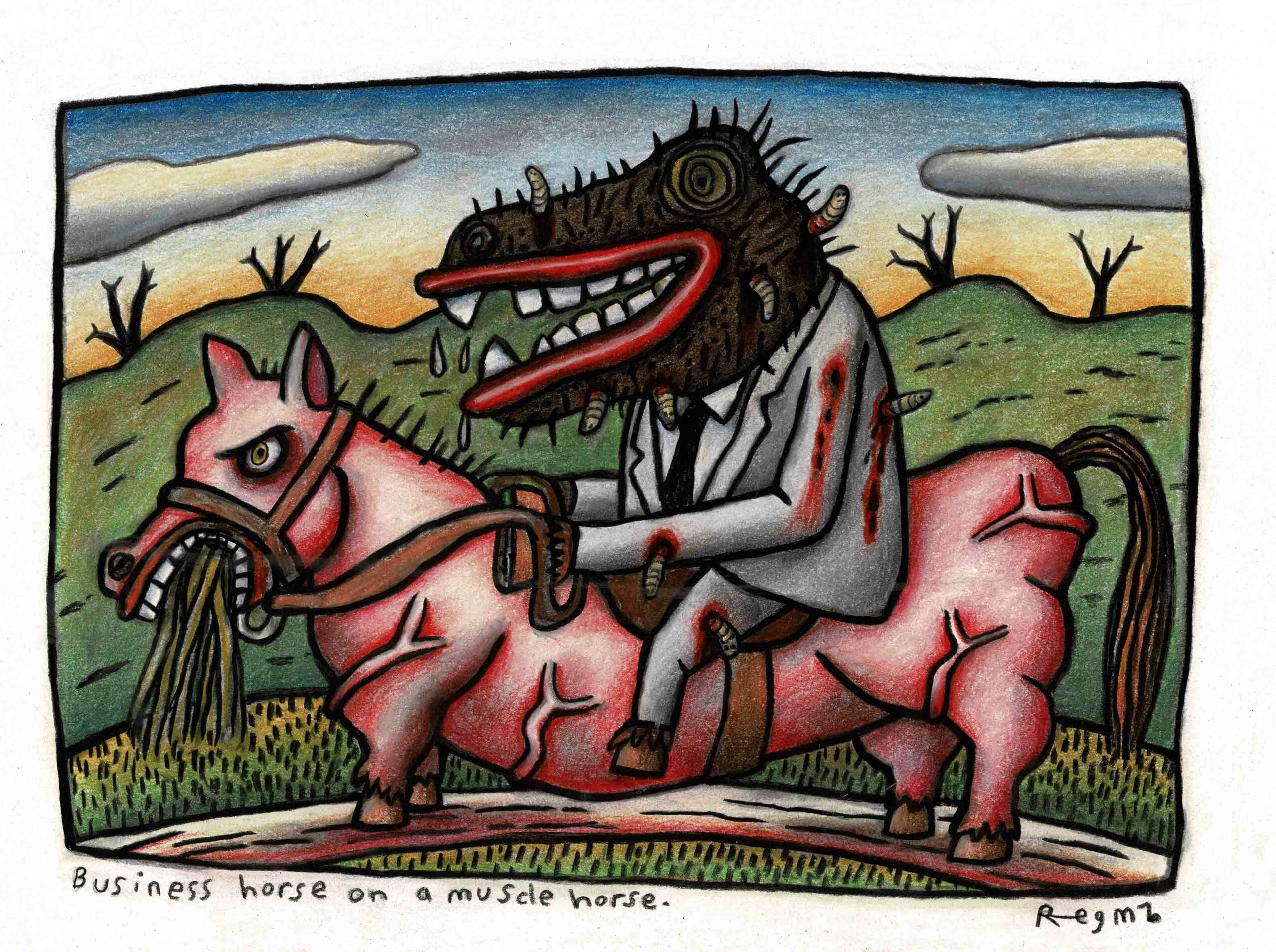 Business Horse On A Muscle Horse          SOLD
charcoal and coloured pencil on paper     24 x 34cm
2022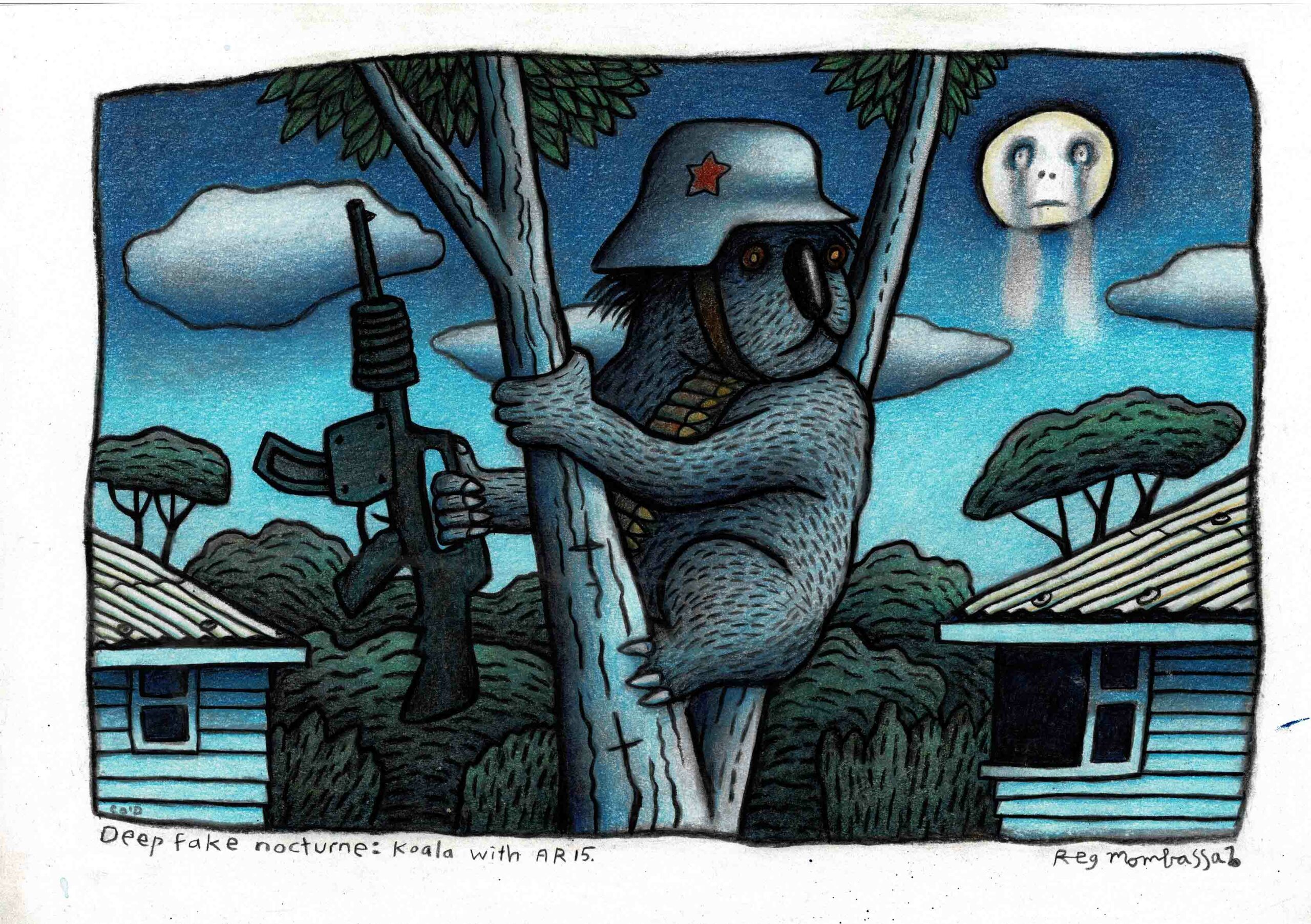 Deep Fake Nocturne: Koala With AR15          SOLD
charcoal and coloured pencil on paper     24 x 36cm
2022
Sunset With Oilrigs          SOLD
charcoal and coloured pencil on paper     23.5 x 33cm
2022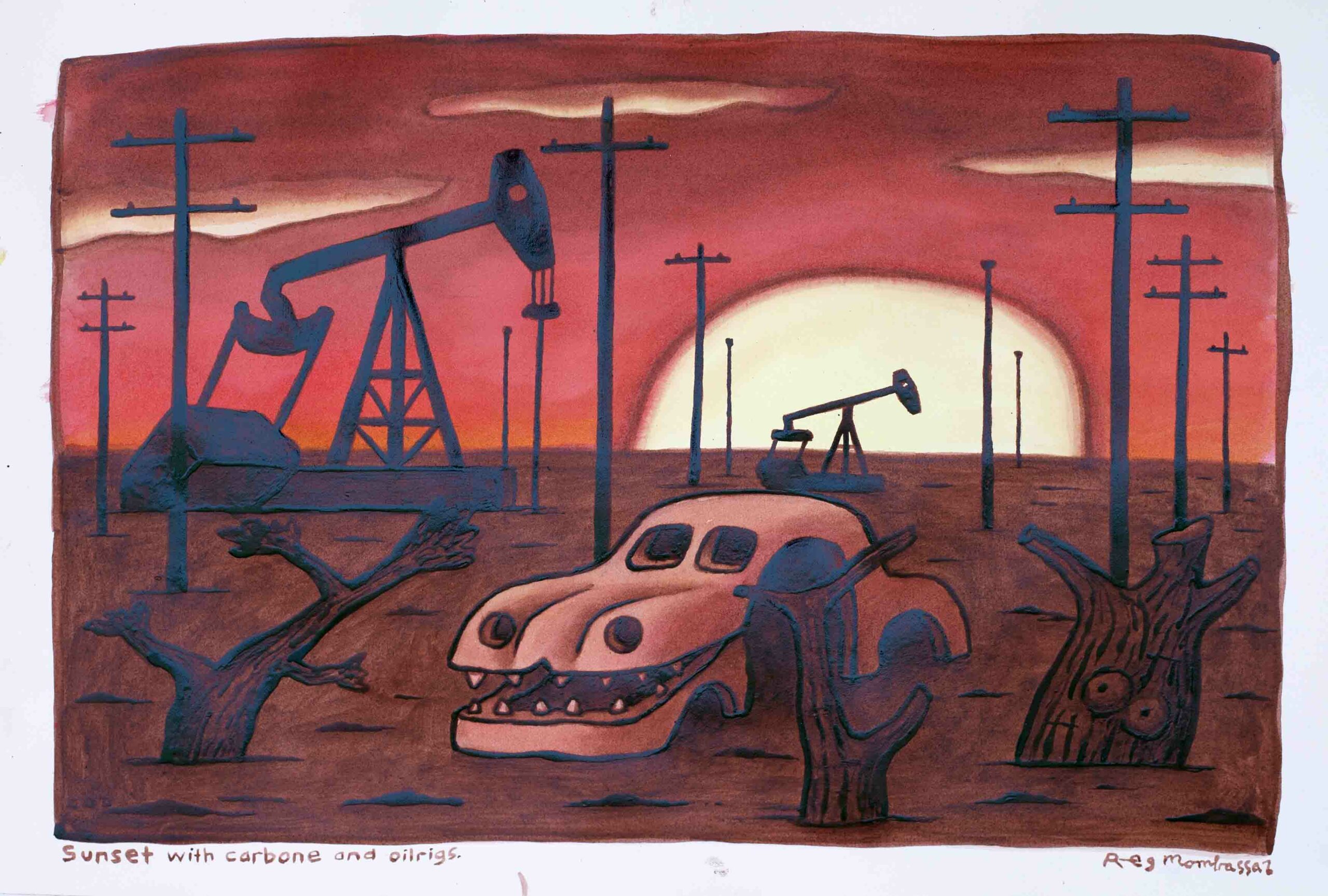 Sunset With Carbone And Oilrigs          SOLD

pen and ink wash on paper     40 x 56cm
2021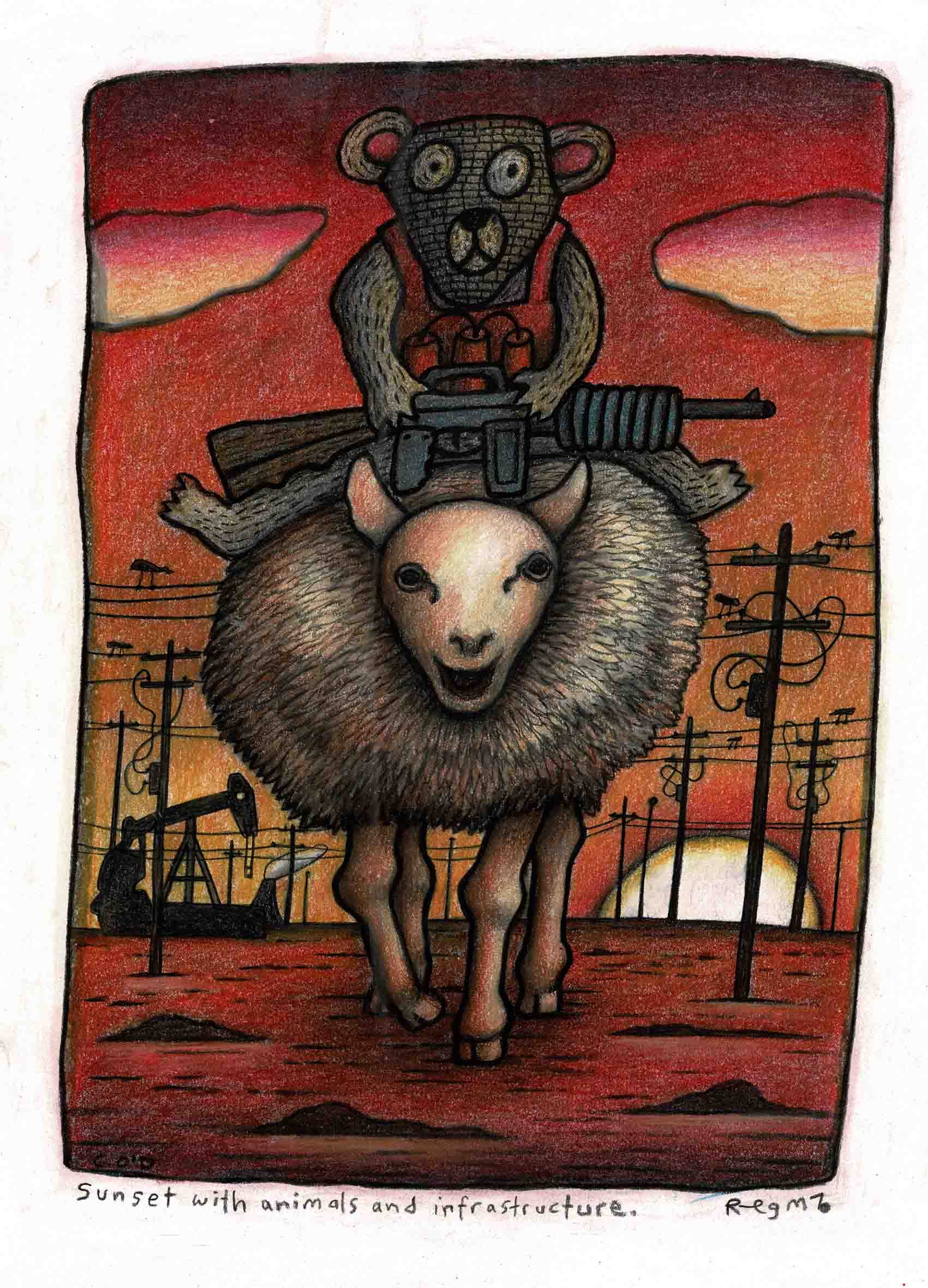 Sunset With Animals And Infrastructure          SOLD
charcoal and coloured pencil on paper     33 x 23cm
2022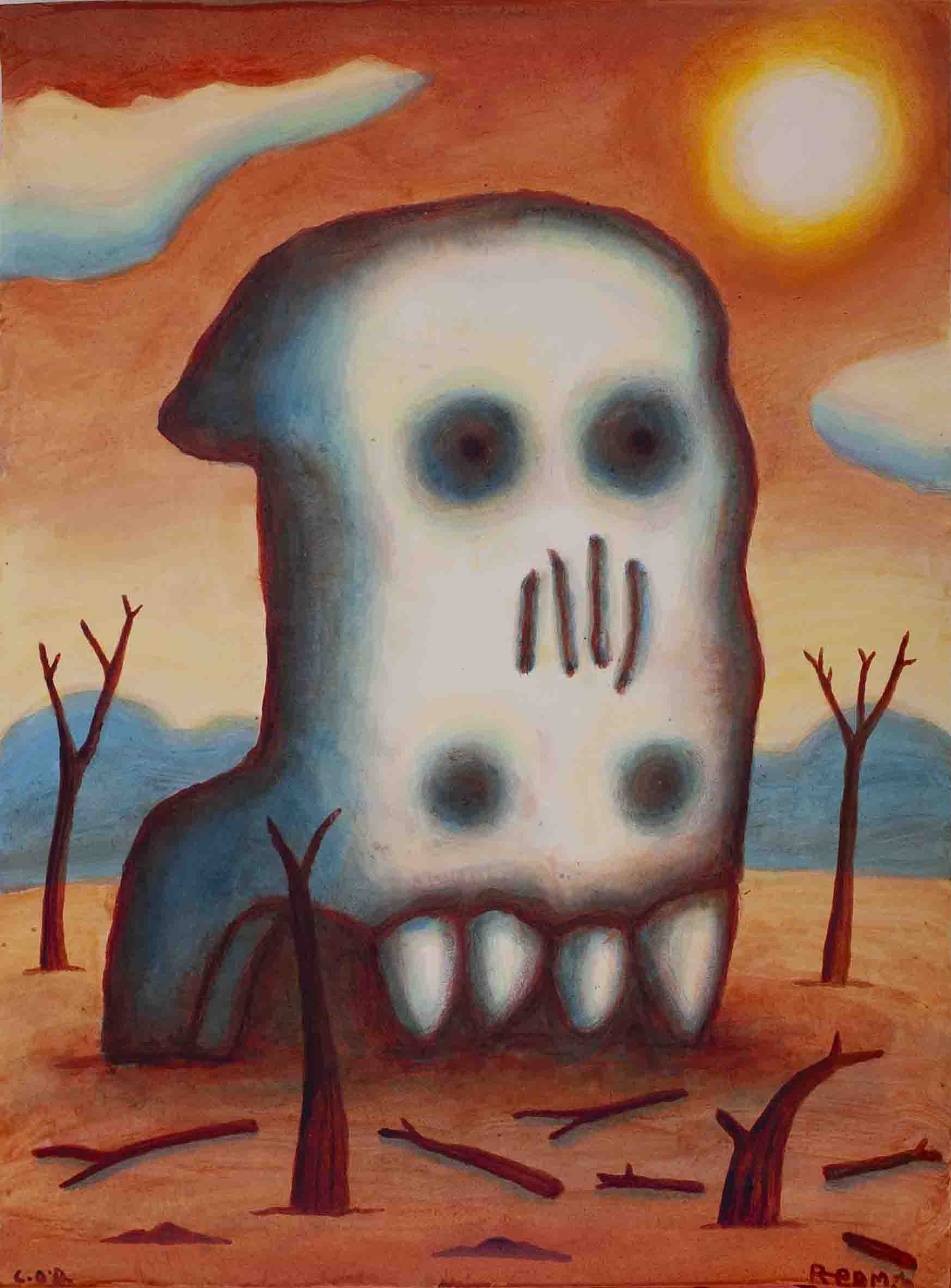 Truckskull With Dead Trees          SOLD
pen and ink wash on paper     61 x 45.5cm
2021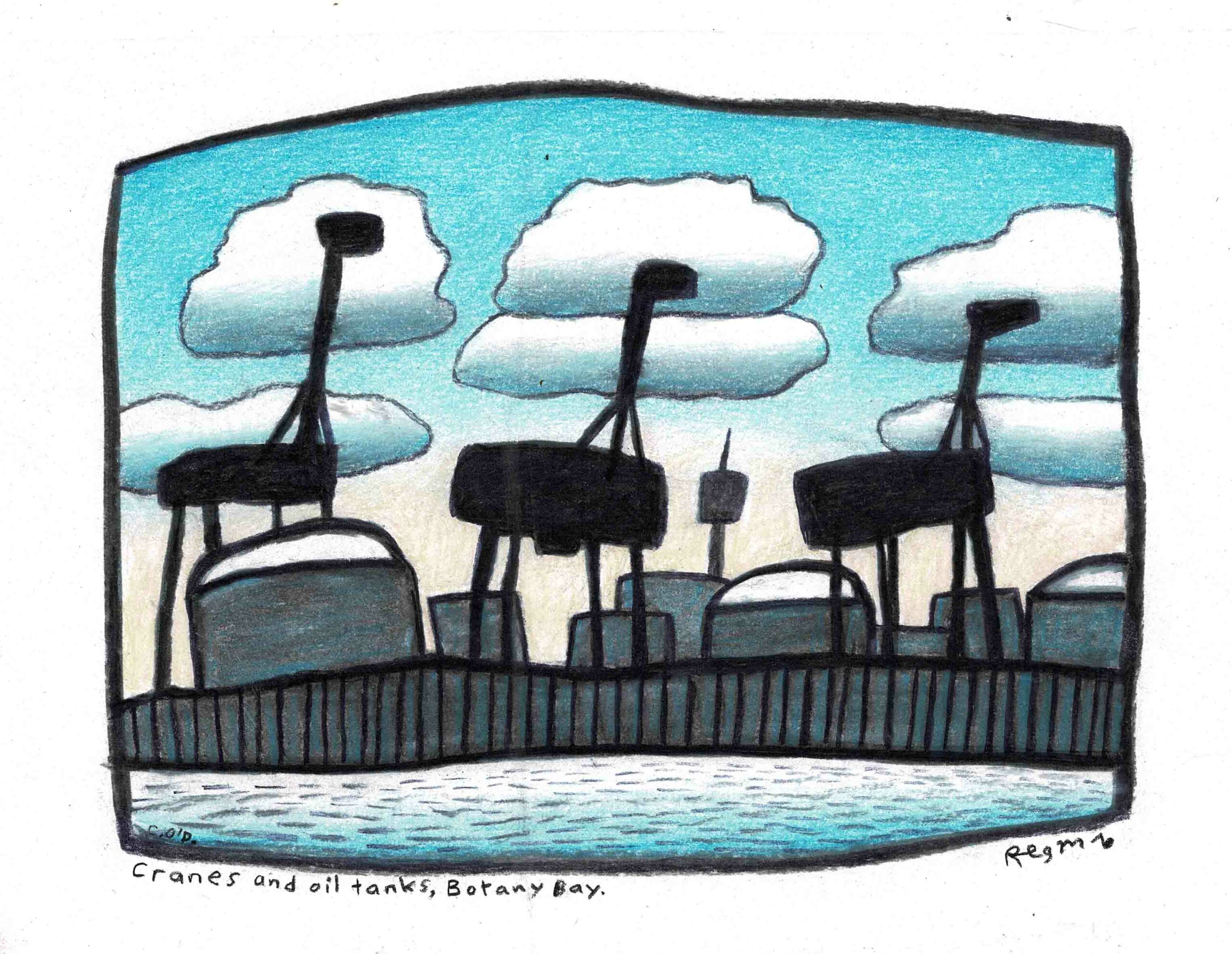 Cranes And Oil Tanks, Botany Bay          $3, 000
charcoal and coloured pencil on paper     17.5 x 23cm
2021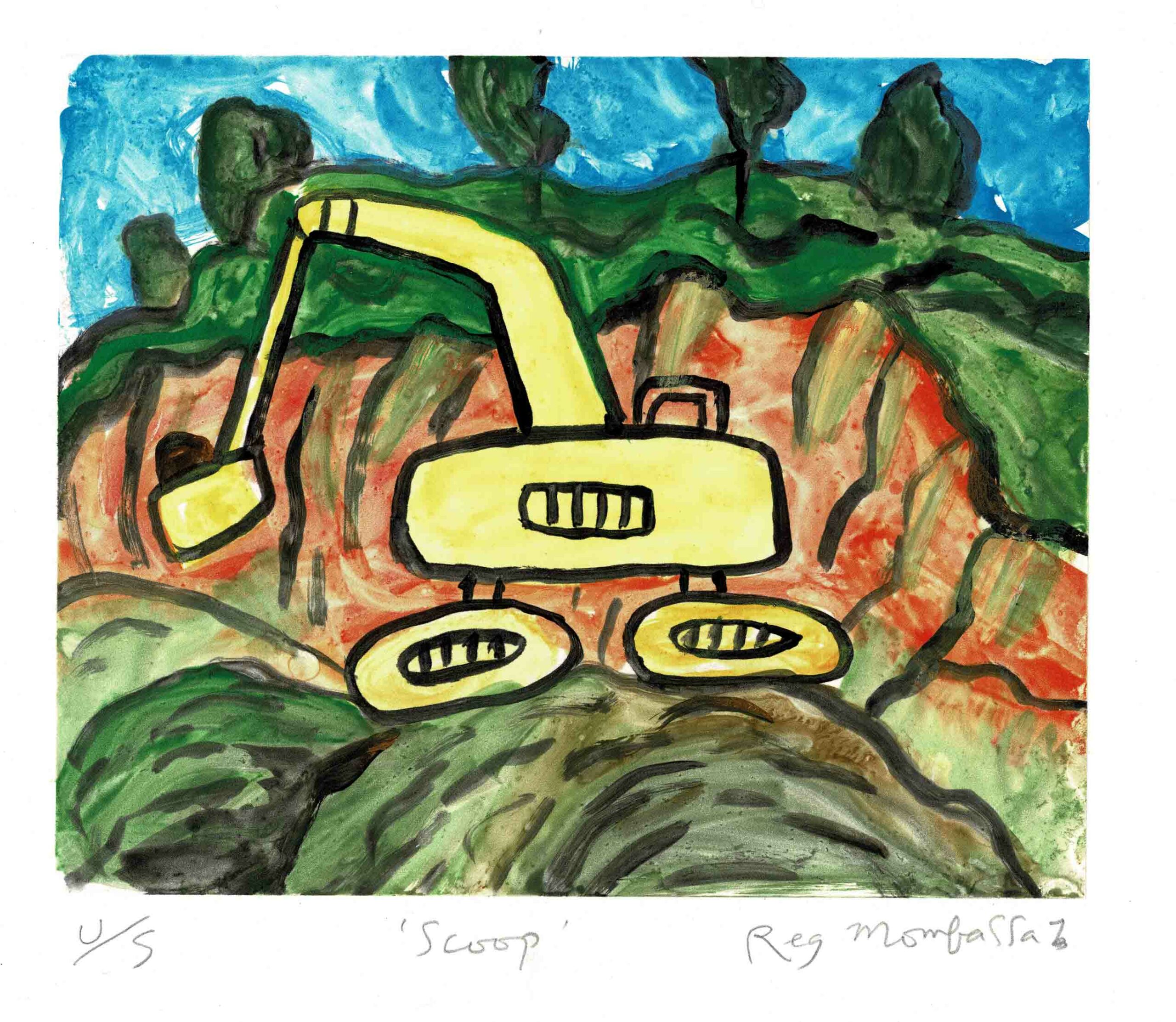 Scoop          $2, 800
unique state monotype     18 x 22cm
2019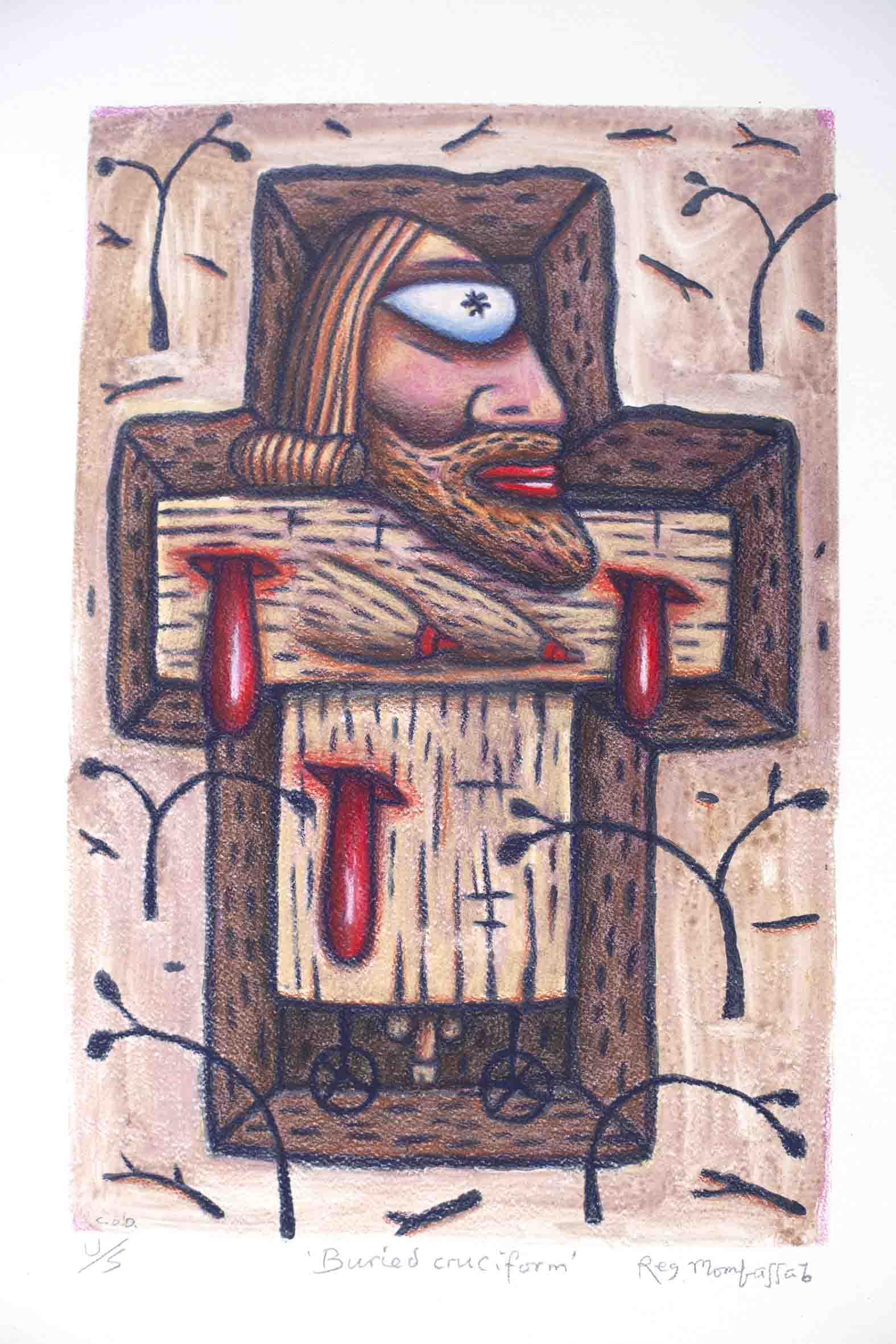 Buried Cruciform          $4, 000
unique state monoprint with coloured pencil     44 x 29cm
2022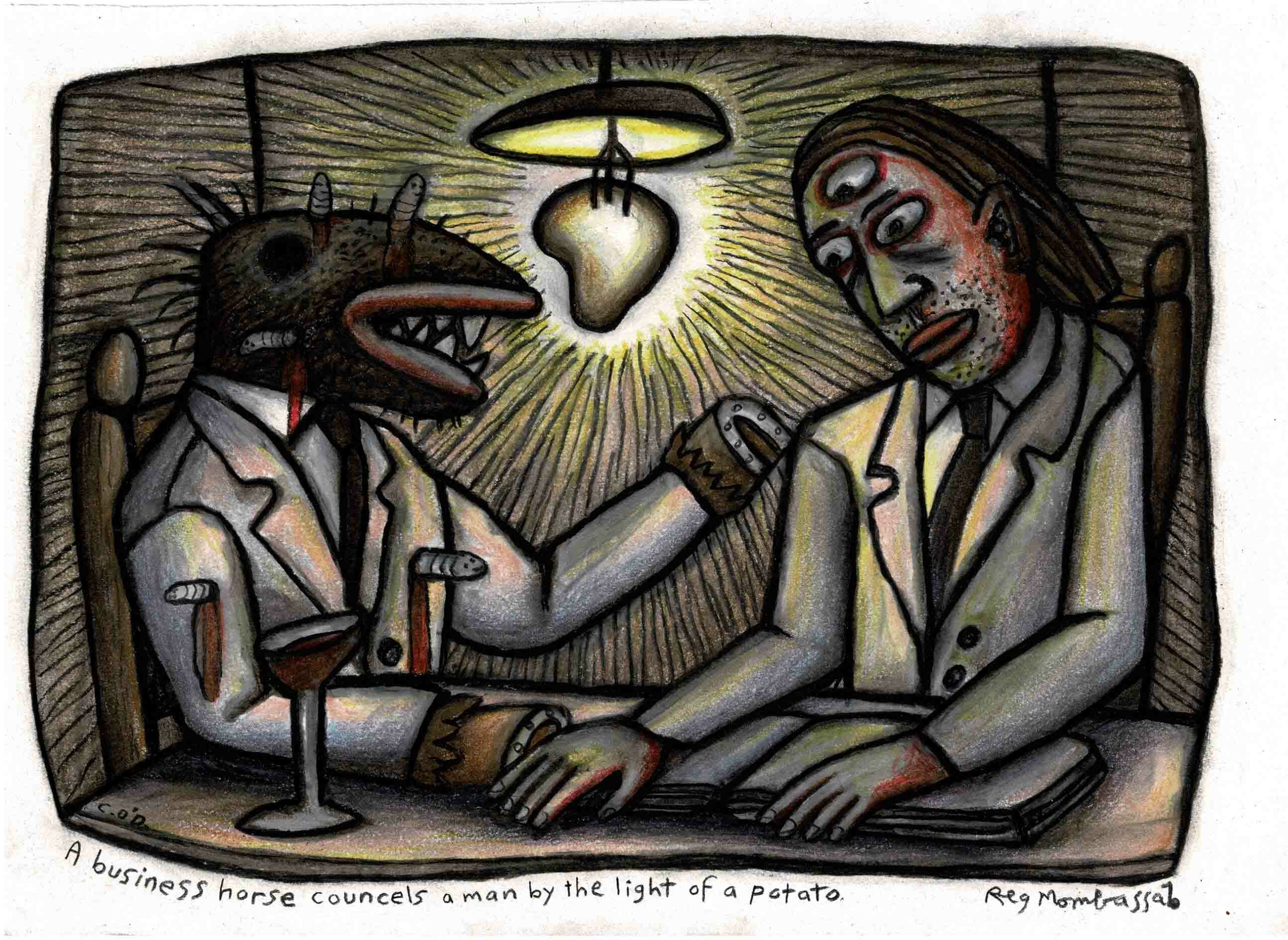 A Business Horse Councels A Man By The Light Of A Potato          SOLD
charcoal and coloured pencil on paper     18 x 25.5cm
2023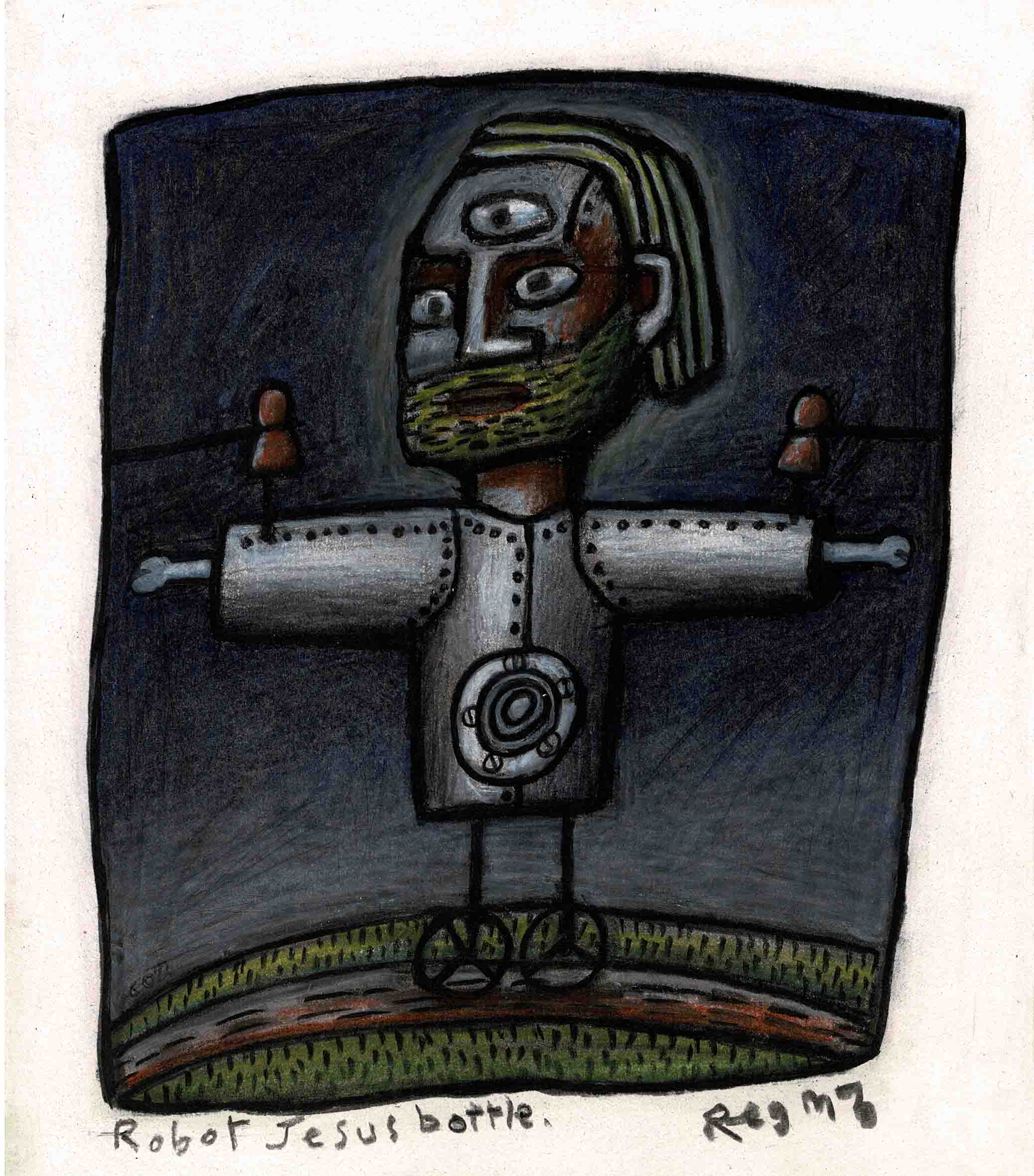 Robot Jesus Bottle          SOLD
charcoal and coloured pencil on paper     21 x 17.5cm
2023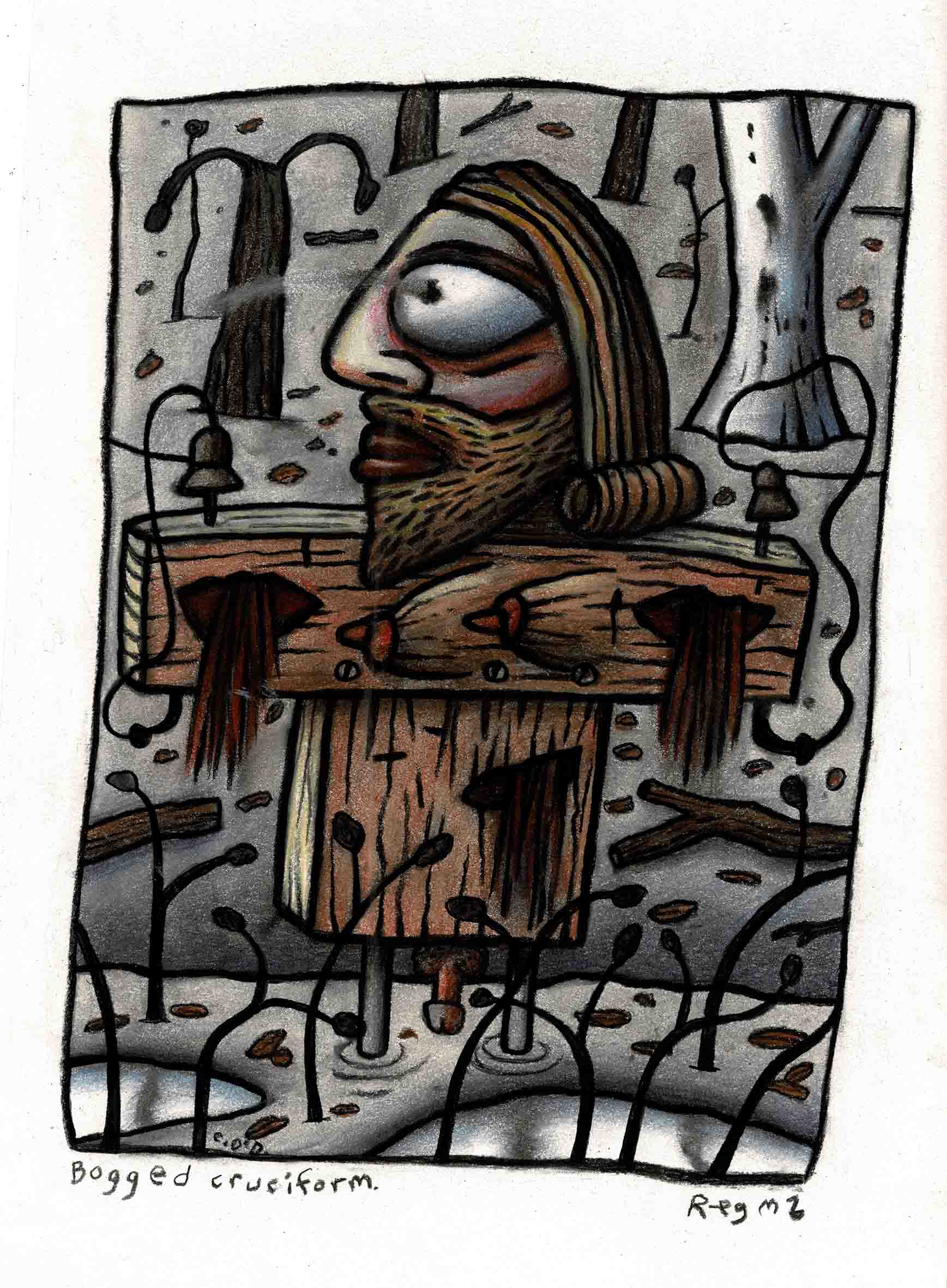 Bogged Cruciform          SOLD
charcoal and coloured pencil on paper     33 x 23cm
2022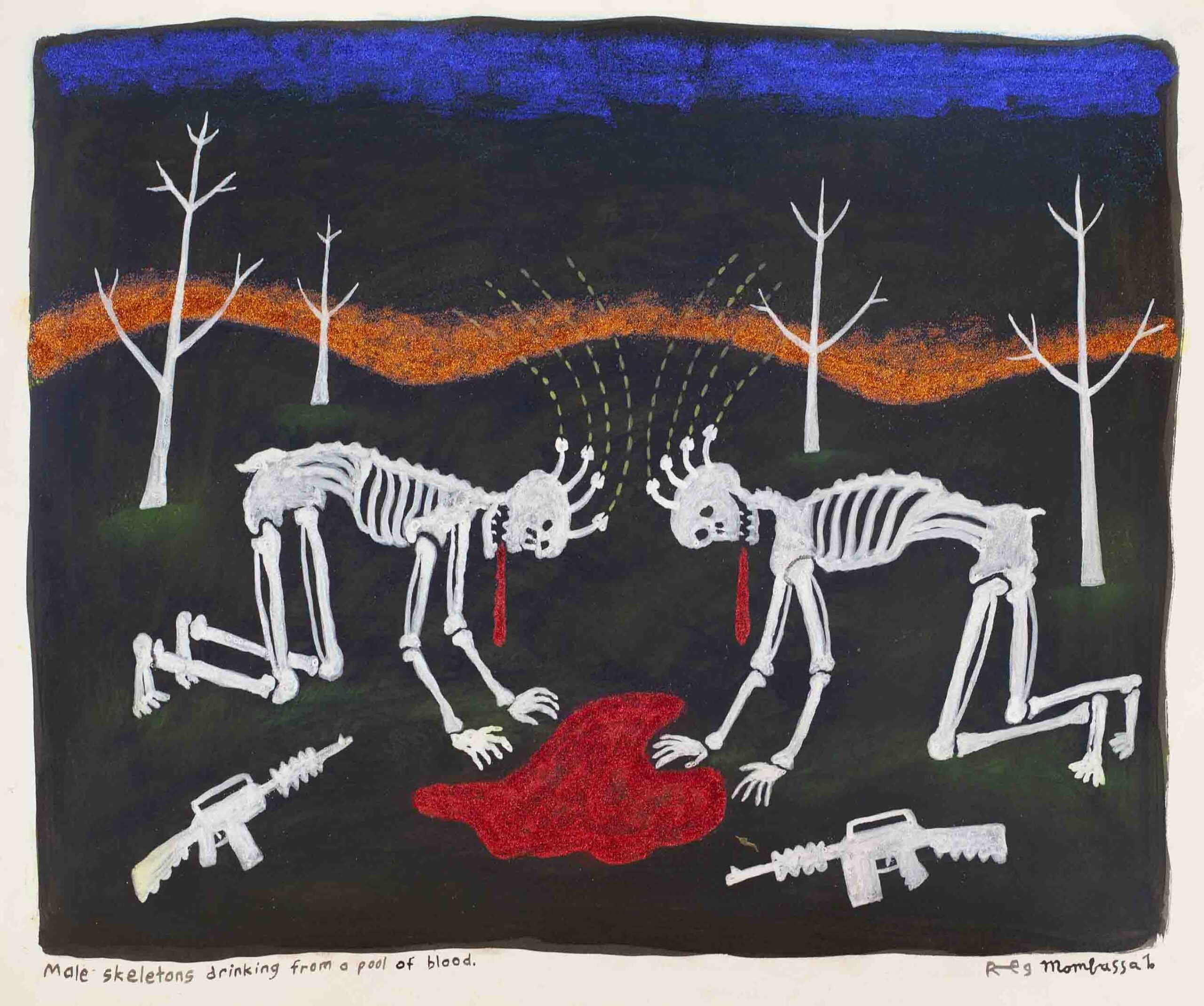 Male Skeletons Drinking From A Pool Of Blood          $5, 000
pen and ink wash and glitter on paper     40.5 x 56cm
2023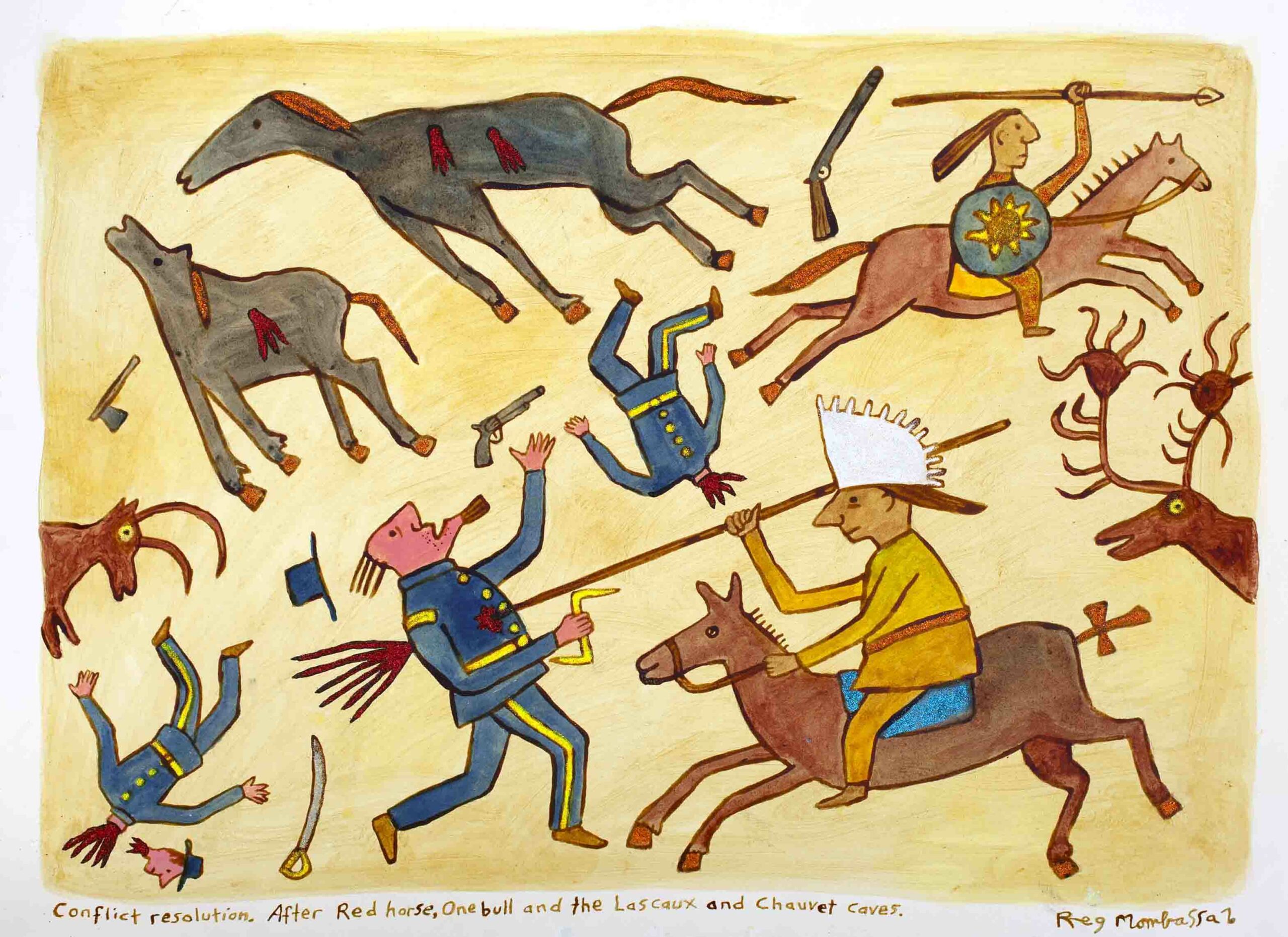 Conflict Resolution. After Redhorse, One Bull And The Lascaux And Chauvet Caves          $5, 000
pen and ink wash and glitter on paper     45 x 56cm
2023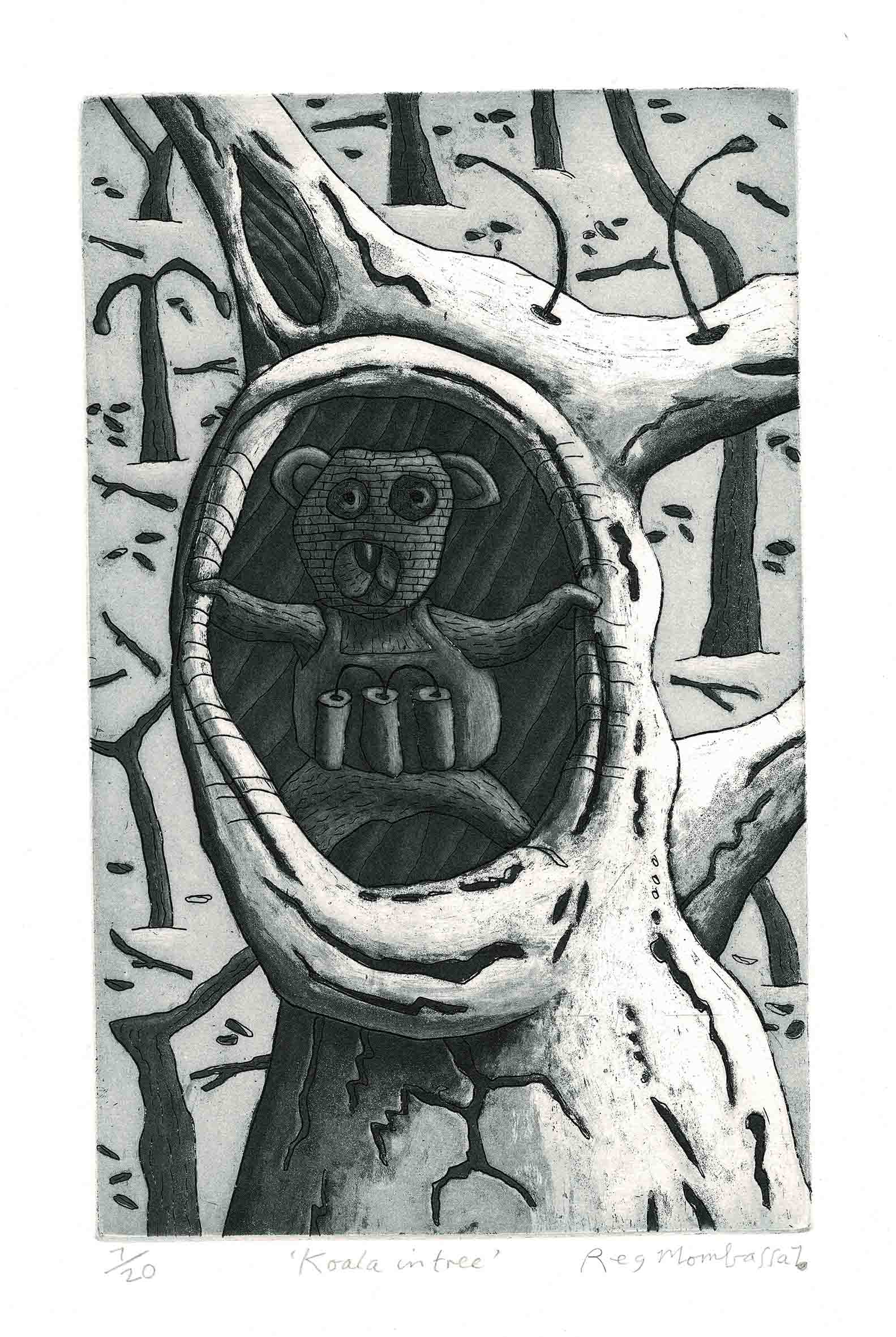 Koala In Tree          $800 (framed)   $600 (unframed)
etching with aquatint     31.5 x 20cm
2023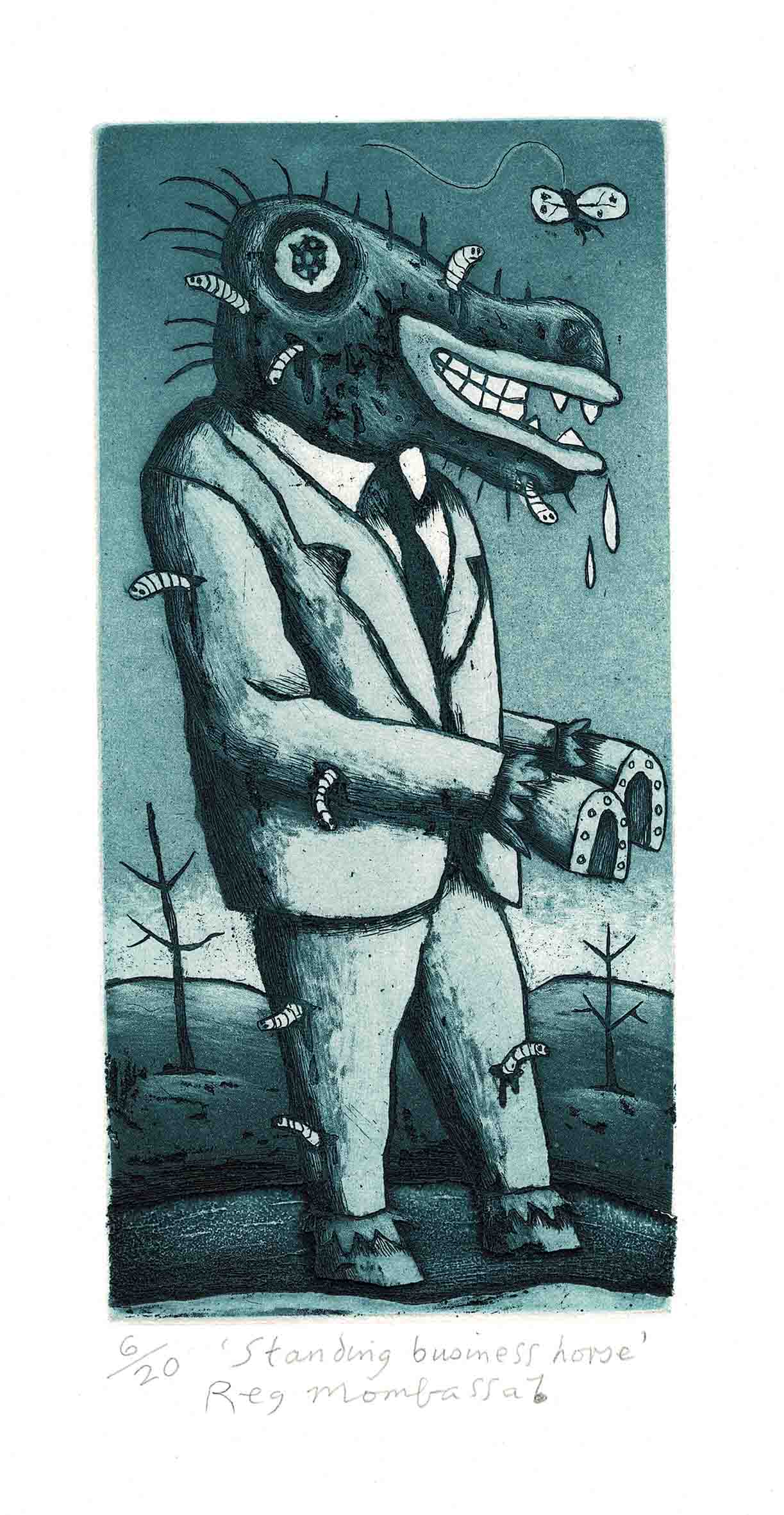 Standing Business Horse          $660 (framed)   $440 (unframed)
etching with aquatint     23 x 11cm
2023
Praying Robot          $660 (framed)   $440 (unframed)
etching with aquatint     29 x 11cm
2023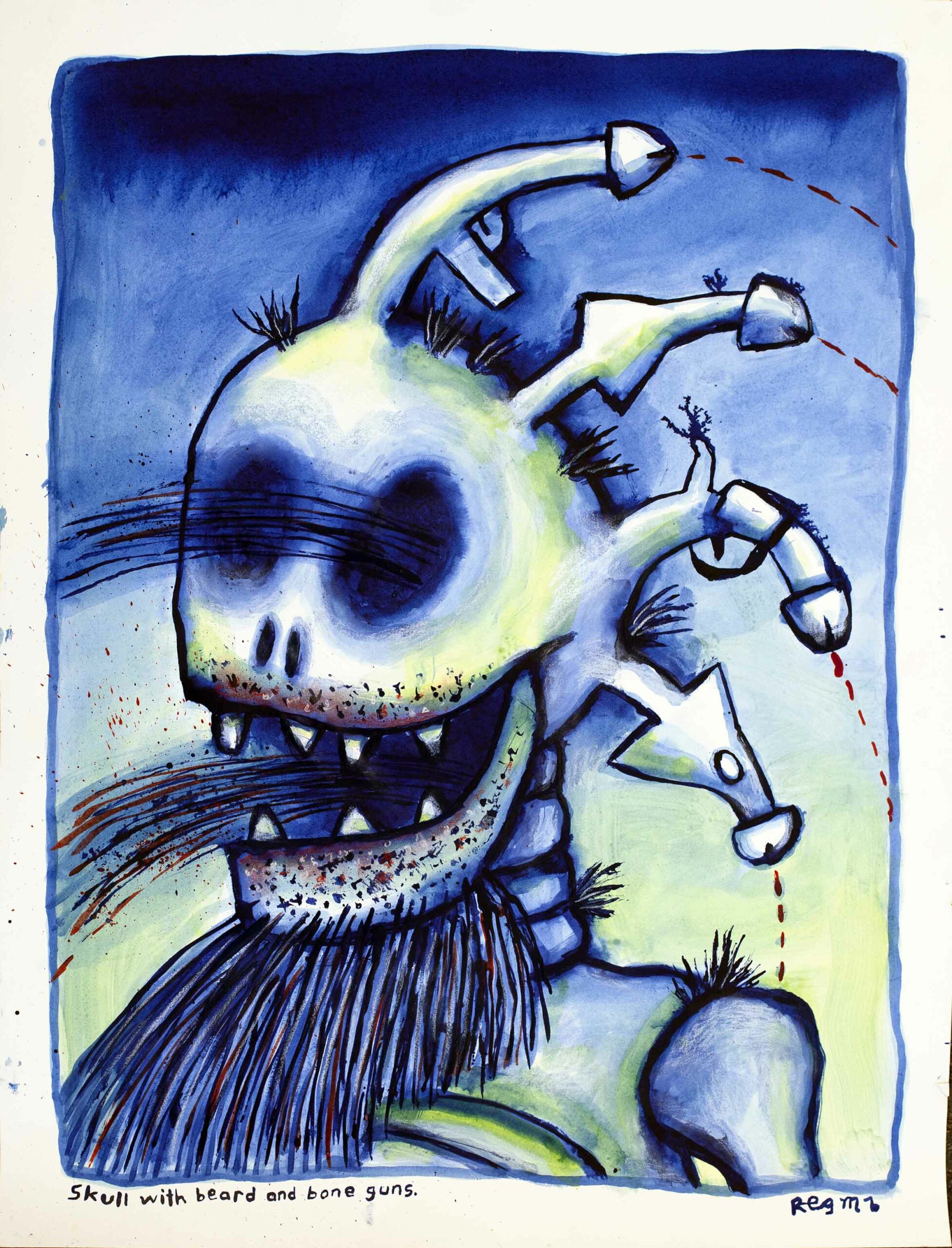 Skull With Beard And Bone Guns          $5, 000
pen and ink wash on paper     55 x 41cm
2023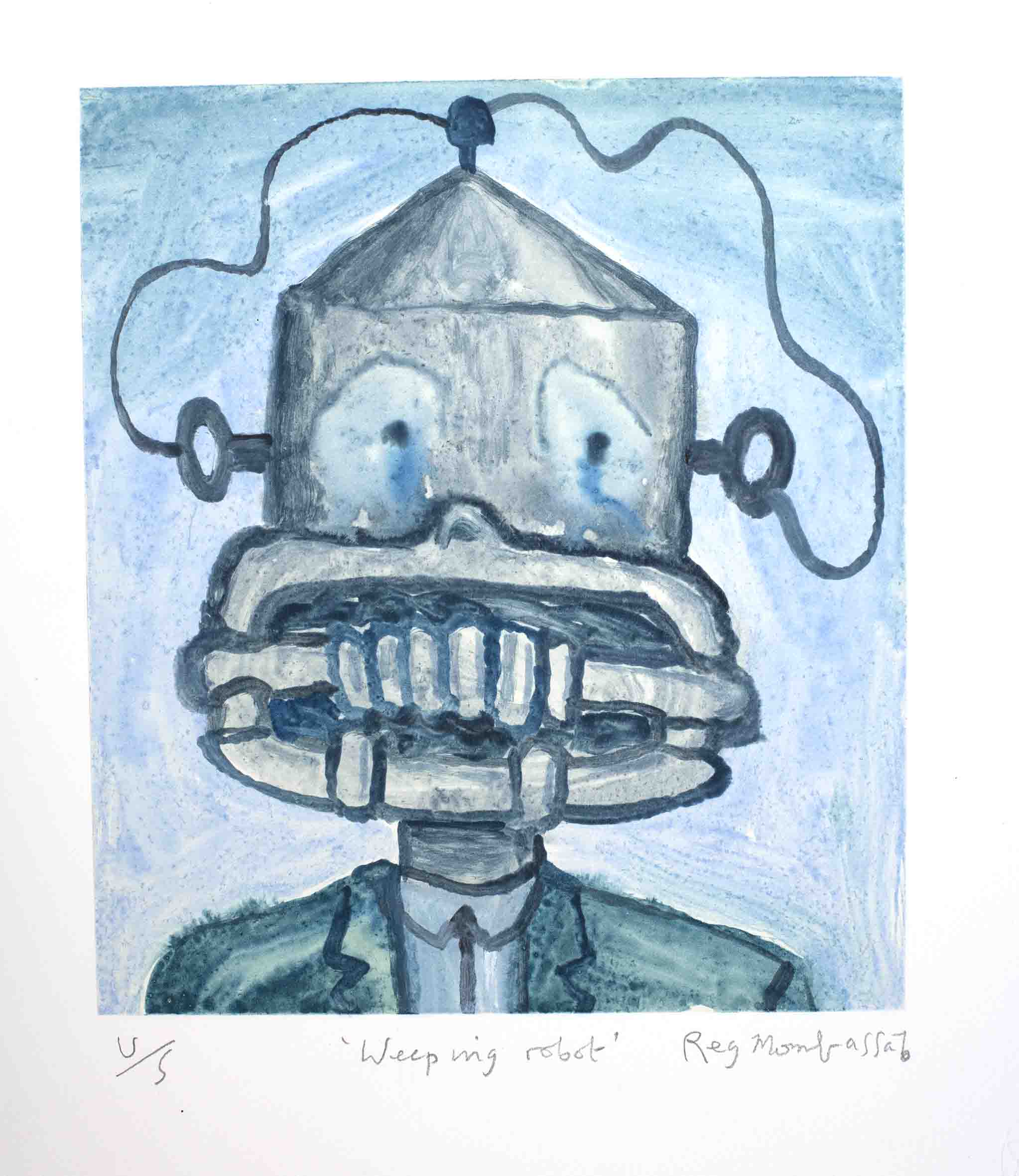 Weeping Robot          $3, 000
unique state monoprint     25 x 22cm
2023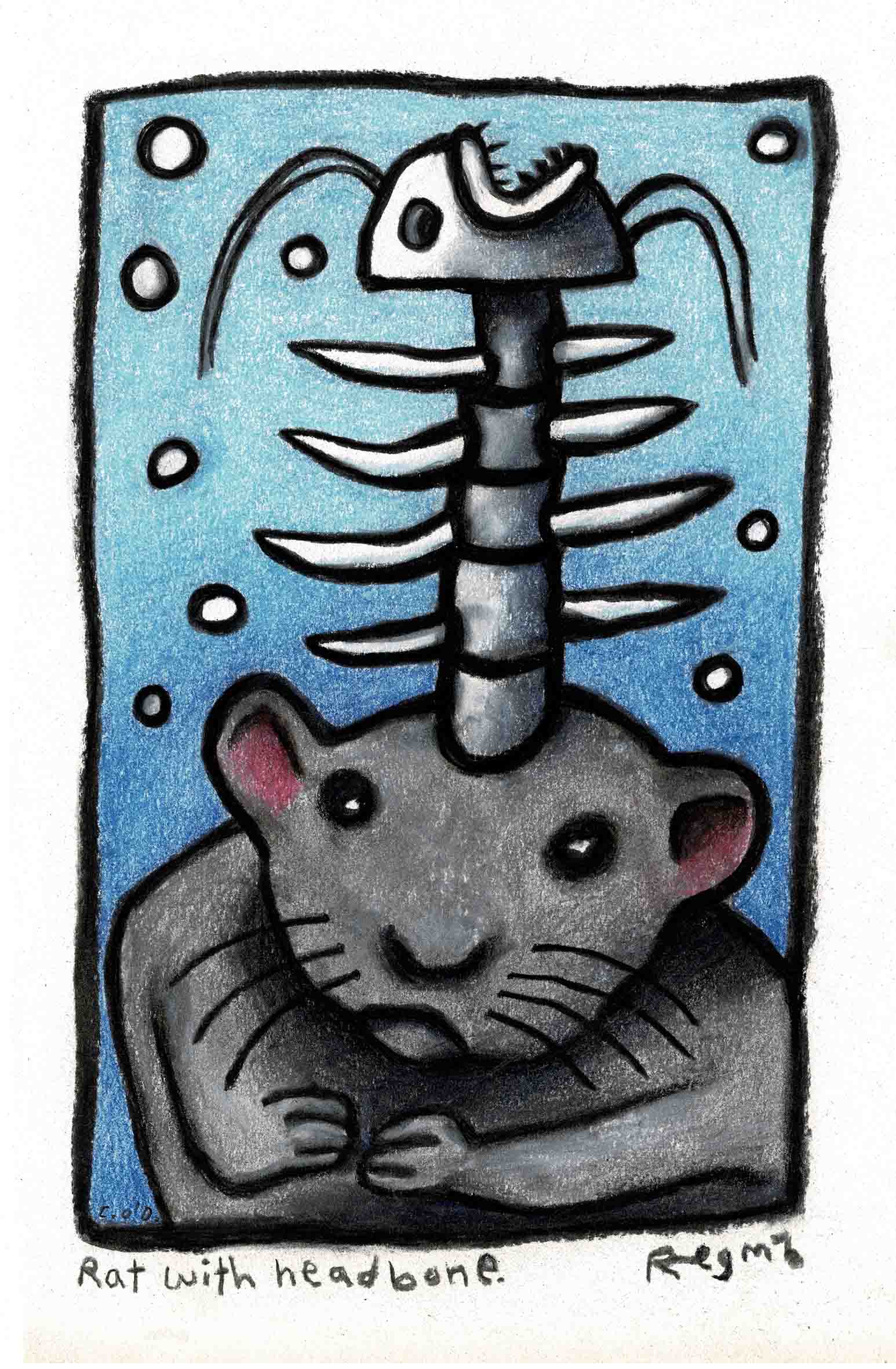 Rat With Headbone          $2, 800
charcoal and coloured pencil on paper     24 x 15cm
2022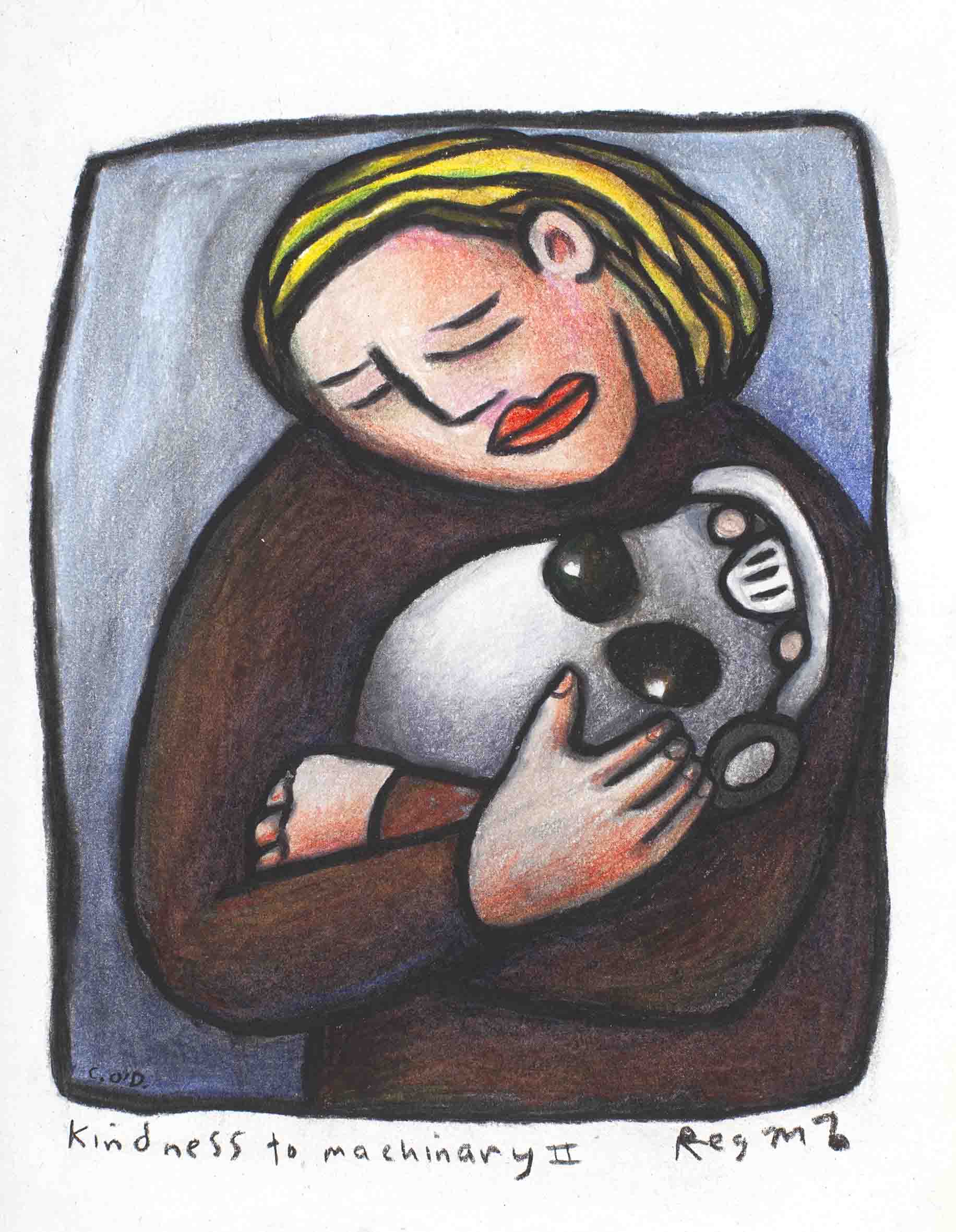 Kindness To Machinery II          SOLD
charcoal and coloured pencil on paper     22 x 17cm
2023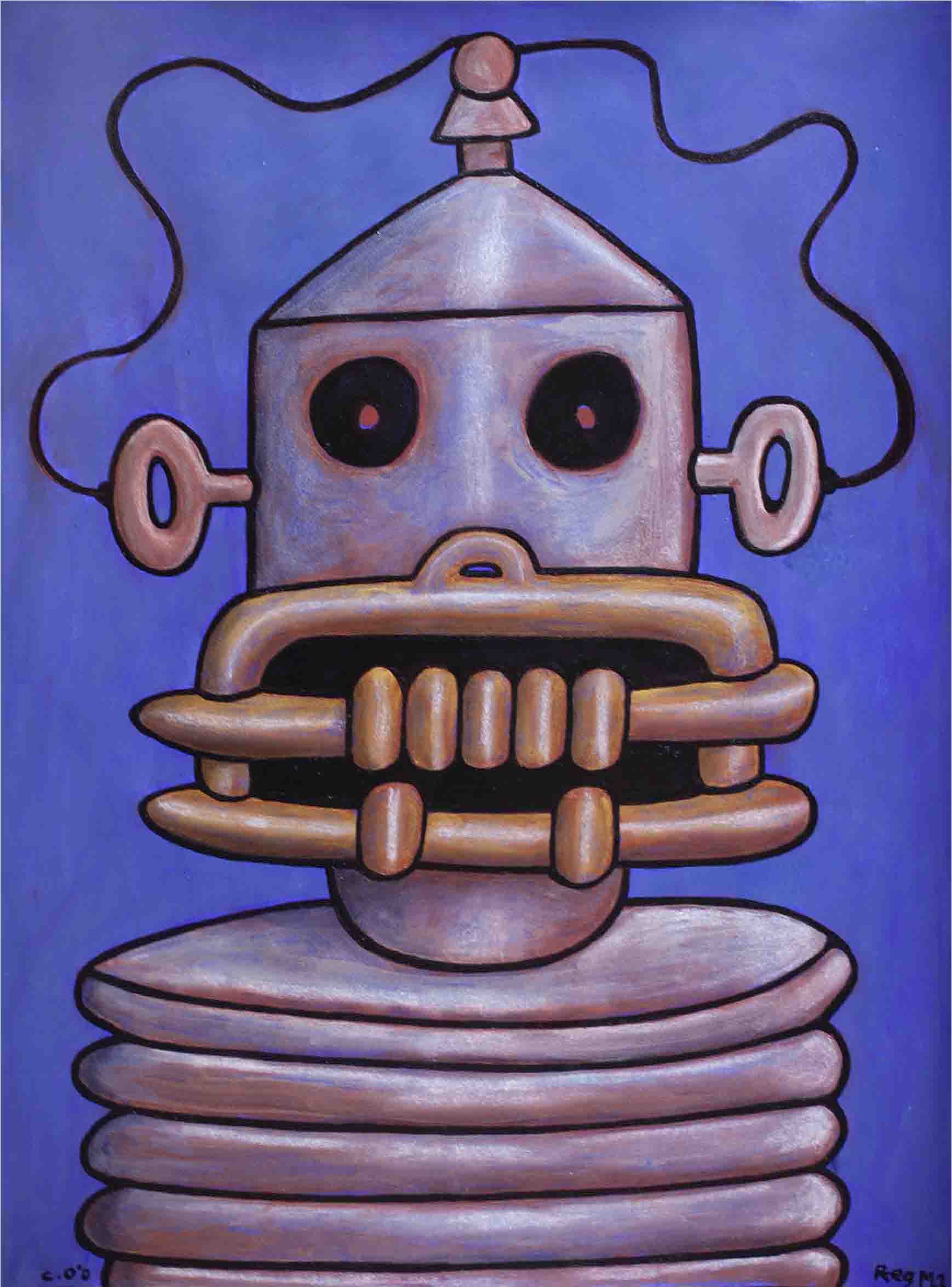 Australian Robot          SOLD
pen, ink and pastel on paper     81 x 46cm
2023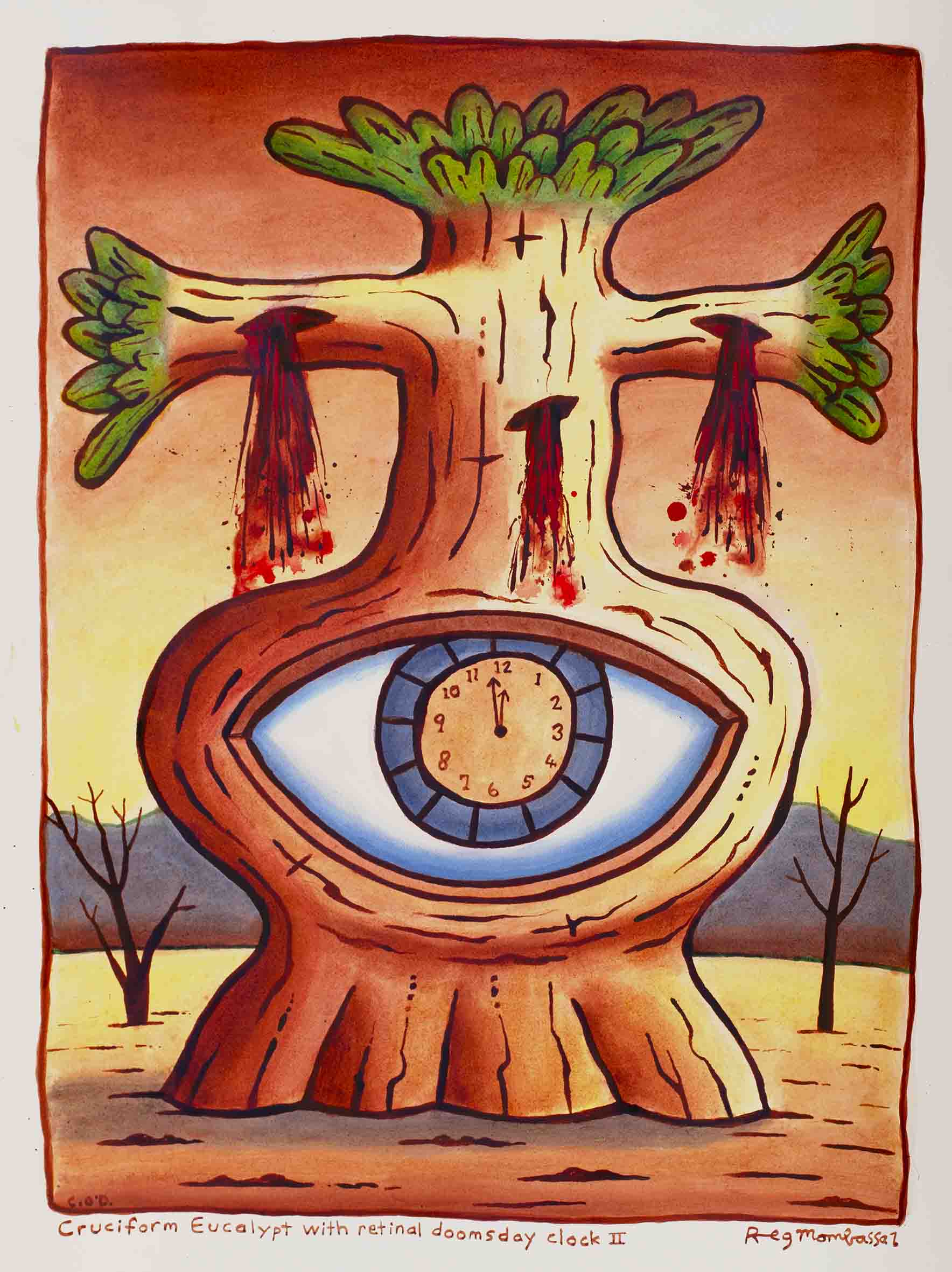 Cruciform Eucalypt With Retinal Doomsday Clock II          SOLD
pen and ink wash on paper     55 x 41.5cm
2023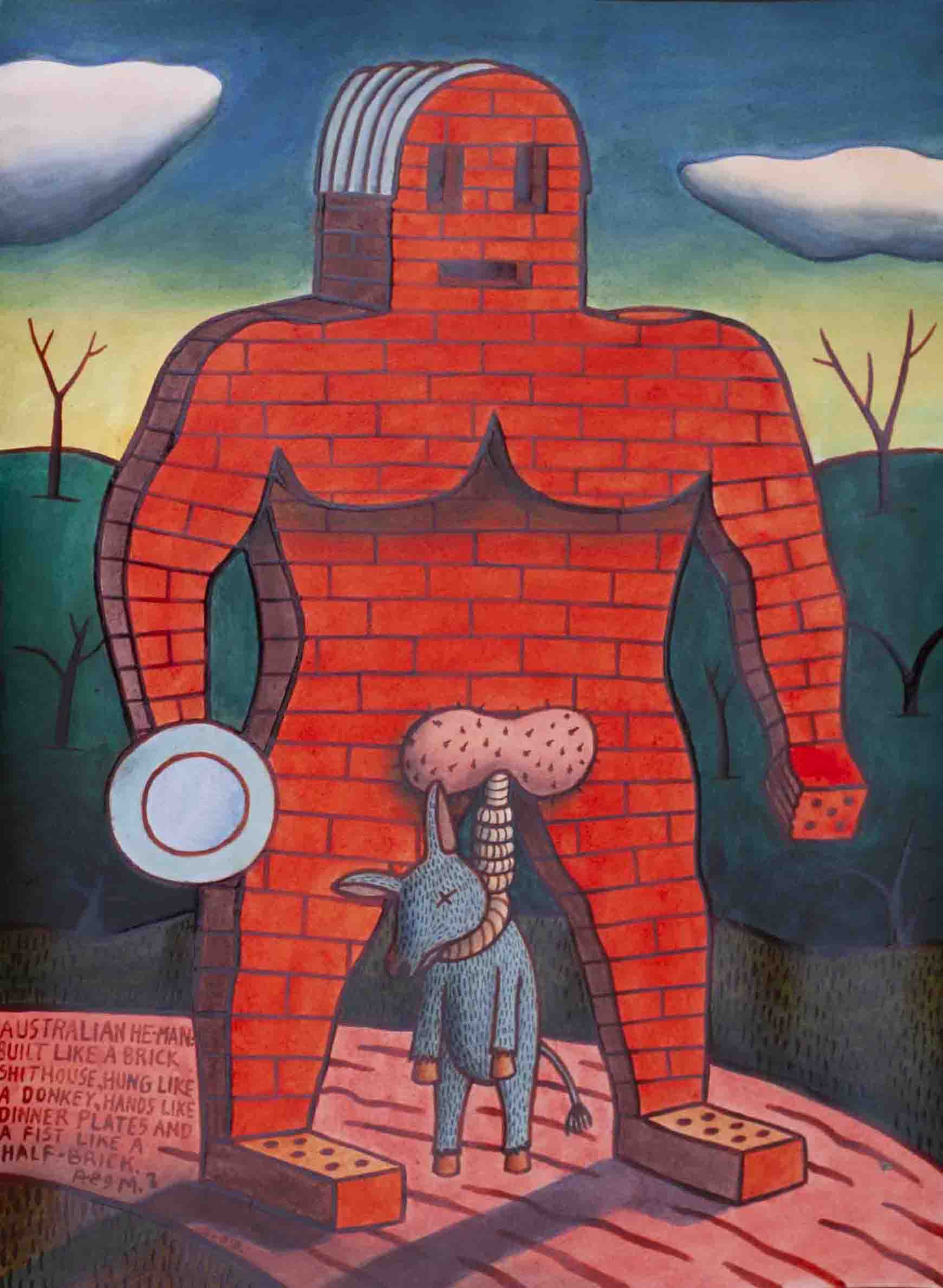 Australian He-Man          SOLD
pen and ink wash on paper    61 x 46cm
2023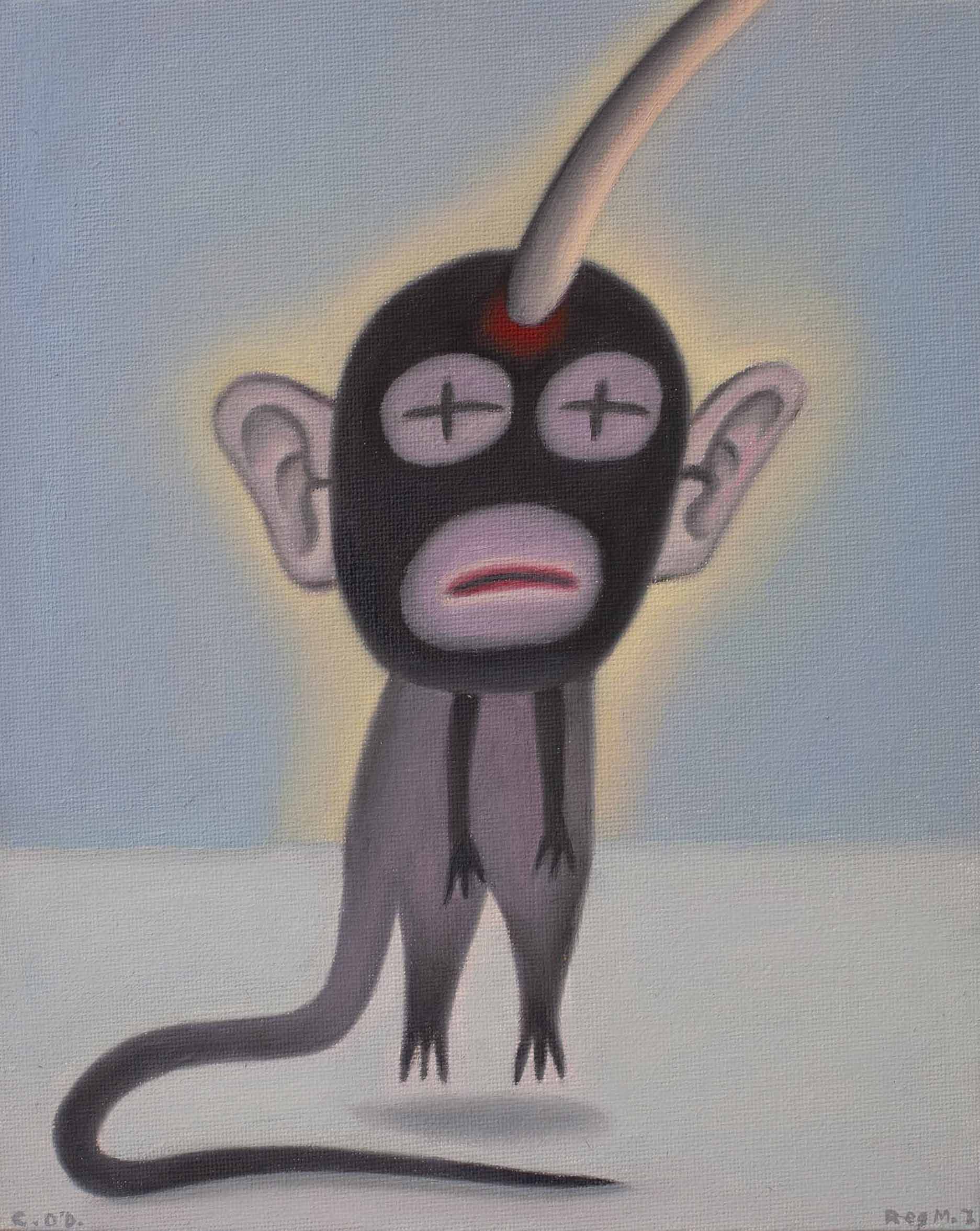 Impaled Rat With Gimp Mask          $3, 500
oil on canvas board     25.5 x 20cm
2023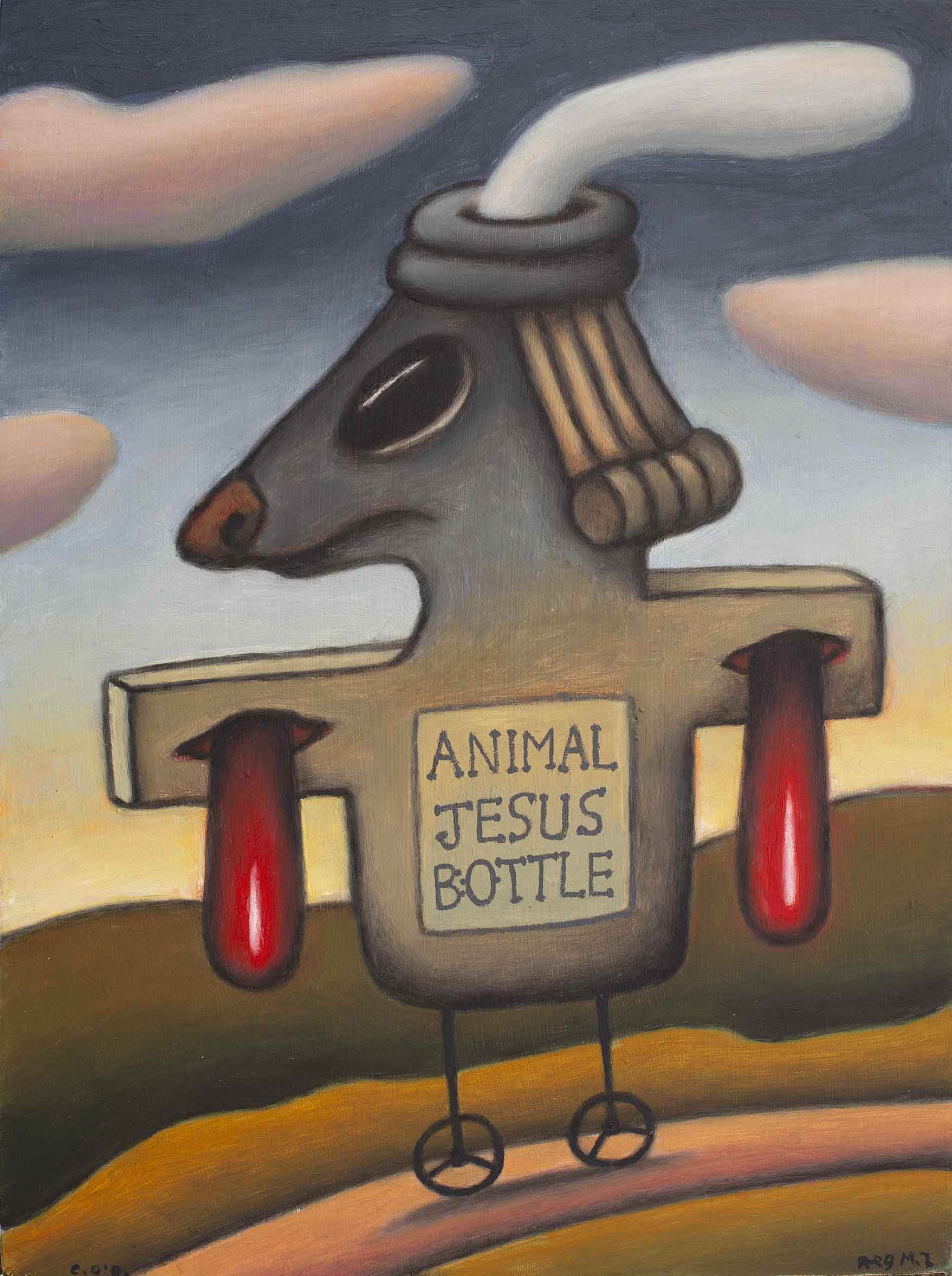 Animal Jesus Bottle          $4, 400
oil on board     30.5 x 23cm
2023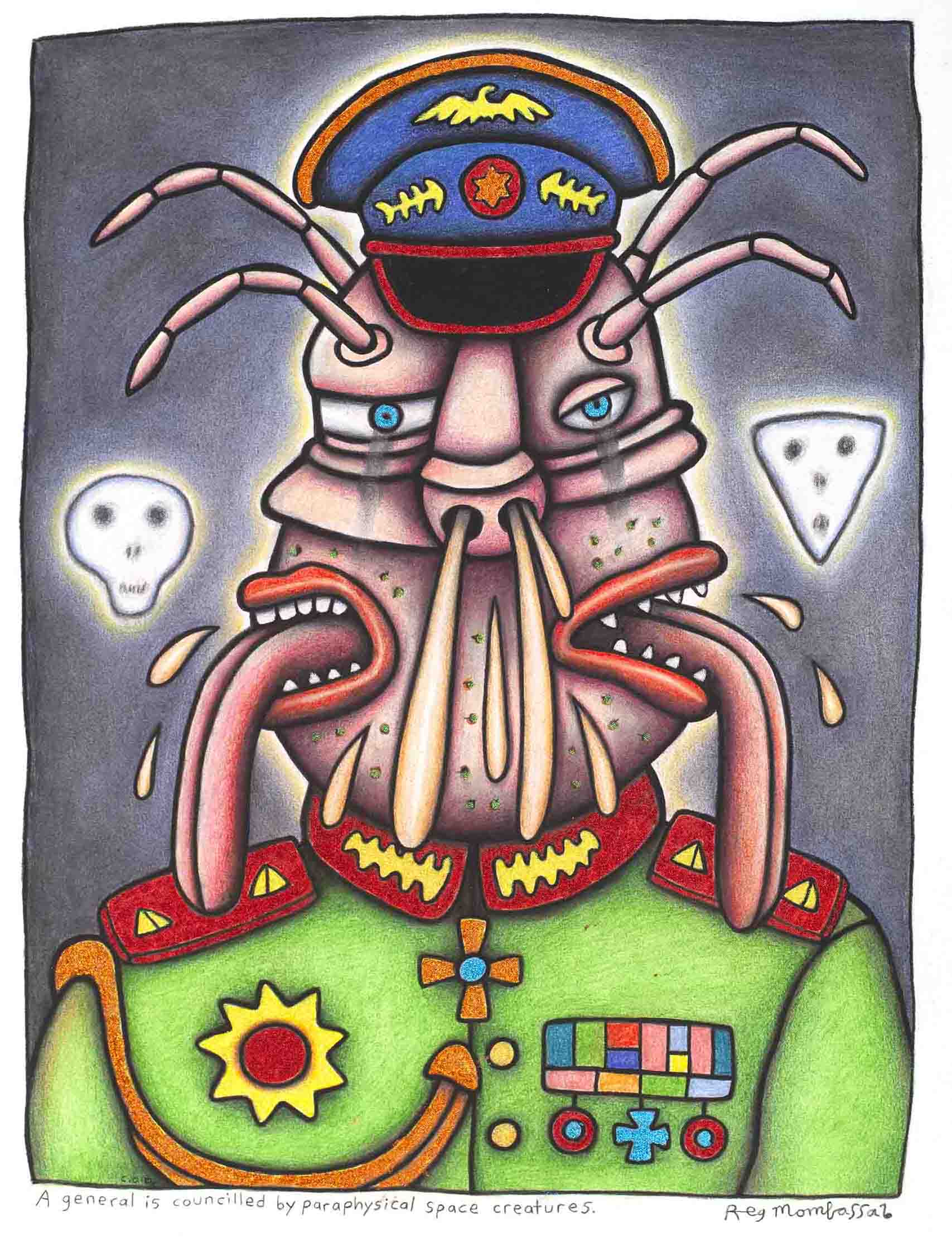 A General Is Councilled By Paraphysical Space Creatures          SOLD
charcoal and coloured pencil and glitter on paper     54 x 41.5cm
2023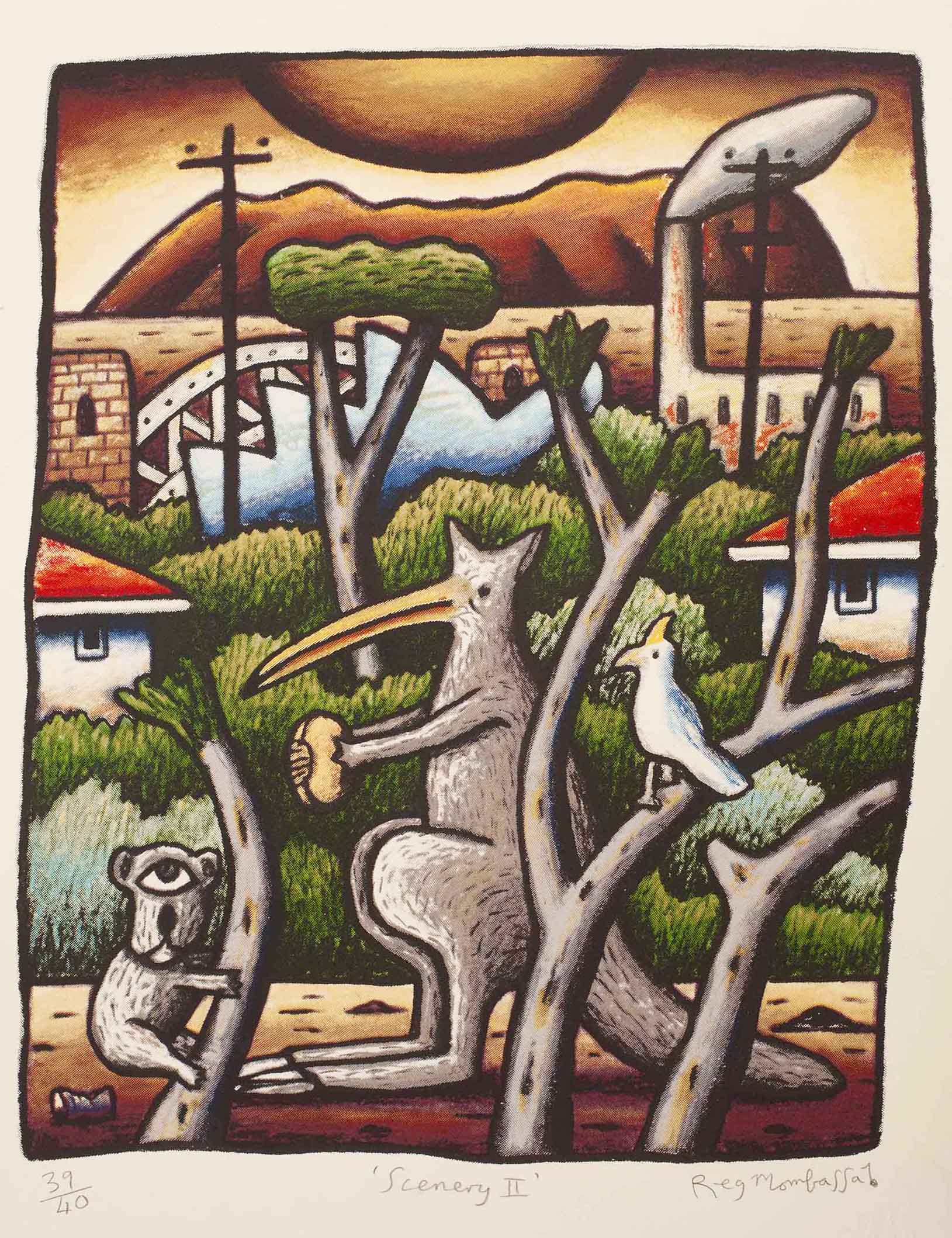 Scenery II          $900 (framed)   $770 (unframed)
serigraph print     47 x 37cm
2023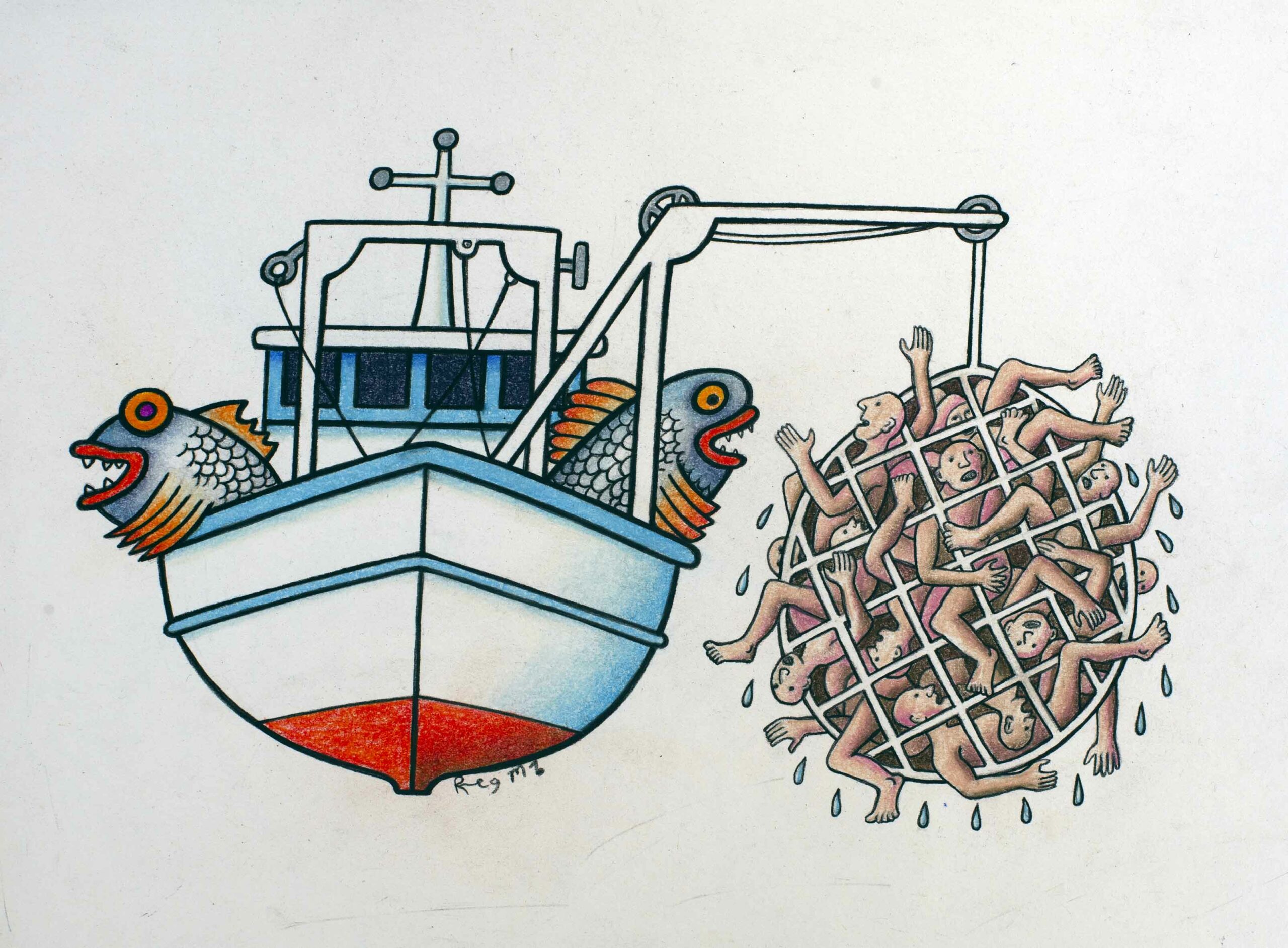 Catch          SOLD
charcoal and coloured pencil on paper     17 x 27cm
2023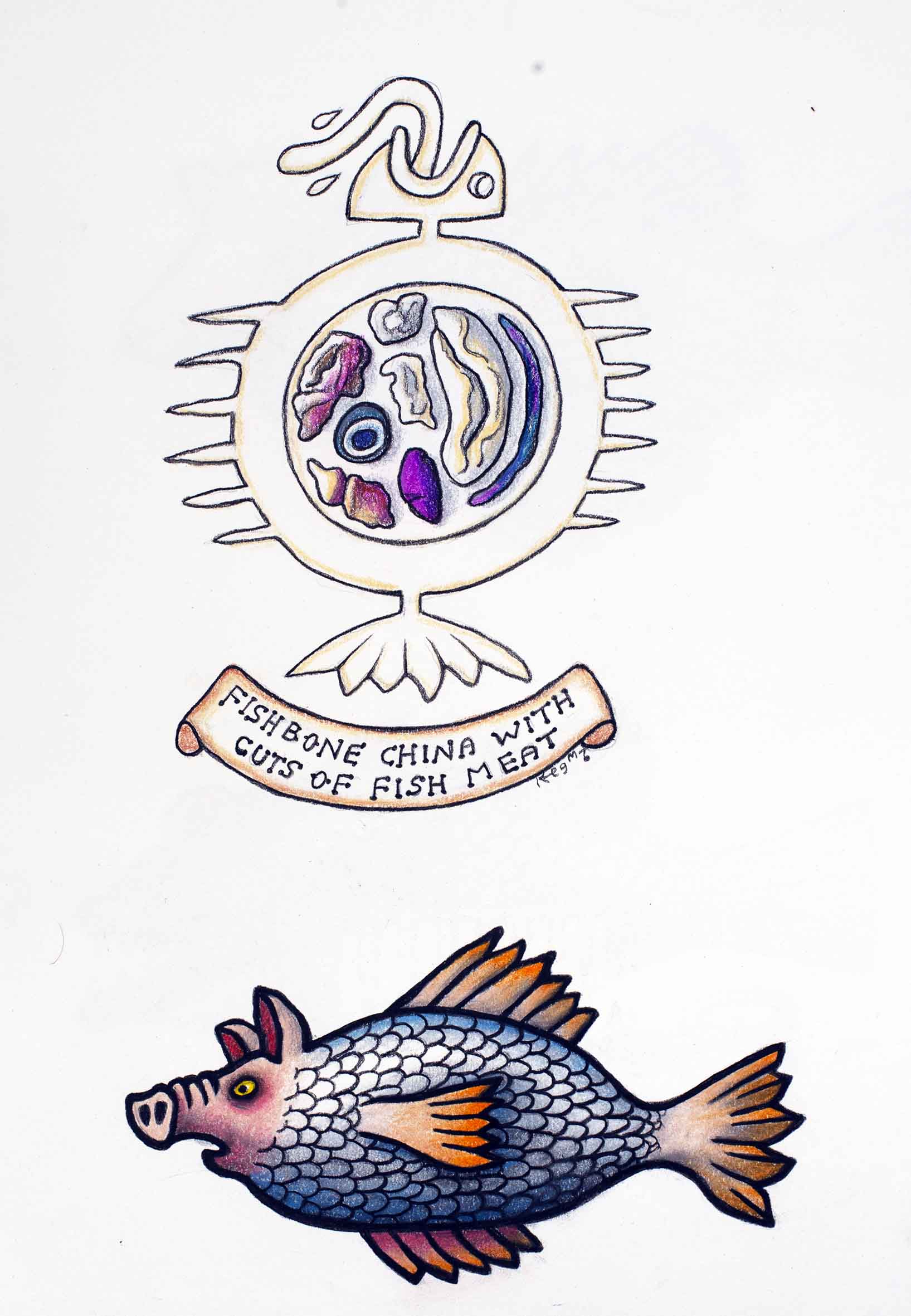 Fishbone China And Pigfish          $3, 300
charcoal and coloured pencil on paper     33.5 x 21cm
2023
Cutfish And Lambfish         SOLD
charcoal and coloured pencil on paper     30 x 25cm
2023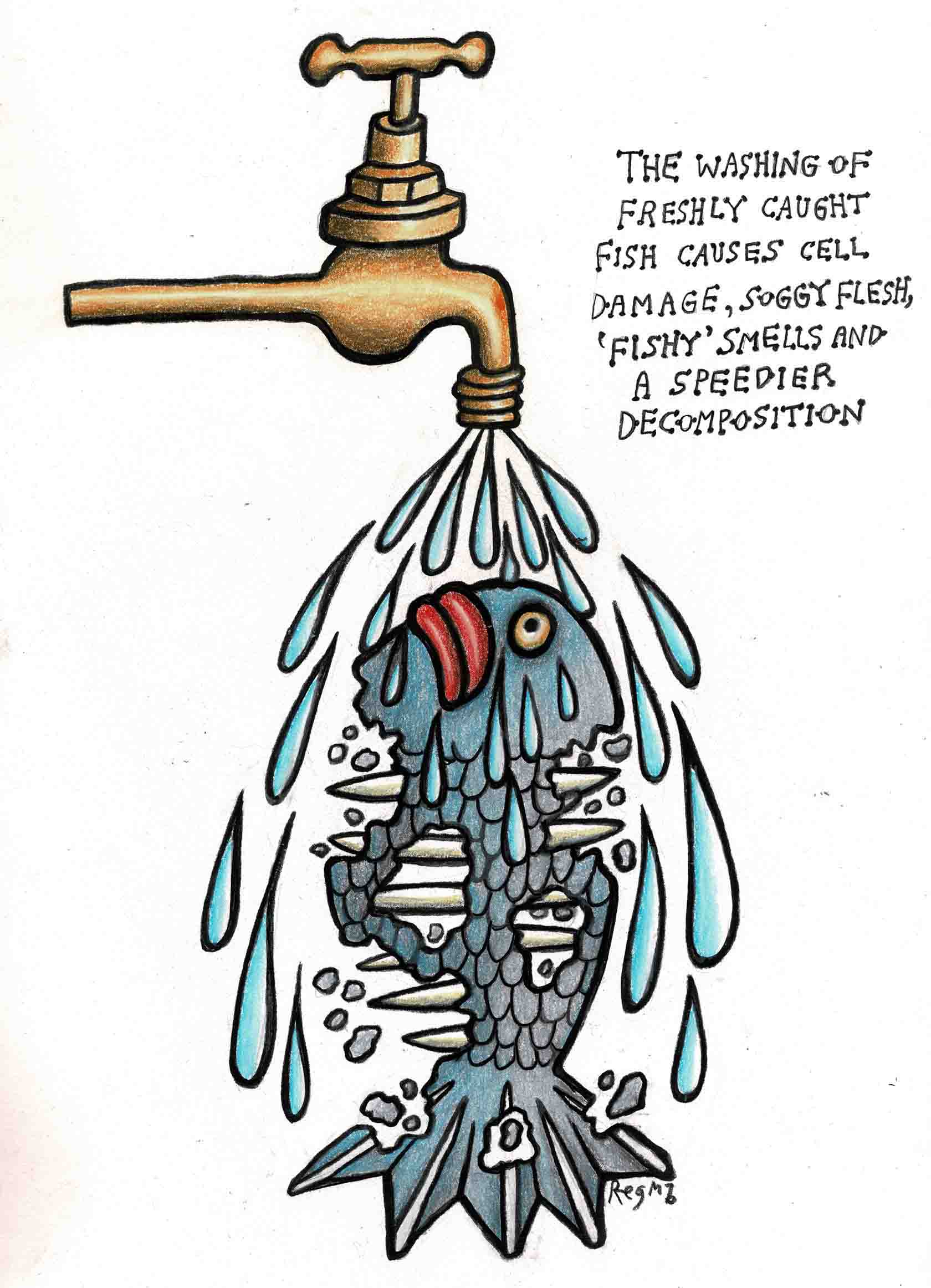 Fish Washing          SOLD

charcoal and coloured pencil on paper    38 x 25.5cm
2023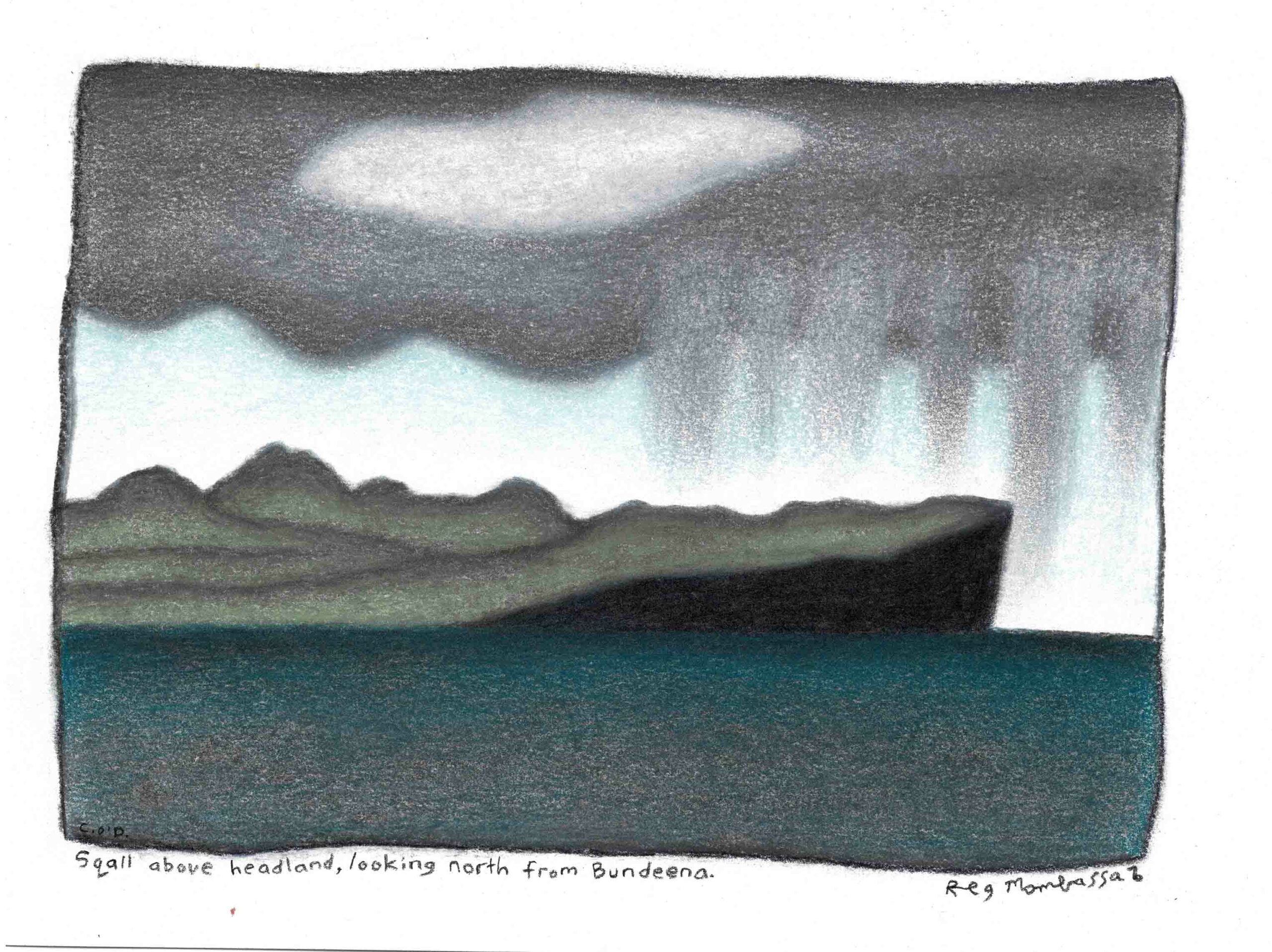 Sqall Above Headland, Looking North From Bundeena          SOLD
charcoal and coloured pencil on paper    16 x 22.5cm
2023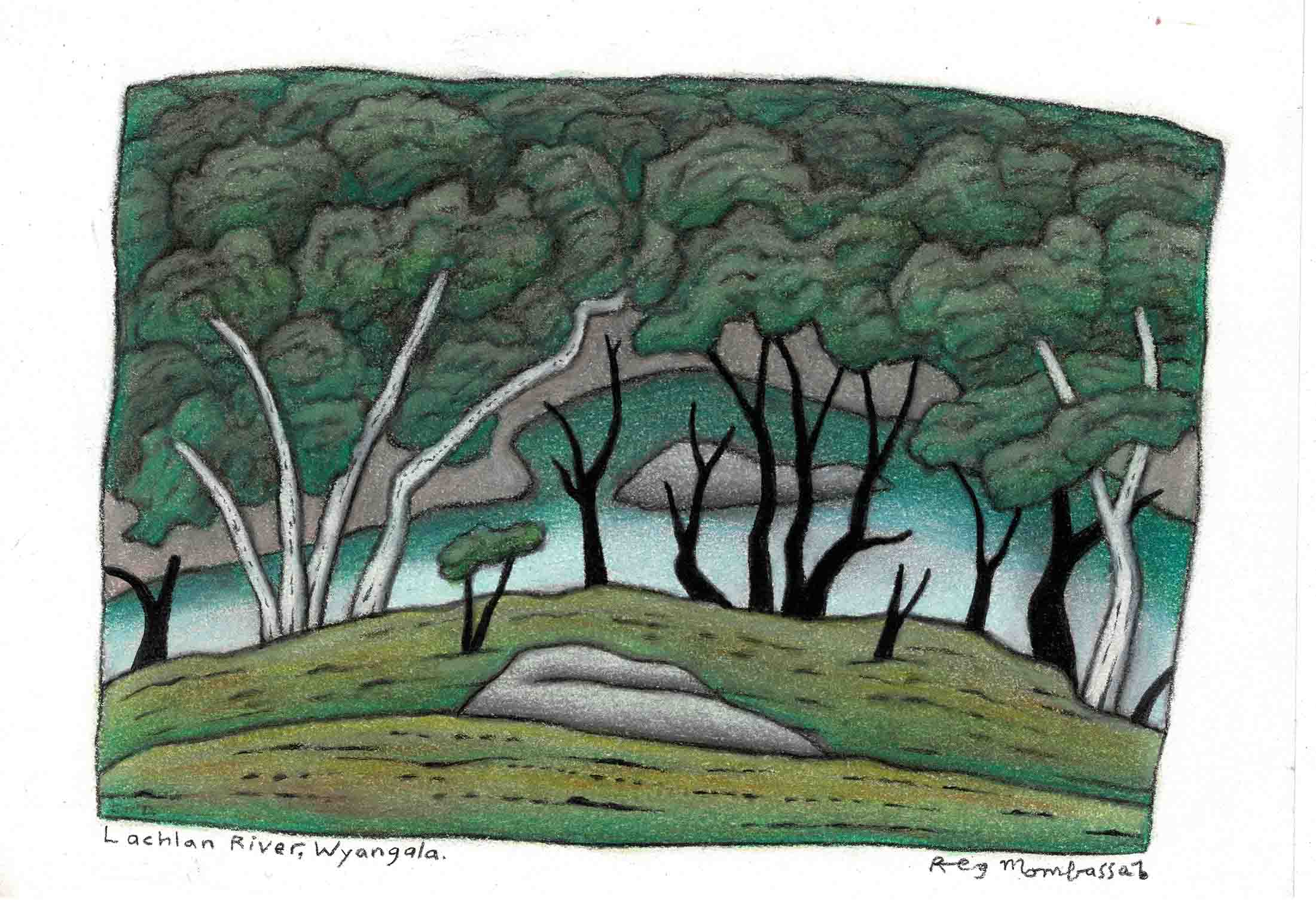 Lachlan River, Wyangala          SOLD
charcoal and coloured pencil on paper     16 x 23cm
2023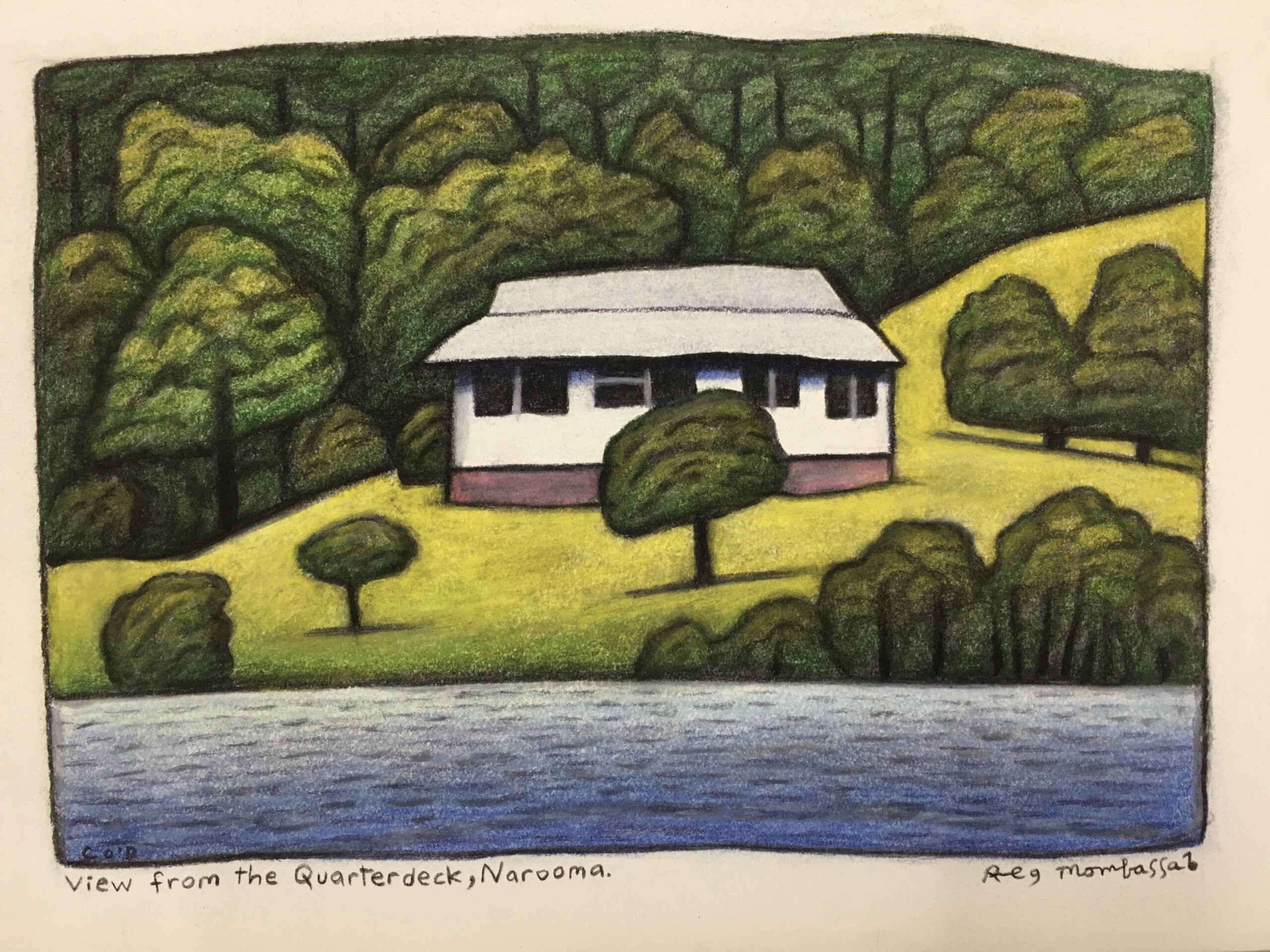 View From The Quaterdeck, Narooma                    SOLD
charcoal and coloured pencil on paper     19 x 25.5cm
2023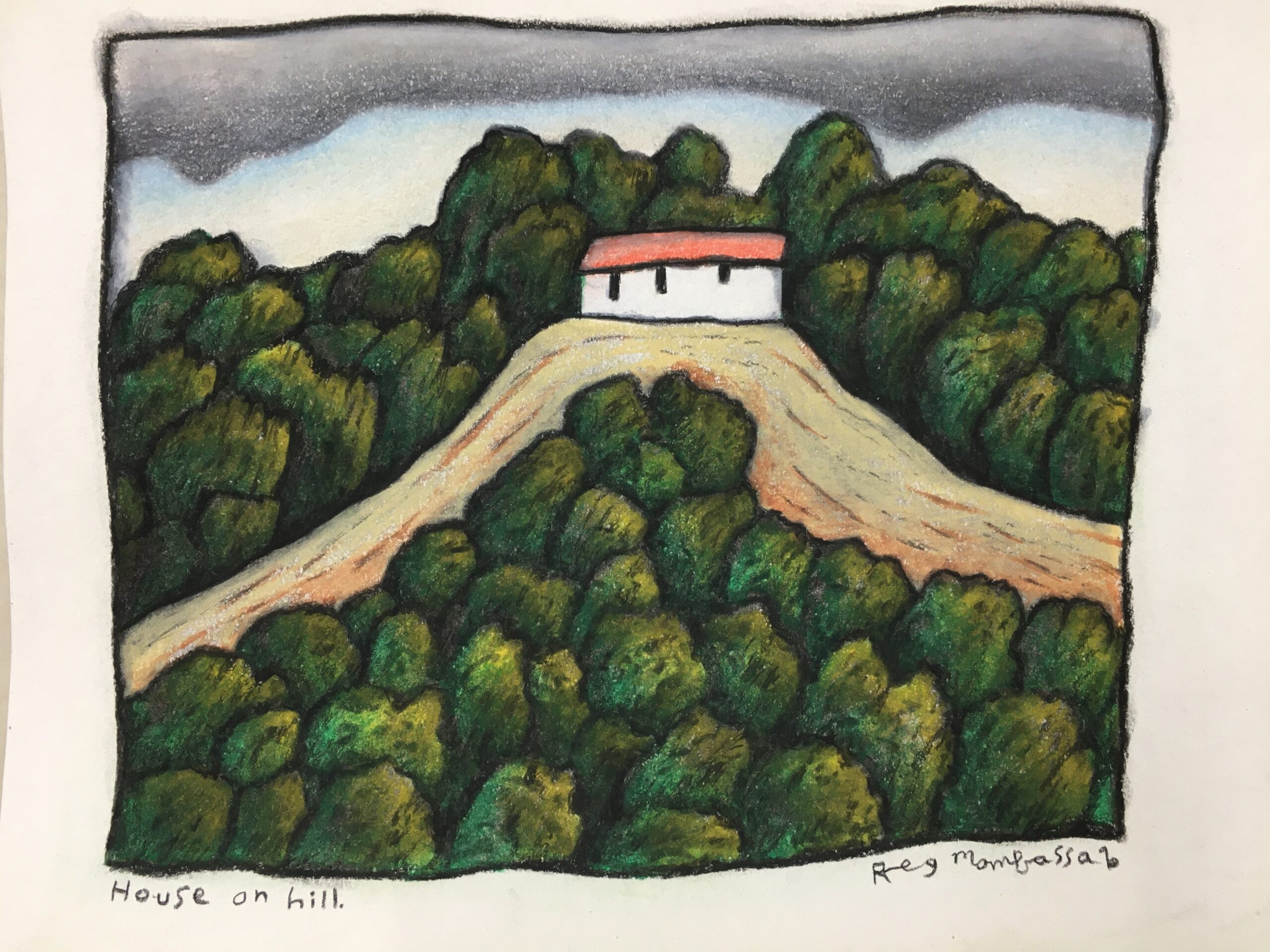 House On Hill                    $3, 500
charcoal and coloured pencil on paper     19 x 23.5cm
2023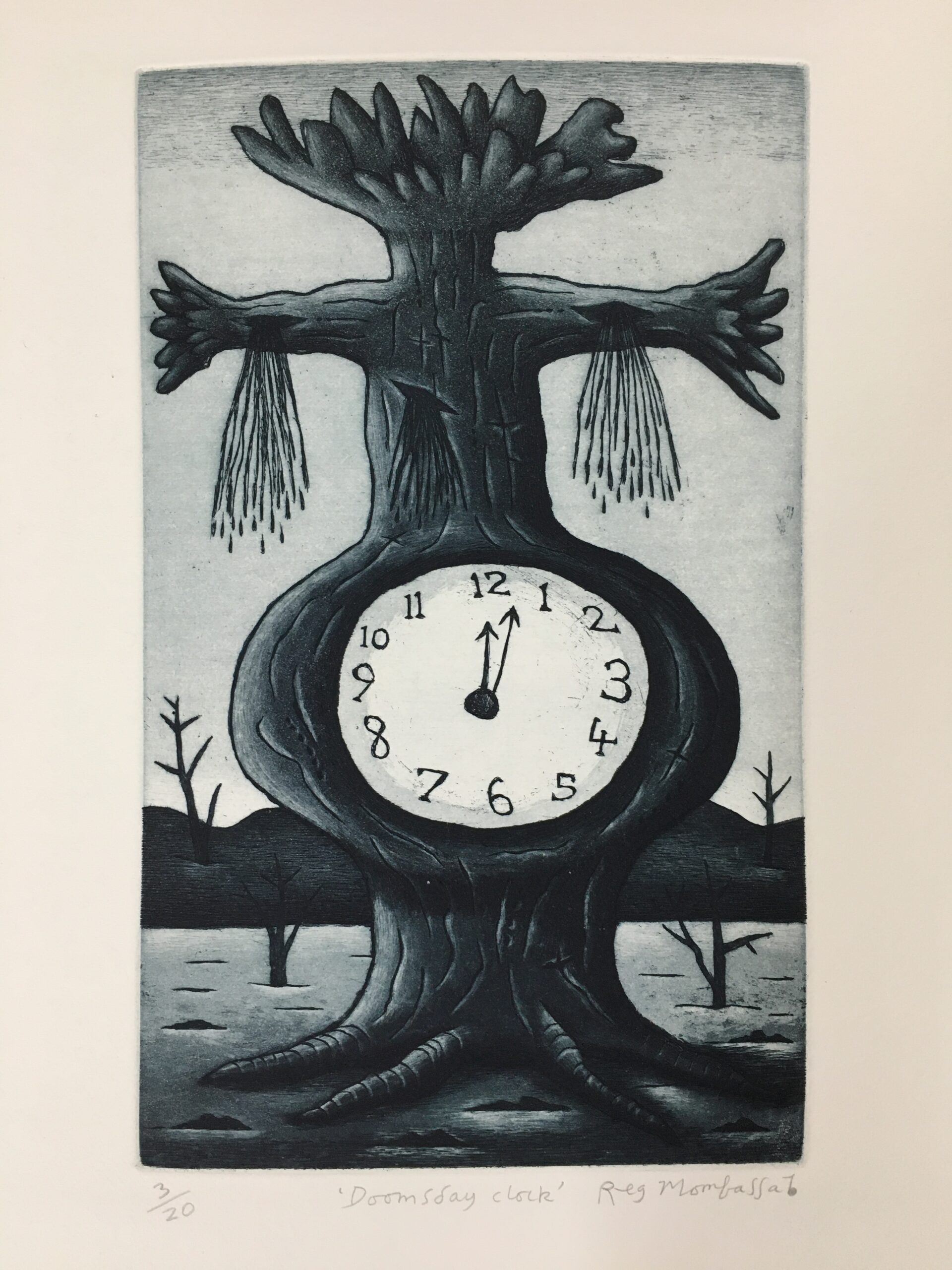 Doomsday Clock                    $880 (framed)   $660 (unframed)
etching with aquatint     36 x 23cm
2023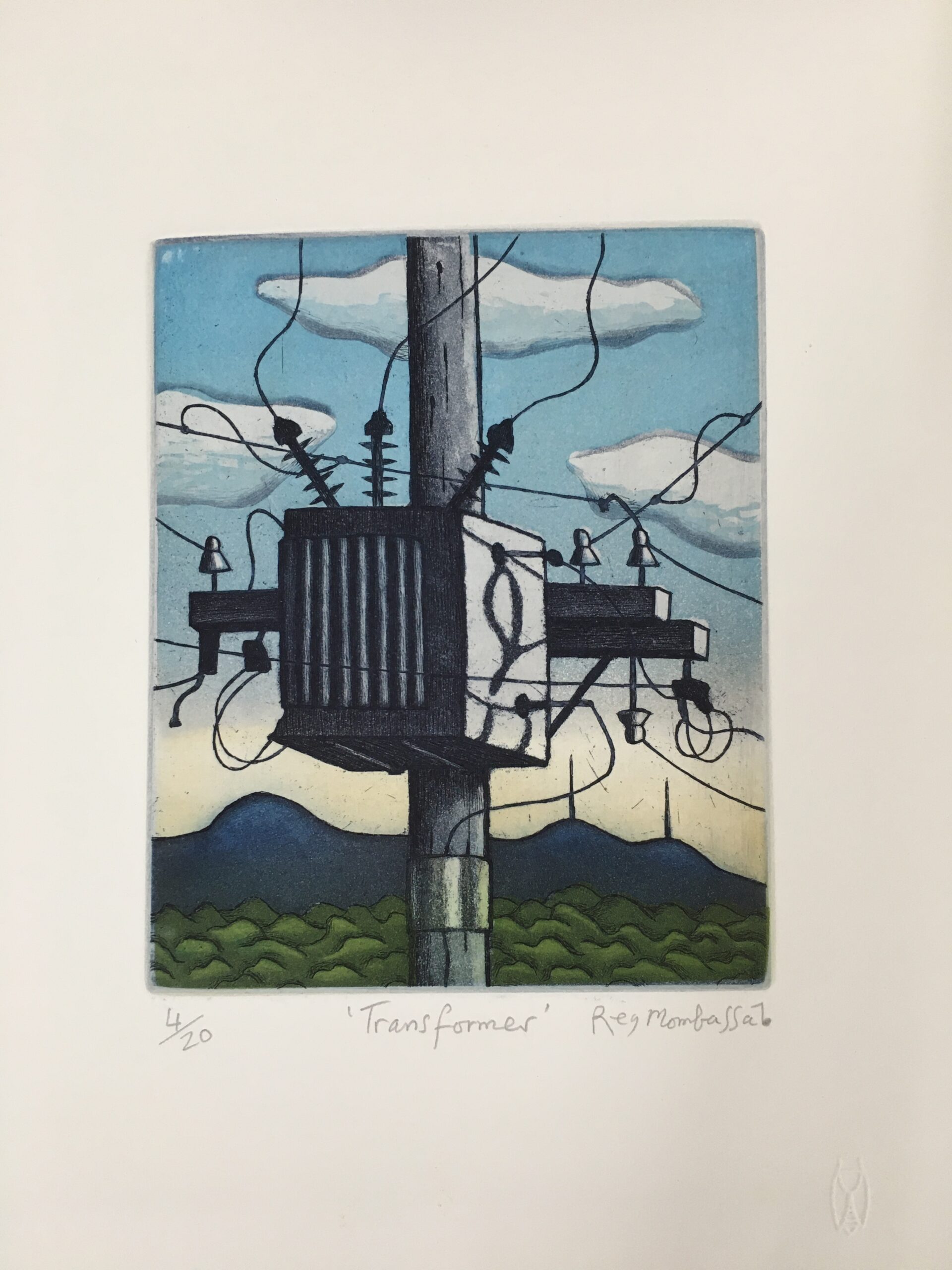 Transformer                    $660 (framed)  $500 (unframed)
etching with aquatint     22 x 18.5cm
2023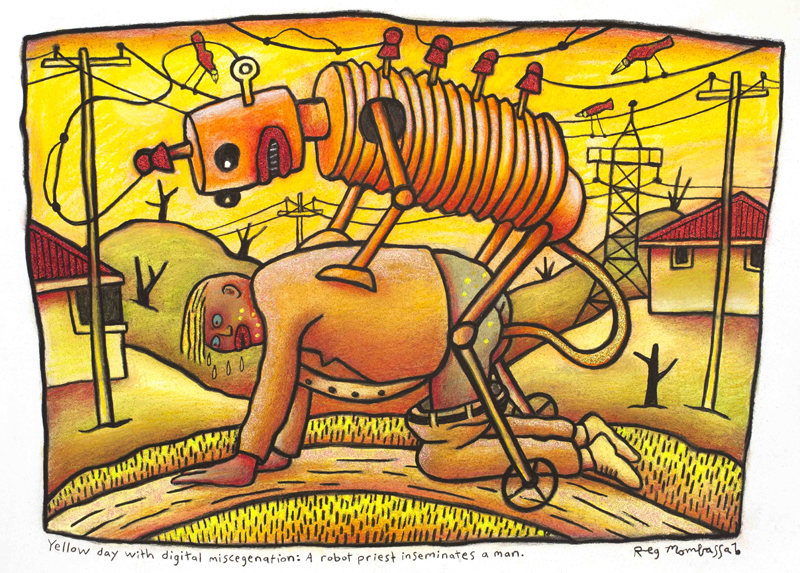 Yellow Day With Digital Miscegenation: A Robot Priest Inseminates A Man                    $5, 500
charcoal and coloured pencil with glitter on paper    37 x 51cm
2019